Do wonder you why you need an online food ordering system? Worldwide, 971.5 million people used online ordering systems in 2019, and the revenue of online food delivery is set to increase to US$0.91tn in 2023.
When you plan to start online food ordering system project, fine-dining hotel or a takeaway joint, you must be facing the burden of:
Managing restaurant operating costs
Attracting & retaining customers
Payroll issues for tipped employees
Inventory management problems
The above issues can be easily solved if you know how to set up an online ordering system. Yes, an online restaurant ordering system can manage your entire business in one place.
We have developed 40+ restaurant apps, so we decided to put this experience into use for our readers as well. Find a complete guide on creating an online food ordering app in 2023 along with its stats, purpose of the system, functionality, revenue, and estimated cost.
The food industry is transforming with online food ordering apps.
The restaurant online ordering system help in notifying the right people at the right time. It is not just about flexibility; it's about protecting the customer base by staying connected with them. There are some explosive growth examples when it comes to online food ordering websites and apps. The best food ordering apps around the globe are UberEats, FoodPanda, Postmates, GrubHub, Seamless, which have made the food ordering and delivery marketplace encouraging with ideas.
Want to Develop a Food Ordering System?
Talk to us. We help you to validate your idea for free and convert it into a highly performative food ordering solution.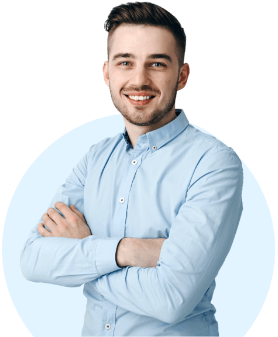 Statistics of Online Food Ordering App
According to Statista, the online food delivery market is expected to hit US$182,327m by 2024.
America is the second most favorable market for online food delivery and is expected to grow at a CAGR of 11.7%. The U.S.A, Canada, Mexico are the key drivers in running the online food solution economy.
As you can see in the graph by eMarketers– By 2020, food delivery app usage will surpass 44 million people in the U.S., reaching nearly 59.5 million by 2023.
By then, a little less than one-quarter of all smartphone users will be app users, compared to 16.3% in 2019.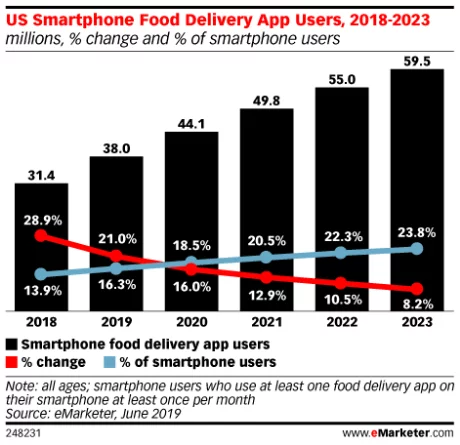 After studying these stats for the on-demand food ordering and delivery genres, there is no doubt about the successful growth ratio of your food ordering and delivery startup.
How to Create a Food Ordering System in 5 Simple Steps
Offering online ordering in a restaurant or food business can significantly increase revenue and customer satisfaction. But how to create an online ordering system? Below, we will go over the 5 simple steps to develop your food ordering system that will allow customers to easily place orders online and help you streamline your operations.
Define your objectives

Developing a platform for your business is important to successfully execute your online food delivery project. It is more important to build it for the right reasons. You need to identify your objectives behind developing the restaurant online ordering system. We have prepared some questions that will help define the objectives clearly.

Do you need to solve a problem by building this ordering system? What is that problem?
Which section of your business needs improvement?
How do you plan to reach more customers?
Do you want to make the online ordering process convenient for the customers and you?
Do you want to create awareness for your brand?
What is the final result you expect from the online ordering system?

Define the functionality

After deciding your objectives, the next step is to define the functionality of the online ordering system. But, how will you identify the required functionality?

First, jot down all your requirements and functionalities.
Study your competitors and see if you need a similar platform.
Think about additional functionalities that will give your solution an edge over others

Make a budget

The third step is to create an appropriate budget for your online restaurant ordering software. You need to keep a few things in mind:

Do not be very rigid with your budget. Make sure you have some room to make adjustments if you need additional functionality in your mobile restaurant ordering system.
Do not allocate too much money for the food ordering system project if you can get the essential functionality in less budget.

Look for a Software or App Development Company

While looking for developers for your online ordering system project, you should choose a company that has experience in food delivery development and food delivery system design for an online ordering system.

This experience will help in the development of your food delivery system project as the developer will have the required knowledge to develop the functionality as well as will know how to handle any issues that arise during the process.

Start Developing the Online Ordering Platform

After you hire the developers, you can get an NDA signed for the safety of the app idea. Now you can discuss your idea with developers and start working on the online ordering system.
How Do Food Ordering Systems Work?
Before you plan to develop an online food ordering solution, you need to understand the online food ordering system architecture. The online ordering system works in a fairly simple manner. We'll tell you a step-by-step process for you to understand it in detail. Let's get started.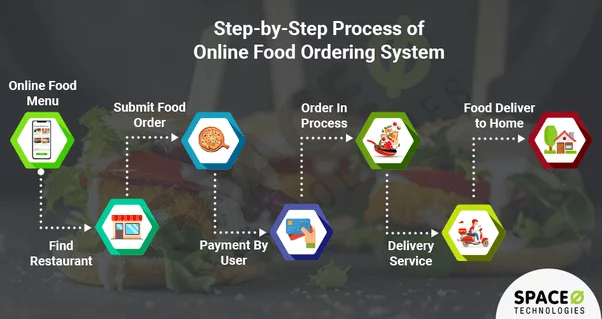 Customers have a mobile application that they use to view the menu of your restaurant or other available restaurants in case of third-party platforms.
Customers find a restaurant of their liking and select the food they want to order
Customers confirm their orders.
The users then need to select their payment option- either pay online or opt for COD for their orders. These orders are received by the restaurant via the admin panel.
The restaurant process the orders by preparing the meal and packaging the orders
The restaurant contacts the delivery service or their personnel delivery staff and informs them about the orders via the driver's app.
The delivery personnel delivers the orders to the respective customers.
If you are a food delivery startup like UberEats or GrubHub, it is viable to implement a user-friendly online food delivery system design. You do not have to be concerned with the preparation of the orders. Your only task is to receive orders and make the deliveries. There are two types of business models when it comes to such startups: Order Only and Order and Delivery revenue models. You can get in detailed information about them in our article on food delivery business models.
Key Features of Online Food Ordering Software
The features play an important role when you have to make an intuitive and easy-to-navigate food ordering app for restaurants. Always include functionality that is actually needed by your target audience. Make their work easy by making your online presence a naturally interactive experience.
With our experience in web and mobile application solutions, we make sure to make the "Order Placing" & "Payment" features with utmost sync and simple integrations. This helps a customer to know the functionalities easily.
Within a calendar week, one can go online with his restaurant or food joint with the below functionality.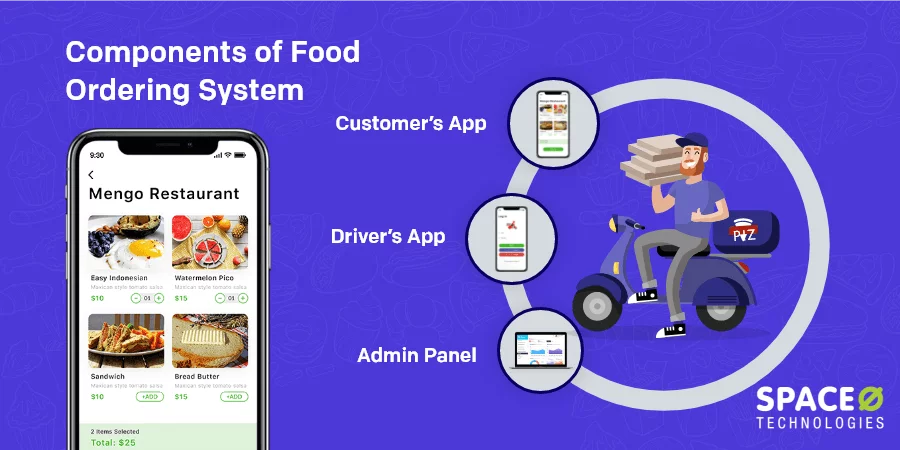 Core Features of Customer's App
Searching menu: Allow your users to search for different restaurants, cafes, pubs, and bars by location and cuisines. Users can go through the menus and choose an item from using the search filter; users can easily find their favorite eating places.
Order placement: With an easy-to-order feature, the user can place an order of selected dishes and food with just a few simple taps on the screen. They just need to cross-verify their preferred dish and proceed with check-out.
Tracking of Drivers: With the real-time tracking feature, it becomes easy for the users to track delivery drivers and know their real-time location information. Users can check how much time a driver will take to reach their food parcel.
Payment gateway integration: Integrate your app like GrubHub and UberEats with Payment Gateways like Braintree or Stripe and allow users to pay by credit/debit card. Make sure that you provide the users with multiple payment options.
Core Features of Driver's App
Driver's profile: Through this feature, a driver can keep his profile updated. It contains his full name, address, email, contact number, photo, and other personal data.
Notification for orders: Through push notifications, drivers can get constant updates & alerts for new food orders online. It will help in the accurate delivery service of your restaurant.
Map for the delivery route: Integrate Google Map or Waze and allow drivers to choose the shortest and fastest routes to reach the location. With on-time delivery, you can delight your customers.
Core Features of the Admin Panel
Restaurant management: Being on the admin panel, one can directly manage all the restaurants by adding, updating, and removing any eating joint from the list. He can also check active restaurant status and also menu pricing.
Analytics & report generation: Using the analysis and report feature, you can get real-time insights of reports and other accounting information, which helps you to identify the growth and opportunities to expand reach.
Monitoring every action: Monitor all the drivers, changes in the menu, deliveries, ratings & reviews of drivers, canceled orders, and other important data related to the driver's performance.
Payment and commission management: Allow owners to set payment and commission rates and manage it directly from the panel with every single partner and make payments.
Apart from this functionality in your food ordering system, at Space-O Technologies, we suggest our clients with CRM and eStock management integration.
Customer Relationship Management (CRM): This feature in the online food ordering software helps in organizing comprehensive data regarding customers. Their current online order patterns, sales details, transaction details, likes-dislikes, canceled orders. It is a fusion of customer feedback and a loyal customer database.
Estock Management: This integration in the online ordering system helps in raw material management, stock availability, consumption report (monthly/yearly), and stock expiration date. The user can also set limits to use the stocks; whenever it goes above the limit, it can automatically trigger restock notifications.
Now, after integrating this functionality, the major question arising in your mind will be how to make revenue from the online ordering system for restaurants. We have curated some monetary ways for you.
Make Money With Online Food Ordering App
Before investing in the on-demand delivery app, understand the different methods to create a money-making app. As you are planning for on-demand app development, such revenue-generating tactics will help balance your service with apt income sources.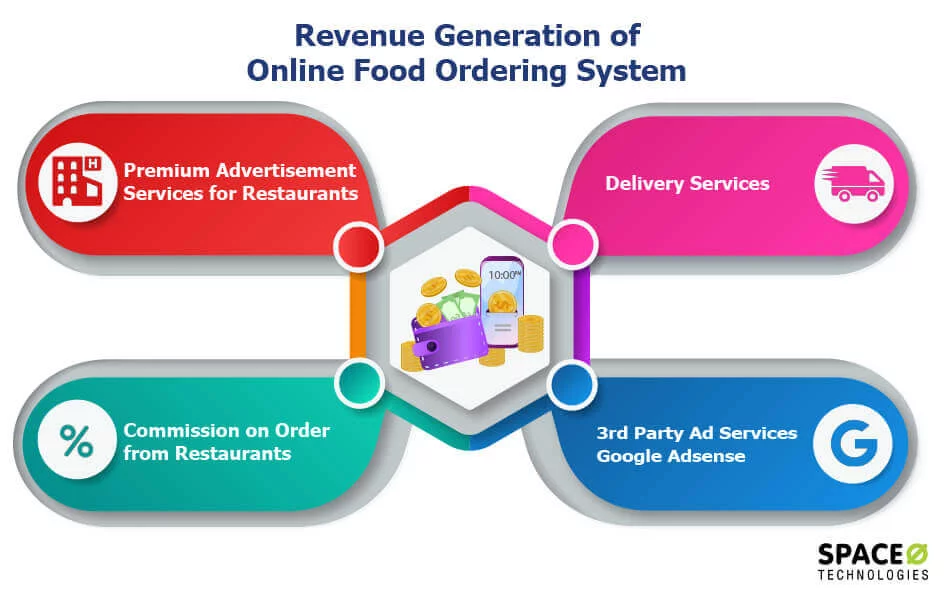 Online food ordering software partners with local restaurants that offer home delivery and prepare a database per month or week, or even day for efficient customer order management.
For every online food order placed through the website or app, the restaurant gives a pre-decided commission.
A restaurant can also use your solution for exclusive publicity through advertisements on the homepage.
Want to Automate Your Restaurant Business?
Want to automate your business and earn a profile out of it?
What are the Benefits of a Food Ordering System?

If you're a restaurant with online ordering systems, how can you get an edge over your competitors? An ordering system for restaurants will not only allow your customers to order online food but also make the process of online ordering food effortless. Here are a few profit factors to boost your confidence in creating the food online ordering system. Let's get going.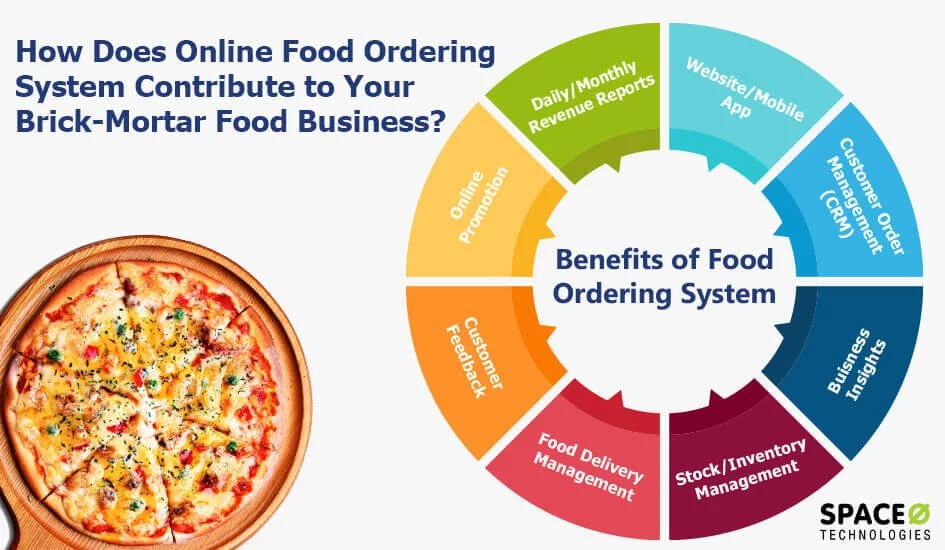 Analyze & boost sales


The analysis provides exact data regarding your visitors per month or week, locations, abandoned carts, understanding what items of the menu are selling more. It even makes the business promotion process easy and engages more customer attention towards you.

With the help of such analytics insights, you can come across a list of areas where your firm is doing well and where it is not. So based on this analysis, you can work easily in the weaker areas, specifically for more sales.

Efficient customer management

The customer relationship management (CRM) system comes to an entire streamline of the entire ordering process starting from online order placement to order delivery. The best food ordering management system or apps or websites also have an address capturing system with GPS and avoid delivery delays.  Such functioning helps in retaining customers and creates a good impression on the new users.

To maintain a healthy customer relationship for your new food startup, a food delivery startup or restaurant with an online ordering system generates day-to-day analytics that makes you understand the pros and cons of your services more effectively.

Promoting your brand


The online ordering system builds a marketing platform and allows you to create some customer loyalty programs like sending marketing/promotional emails or SMS that helps to retain your customers with you.

You users might also talk about your food ordering platform on social media sites like Facebook, Twitter, Instagram. This will also promote your services. You can create brand awareness with your online solution.

Enhancing your brand's online presence helps in boosting your sales with additional new and returning customers, also by integrating an advanced ordering feature that facilitates customers with scheduling future online orders from the menu and can increase your online traffic and profitability.

Enhance business operations


The online ordering system for restaurants is a systematic structure to improve and simplify the efficiency of the ordering process for both customers and restaurants. It maximizes the manual data accuracy and security during the order placement process. By bringing every requirement in one place, it makes all the business operations quite easy.

At Space-O Technologies, we have helped various food businesses, startups, cafes, and restaurant chains to double their revenue through online food ordering websites and delivery apps like Zomato, Postmates, and DoorDash. From food ordering system design to deploying an application to the App Stores, our mobile app experts have a strong understanding of an algorithm for food ordering systems and will take care of your requirements no matter what type of restaurant mobile application you want for your restaurant.
How Much Does it Cost to Develop Online Food Ordering Software?
For a better understanding of your food ordering app for restaurants or food ordering system costs, we have made a list of essential functionality and estimated hours.
To help you calculate the cost, our app developers have prepared a calculation method for you.
Suppose that the mobile application development company is charging $35 per hour.
Apply this simple formula.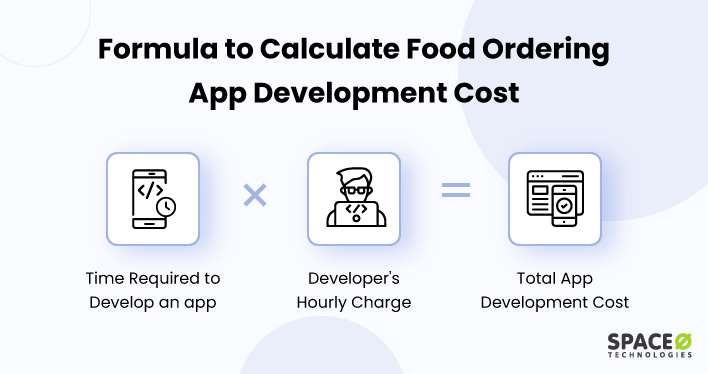 Just put the variables in the right place and get an estimated cost. To help you out with the time required, we have created this scannable table with features and an estimated time to develop it.
We hope you are able to calculate the cost of the food ordering system.
Deliverables
Basic Features
Estimated Hours
(iOS/Android)
User's Application
(iOS/Android)
1. Registration/ Login
15 Hrs
2. Push Notification
6 Hrs
3. Real-Time Tracking
18 Hrs
4. Payment Gateway Integration
10 Hrs
5. Real-Time Calls & Messages
32 Hrs
6. Search Filtration
8 Hrs
7. Food Items
14 Hrs
8. Delivery/ Pickup
20 Hrs
Subtotal
123 Hrs
Driver's Application
(iOS/Android)
1. Accept-Reject
10 Hrs
2. Earning Tracker
18 Hrs
3. Availability (Online/Offline)
6 Hrs
Subtotal
34 Hrs
Admin Web Services
1. Algorithm (Manual/Automatic)
40 Hrs
2. User Management
20 Hrs
3. Driver's Ledger
30 Hrs
4. Analytics
60 Hrs
Subtotal
150 Hrs
We hope you are able to calculate your online food ordering app cost.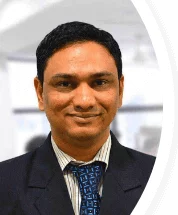 Planning to take your restaurant or food services online? Want to know how much money and time your food ordering system will cost?
As you have decided to dive into the mobile app world with your food ordering system. To assure your decision, we being a leading mobile app development company, have analyzed some major growth statistics of the food delivery apps.
Frequently Asked Questions
How do food ordering systems make money?
Advertisements: Restaurants pay third-party platforms to feature their restaurant ads
Listing Fee: Restaurants pay money to get their services listed on the list
Commission: Third-party platforms collect a commission on every order
Delivery Fee: Various online ordering platforms also charge a delivery fee for every order they deliver
What is the purpose of the online ordering system?
These systems make it convenient and engaging for customers to buy food online. The customers do not need to wait in queues to get their orders made. Further, you save the time and effort required to process purchases. The ordering system reduces manual errors and makes the entire operation run smoothly.
Which is the best online food ordering software?
Some of the best online food ordering software are as below:
Menu Drive
GloriaFood
Toast POS
Upserve
iMenu360
ChowNow
Snapfinger
Ready to Build an Online Food Delivery System?
Now, after going through the food ordering system business guide, you will have a question, how to create an online food ordering software or app? A mere idea is not what makes the application successful; constant improvisation with current technological trends will let you stay a long time in this hyper-competitive market. It takes more than just having an idea. You need to validate your idea from the experts.
So, cross-verify your on-demand food ordering app ideas with us as we are a leading mobile software development company based in India, Canada, and the USA. We have already developed over 40 on-demand apps for different categories. Have a look at our food delivery apps like Bevy, Glovo; for more of our work, you can visit the "our work" section on our website.
In any case, if you have any queries related to how to create a food ordering app or app development timeline, food ordering app design, get in touch with us through our contact us form. One of our sales representatives will guide you through it. He will not only clear your doubts or queries but also help you to understand the development process of on-demand mobile apps. The consultation won't cost you any money.