According to the Construction Productivity blog, 13% of the world's GDP is due to construction-related spending. That's quite a big number. Isn't it? If you want to try and make your mark in the industry, you can go for construction app development. Which app though? Well, if you are not sure about it, we have presented 3 construction app development ideas that are needed in the market right now. Have a look!
There is no industry that has remained untouched by technology.
Every industry has grown over time because it has, in some way, embraced the technological advancements that have its way. Whether it's the food industry or robotics, the pace of development is faster than ever. 
Industries like construction needs to keep up with the new technological changes as a lot of investment is at stake. Automation such as appointment scheduler, invoice generator, and automatic feedback requests have made the business processes streamlined and less prone to errors. Automation such as appointment scheduler, invoice generator, and automatic feedback requests has made the business processes streamlined and less prone to errors.
Mobile apps are a great way to cope up with technology. We consulted our business analysis expert to understand which business ideas could be a great addition to your construction company.
Before we talk about these construction app development ideas, we will see some facts and figures pertaining to the construction industry globally.
The Rising Beam of the Construction Industry
The global construction market has an annual growth rate of 8.3% since 2014 and reached a value of nearly $12,558.2 billion in 2018.

The valuation is expected to grow at a CAGR of

9.8%

to nearly $22,873.96 billion by 2026.

The total spending in the construction industry was $9.5 trillion in 2014, which is projected to increase to $14 trillion in 2025, as you can see in the graph.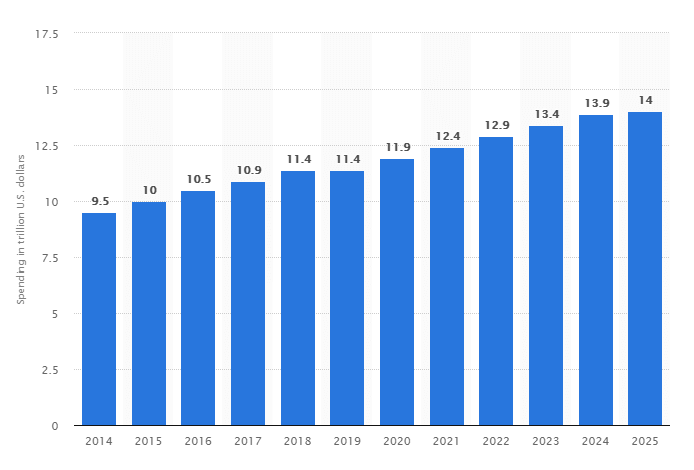 Image Credit: statista
Asia-Pacific is the largest market for the construction market, accounting for around 42% of the global market. 

China, Japan, India, Australia, USA, Brazil, UK, Germany, France, Spain, Italy, and Russia are the top eight competitors that made up around 28% of the total market in 2018.

Not only these but the construction activity is gathering momentum across Western Europe. The region's output will expand by 2.4% a year on average in 2018-2022, which is an improvement from 1.1% in 2013-2017.
As you can see, the industry is set to reach new milestones in the future. To be a part of this growing economy, here are some construction app ideas that will ease business processes or become a business in itself.
Have a Construction App Idea?
Want to validate it for free and get a free consultation?
Apart from the 3 construction app ideas discussed in this blog we want you to learn the process of finding more unique app ideas.
And for that, we have created a simple PDF with 3 steps to follow. Download free guide from below.
3 Construction App Development Ideas For Growing Your Business
Construction management app or software

There are a lot of things that go wrong during a project. A lot of money is also at stake which makes management a bare necessity. Construction management software for builders and contractors helps to run all the project activities seamlessly. 

You can manage projects, plans, blueprints, progress, issues, and all other activities using an app for construction management. Moreover, you can also generate reports and estimated costs of construction using mobile apps for construction.

Key features of a construction project management app

Add new projects and plans


The best part about such an app for construction project management is that you can add multiple projects and manage them simultaneously. You can add new projects and the plan of action to follow so all concerned can stay updated.

Manage workers


You can also assign tasks to your employees using this app so that everyone has an idea about their duties completely. Using the app you can also track employee attendance to manage work and leaves. 

Manage documents


Important documents like blueprints can be shared with each other without wasting paper. You can manage punch lists see the list of issues. The app can also remind you of the contract expiry and renewal.

Generate reports 


The app can generate paperless reports that can be shared with other team members so everyone is on the same page. These reports can be used to monitor work progress and decide if any changes are to be made.

Construction calculation


This app can also have some functionalities of a construction calculator app and help to estimate the cost of construction. This can further assist in estimating expenses in order to determine a budget. 

Site Auditing app

Going on the site back and forth to keep a check on the issues is quite tedious and it wastes a lot of time. Using a site inspection app can eliminate this time wastage as well as paper wastage. You can generate paperless reports that can be mailed to any person who needs them. 

This construction site inspection app is a complete auditing solution to inspect and audit sites.

Key Features of Easy Site Audit App

Create and edit projects


Users can create multiple projects for different sites using this construction site app. Each project is created with a date, title, and reference. Also, client and company details can be saved to organize the projects without confusion.

Create and edit reports


Users can report single or multiple issues by adding photos. These can be taken from the phone gallery or clicked by the camera. Each issue can be assigned to respective action takers.

Edit images


Such a construction site survey app is loaded with drawing tools like pencil, line, shapes, arrows, numbers, text and many more. These are used to add annotations and highlight areas that need attention. Users can also add notes to explain any issue.

Generate and share reports


Users can generate custom paperless reports that can be shared via email. Tracking the progress becomes easier this way. Some apps for construction daily report also have an option to reduce photo quality if the report size is too big to send via email.

Construction material delivery app

Two of the most common problems faced by construction companies are the last-minute delivery issues and material shortages. The entire process can come to a standstill if enough material is not available at the site.

On-demand mobile apps for construction industry have made great progress in solving this problem. An app that delivers construction supplies whenever needed- sounds like a good business idea, doesn't it? 

This is one such app that is yet to be used to its full extent. Most apps have basic features,  now your task is to add new features to make a unique construction app development. Here are the basics of this app.

Features of a Building Material Delivery App

Search


Users can search for a range of different products and brands. This assists in comparing the product quality and prices so that they can select the product that best suits their needs.

Pickup or delivery


You can also add an option of picking up or getting the material delivered that is ordered. This gives the users an option to save the delivery charge if they can come to pick it up themselves.  

Real-time tracking


After scheduling a delivery or ordering it on-demand, users can track their order. The live status of the shipment using the GPS navigation system is a common yet useful feature of any delivery app. This must be there in your app.

Payment integration


To make the transactions secure and transparent, it is important to integrate appropriate payment gateways. The users may pay using cards, e-wallets, net-banking or other digital ways.
Apart from the above ideas you can make your app unique by using latest technologies. To learn more read our post on use cases of using OpenAI in the construction industry.
Want To Make A Construction App?
Book your free consultation from app experts.
The Final Say
The construction industry is growing and with it is growing its problems. This makes the industry a great sea of opportunities. Looking at the industry statistics and your interest, you can go for any sort of construction app development. 
Whether the idea is one of the above or something different entirely, you can get it cross-verified with us. Take advantage of our custom mobile application development services as we are among the leading mobile application development companies who have expertise in developing apps for over a decade. A constant analysis of the market trends and technological updates is what makes us a successful app development firm.
If you have doubts about the features of the construction management app, or how to hire app developers for your project or any other queries, construction app development cost, custom construction software and app developer, feel free to contact us. All you need to do is fill the form in the footer and one of our sales representatives will get in touch with you within 2 working days.