Being a business owner, are you facing challenges in organizing your important tasks?
Are you looking to develop enterprise software solutions to manage different aspects of your business?
It is worth noticing that, in 2023 the revenue in the Enterprise Software segment is predicted to go up to $263.80 billion.
Based on the above statistics, we can conclude that custom software development surely drives growth in every business.
Where the off-the-shelf app cannot fulfill the complexities of creating a YouTube or Netflix. The businesses invest in custom software solutions to ensure all the critical functions are covered. As they help identify specific needs, build the algorithm/logic and unlock opportunities to maximize the bottom line.
Still, thinking through buying vs. building? Let's check the 10 benefits of custom software development.
10 Key Advantages of Custom Software for Your Enterprise Business
Custom software solution provides an edge to your business, since, custom software will only fulfill your specific business needs. Check this guide to know more about what is custom software? Check out the advantages of building custom software.
Adaptable to Business Needs

Global IT investment in corporate software is estimated to reach $783 billion in 2022, up 7.1% from the previous year.

You should know how critical it is to develop custom software for your business. Even more, understand the software development plan to communicate with your team member and clear your expectations. The primary benefit of custom software development is its ability to match your business needs. The functions, features, and even the components are defined to suit your individual needs. The bespoke software helps to achieve your business objectives.

Boasts of High-Level Security for Data Protection

A custom software built with secure programming languages such as Python, JavaScript, and PHP ensures a high level of security. Being a custom software development company, we suggest choosing the technologies which boast high-level security. Apart from that, also consider the security requirements for the features and functionality you have added to avoid security concerns. With the right layers of security, make your software hacker-proof.

Want Secure Custom Software for Your Business?

Validate your software development idea with our expert consultants.

Lowering the Operational and Overhead Costs

Can you imagine having an off-the-shelf solution for everything that requires to be automated? That can turn out complex. You will need to hire trained staff on your payroll to manage it. Moreover, you will also need staff to manage the development or integration.

On the other hand, hire full-stack developers to handle your entire development process. As it proves to be cost-effective. Lastly, you get to use a single solution for all your unique problems and resolve them.

Mobile-first Solution

To your surprise the number of smartphone users is increased to $6 billion dollars. Currently, China, India, and the USA are the countries with the highest number of smartphone users.

When opting for custom software development, consider your target market's consumption habits. Off-the-shelf software solutions are not always mobile-ready. Hence, it can make you lose your competitive edge in the market. On the other hand, custom application development permits you to build a mobile-first solution and increases usage. To integrate your mobile solution with your custom software, opt for the mobile app development service to build an app from scratch. As it will help you grab a more customer base.

Medcall – On-demand Doctor App

MedcallWorkComp is a real-time doctor apps service that connects patients and doctors. A doctor's app, a patient's app, and a web portal for medical operators make up this entire doctor on-demand applications solution.

Get A Better Control of Processes

With custom software, identify the process of software development, integrate them and make a more collaborative dashboard. As a result, the data is shared, and you can control these processes better. By offering enhanced control over processes, you can gain a competitive advantage over your competitor.

Off-the-shelf software is not always ready to work according to your business processes requirements. As a result, many of your operations require to be managed outside the software applications. This tends to lower visibility concerning key software processes.

Compatible with Your Outdated Systems

The main reason behind choosing custom software development over ready-made software is the ability to connect with your outdated software without paying license fees. Supporting an outdated system ensures an error-free software development process. The personalized software is designed to help you integrate with any application, old solution, existing systems, and third-party API. Also, easily manage data and ensure smooth movement of operations using custom software development.

Easy to Maintain Daily Tasks

Maintenance can be cost and resource-consuming. However, with bespoke software, you get to hire custom software development company, support, and maintenance teams as well. As you directly pay for the services, saving you from hiring an in-house team or resources for the same. As a result, you can manage maintenance effectively.

Operate with Minimum Hardware Requirement

If you opt for ready-made, you require to purchase additional hardware. Avoid purchasing extra hardware or software licenses when you integrate custom software solutions. As it can operate with the existing hardware and be built upon your old or existing applications. This results in better development management, streamlined processes, minimal hardware, and better maintenance.

Offers Scalability and Accessibility

Your applications must be scalable for the new business needs. For example, if you have built a business model for ten users, you will want to expand it to allow 100 users. Custom software solutions scale the application to match your load, usage, and bandwidth requirements. This is a core reason to consider custom software development for your business.

Also, using the power of custom software development, we build a Medcall – an on-demand doctor app. The app is designed to connect patients with doctors. Our experienced team has built a patient's app, doctor's app, and web portal to help users to connect with the doctors in a span of minutes.

Boosts the Long-Term Returns for Your Business

One of the key benefits of custom software development involves long-term returns for the business. Your overall cost goes low while the features ensure better productivity and management.
Next, know whether your business requires custom software development or not.
How to Know If Your Business Requires Custom Software Development?
Check the 2 main factors to help you make a decision on whether you should go for custom software development or not.
Missing Element in the Software

You may have lined up the customized software that enables you to be more productive and efficient. However, when you start growing, this software may not provide the necessary features. Find out what you love, what's missing, and what could be a good addition. If the ready-to-use applications cannot provide the features, think through the advantages of custom software.

Defined Budget

When planning a software solution for your business, the next part to consider is the budget. What is the budget you have set aside for technology? If you have a very small budget, it won't help with custom software development. However, if you have planned a substantial amount for software, explore bespoke solutions.
Want to Know the Cost of Developing a Custom Software?
Get an affordable and lighting fast custom software solution that is easy to integrable with your existing system.
After considering the two crucial factors for starting your software search, check whether to build or buy your software.
Build vs. Buy: How to Make the Choice
Fast-Evolving Business Needs
If your business is transforming fast and showing expansive business needs, you must consider a custom solution. Let's understand why. With the off-the-shelf solution, you are partly ready to take your target market. However, as the need increases and the business grows, you require efficient and robust software.
Not Compatible with Business Needs
When your business solution isn't compatible with existing software, it can be challenging. You either need to change the current solution or build a new one —either way, you will need to invest in new technology.
Complex workflows to manage
When you have too much paperwork or the algorithm you are handling is complex, you should go with custom software development solutions. An off-the-shelf solution cannot control your business's complexities or advanced needs.
Do you still have questions related to custom software development? Check the FAQs section to know the answers.
FAQs
How much does it cost to develop custom software?
The MVP custom software development cost ranges from $5k to $50k. The featureful and complex software development range from $50k to $500k.
The cost of developing tailor-made software depends on several factors.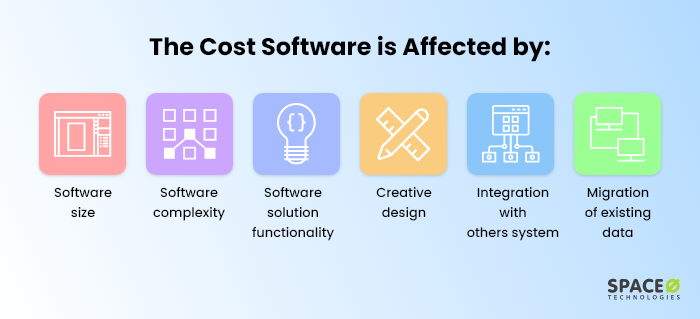 Technology stack
Developer expertise
Features and functionalities
Software development timeline
UI/UX design
What is the main difference between custom software and off-the-shelf software?
The following table includes the difference between custom software and off-the-shelf software.
| Factors | Custom Software | Off-the-shelf Solution |
| --- | --- | --- |
| Integration | It is easier to integrate your custom solution with the existing applications as you have customized it to meet business requirements | Off-the-shelf solutions are rigid and devised using a "one size fits all" philosophy. As a result, you may face integration issues with existing apps |
| Functionality | Add the functionality which will help you enrich your business with custom software | Inherent functionality that doesn't necessarily fit your business needs |
| Features | Add or remove features as per your requirements with custom software development | You cannot add/remove features. Only use the features that help to smoothen your business process |
| Cost | The upfront cost of custom software is higher compared to off-the-shelf. However, with time, it will surely result in better ROI and last longer compared to off-the-shelf software without paying extra costs. | The upfront costs are low. However, as you scale your business, you need newer solutions, which will cost more and require a larger investment. |
What are the steps to building custom software?
Follow these steps to make the entire software development process hassle-free and stay competitive in the market.
Check the market readiness and build a solid concept for the app idea.
List out software development outsourcing companies. Get estimates from them, and have one-on-one conversations.
Requirement analysis to identify the priority features, the functionality you need in the first version, and how you want to divide the app development.
Once the design is ready, it is time to build the code and develop the application.
Once the coding is complete, thoroughly test the application to remove errors, bugs, and faults. It is essential to use different test cases and user stories to test the application
Optimize the app for the mobile store.
Deploy the application to the respective app store.
Make sure to have a dedicated team for after-launch support to solve user queries and incorporate the feedback.
Ready to Develop Custom Software for Your Business?
We discussed the benefits of custom software development and how it can reap long-term returns for your business. We compared off-the-shelf with custom software developed for your business to understand how the latter fares better.
You also got a glimpse of what factors to consider when deciding the approach and cost for the software solution. It's time to take the leap of faith and build custom software for your business.
Being the best custom software development company, we have a team of brilliant engineers, strategists, and effective planners to accelerate development and enhance business with powerful solutions. We have delivered several useful and usable web and mobile app software solutions customized to meet unique business needs.
Get in touch with our team by visiting the contact us page. Our developers will reach out with a complete solution to your problem.