Do you know by 2023, IT spending on Enterprise Software is about to reach the mark of $783 billion?
The software development market is consistently scaling at a growth rate of 7.1%.
To grow a successful business, it is essential for you to hire an experienced software development company. Even, to filter out the numerous software development companies, you need to ask the following questions.
In which industry do you have expertise?
How many projects you have worked on?
What are your hourly charges?
Once you receive the answer to the following questions, next thing is to follow the steps to hire the development company.
Being a leading custom software development company, we have in-depth knowledge about how to hire a software development company. Let's navigate to 6 steps to hiring a software company.
6 Steps to Hire a Software Development Company
A lot of companies tend to avoid this step or fail to find the right partner for custom software development needs. To make this process smooth and defined, we have listed a few must-follow steps that can improve decision-making and help you choose the right software development firm.
Confirm your Software Development Budget

On average, the average software development budget ranges from $50,000 to $200,000. If you want to build basic custom software, you need to be able to spend that amount.

However, if you are starting or just adding a new idea to your vision, this amount might seem too high. You may have a lower budget, which can change the vision and scope of the business app.

The budget will help the software development agency what to include in the estimate. It will help them realize the team best suited for your needs and budget. Before you research, identify a reliable software development services provider, you might want to work internally on the maximum amount you can spend on software development.

Search for an Experienced Software Development Team

There are top software outsourcing development companies in the market. It's hard to pick a suitable partner to help you develop the app that meets your business needs.

Search will always begin with research, and there are several places where you can do this.

Start with your network or go with word of mouth to look for offshore software development companies. You might get a list that nearly matches the criteria you have set. If word-of-mouth companies seem beyond your budget, go with Freelancing sites.

Simply post your job, evaluate the experience of the developers and get in touch with people you believe can do the job.

The online directories have listed their services, portfolio, and other essential aspects on these sites.

Lastly, searching on Google is an excellent idea. Use terms like onshore software development companies or offshore development to get started.

Schedule an Interview with Software Developers

Before you hire a software development company, you should connect with them. Ask for a one-on-one meeting to understand the software development processes steps, how they work and get to know them.

Ask the right questions to the team like how to create a software development plan and check if they have the requisite knowledge about your requirements. If you need a developer proficient in Laravel, find the onshore software development company that claims to be a leading Laravel development firm.

To begin with, you will throw some questions regarding Laravel that you need to understand. Check with them how Laravel will fit your requirements. Know the benefits of using the technology stack.

During the interview, you might want to ask if the team can finish the app within the timeline suggested. Talk about the approaches, budget, and scope. There's just a lot to discuss.

Reach Out to the Developer/Team

Once you have interviewed the firms, it is time to finalize the team. By now, your shortened list contains software development companies you want to hire for the ongoing project.

It is time to identify if you want to go with an offshore software development company or an in-house team. Several factors impact decision-making, such as – relevant experience, expertise in the niche, and price estimates quoted.

The portfolio of their past work is a way of judging their abilities. Once you have shortened the list, it is time to reach out to the software development team again.

This time, you want to talk to them about the project solely. Bounce a few ideas, and communicate with them about the budget to see what they have to say.

It is essential to give them an outline and watch them deliver their ideas. If you think they will match your vision, you can discuss them in detail with them.

Search for the Best Software Development Team

Dive beyond their abilities and portfolio, and look for relevance. When you want a development firm to build an Uber clone, you might want some success in that area. You need to be sure they know how to develop a differentiated clone, add the necessary algorithm, and help drive more audience to your business.

The relevant experience also helps them deliver a solution well within the budget while meeting timelines. Apart from experience, look for someone abreast with the best web application development software, the technology stack for the development, and the development trends.

Apart from experience, check their communication, ability to keep you in the loop, and the process.

Check customer feedback on the website as well as on other websites such as Clutch and GoodFirms.

Lastly, don't forget to look into the ratings and reviews offered to each company. It will help you decide if you can partner with them.

Hire the Team

At this point, you have come to the last stage, where you have the software development team you want to hire in front of you. It is time to hire and onboard the entire team for the software project.

For this purpose, connect with the team again, and get to know the process. Find a mid-way where you both can streamline a process and improve the hiring.

Define the scope, budget, and requirements at the earliest possible stage. Create a contract and make sure the representatives of both the companies sign the master's services agreement, including the NDA for app development or software development and other details.
Want to Hire Software Development Team?
Our software developers have built more than 50 enterprise solutions.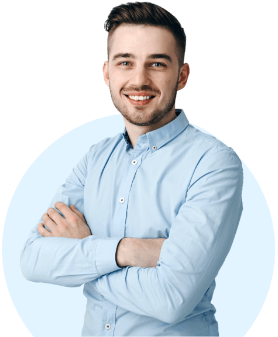 You have understood the complete process of hiring the right software development company. Next, check the cost of hiring a software development company.
How Much Does it Cost to Hire a Software Development Company?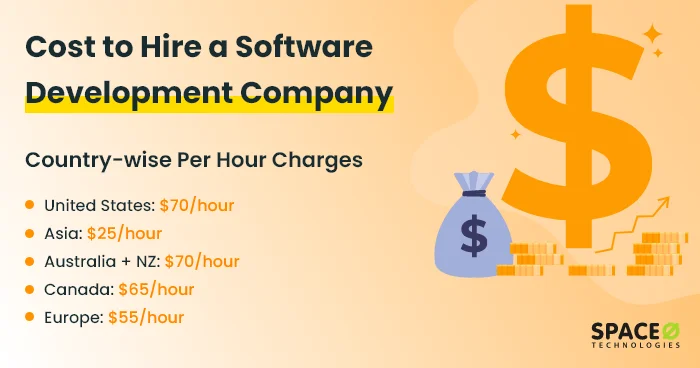 The average salary of an experienced software developer is $1,01,531/year.
However, you need to pay that much amount to hire a custom software development company. You can hire software developers on an hourly basis according to your project requirement as well. Check the following table to know the country-wise hourly rate.
| List of Countries | Per Hour Rate |
| --- | --- |
| United States | $70/hour |
| Asia | $25/hour |
| Australia + NZ | $70/hour |
| Canada | $65/hour |
| Europe | $55/hour |
Let's talk about the cost of hiring a developer or a team.
Costs Involved in Hiring the Development Team
The monthly expense of hiring the development team can go up from $5000 to $25000 or more. This cost depends upon the number of developers, project requirements, and complexity. Check the following factors while hiring the development team.
Sourcing Companies

There are listing directories online that have listed the software development companies in the near location. This could be an excellent way to source your development partner.
Small business owners use channels like LinkedIn or freelancing websites to start with the sourcing. Finding a company in the digital world is both easy and challenging. Easy because there are numerous sources. However, these different sources increase confusion and add to hiring time. Initially, focus on hiring companies with solid ratings.

Automated Systems

Automate your scanning process if you have limited resources to skim through the numerous applications you receive. Investing in application tracking systems can help you scan through resumes and applications. It will help you source candidates or companies that are the best fit for your technical requirements.

Recruitment Cost

Either hire recruiters in-house or outsource them to recruitment agencies. If you plan on in-house recruiters, you should identify a good number for your needs and then decide on the salaries. If you plan to outsource, you need to find the right agency for your needs.

Here, you will also be spending time finding recruiters, which takes time away from your core jobs.

Interviews and Training

As the app owner, you should be part of the last stage of the interview before hiring the candidate. You will be the person taking the candidate through the product or software requirements. At the same time, you will be responsible for explaining how the product works and what to expect from the job profile.
Check the top 5 factors that directly impact your hiring cost.
Factors that Contribute to Hiring Cost
When hiring engineering teams for the project, you are looking beyond technical skills. While their skills and expertise are essential, there are probably several other aspects that you need to outline.
The complexity of the Project

Complex projects calls for experienced developers. Someone who is capable, wise, and can think of their feet fits the bill. This comes with experience, as they have handled several complex projects successfully.

Resources and Cost

When hiring experts in the field, you may have to spend more money as they are expensive. Having in-house teams for the purpose can add to the expense, as you may have to build the infrastructure along with the team.

If you are into SaaS products, you may not be able to afford industry leaders in the niche as a startup. That's why you need to find a midway to make sure it is a cost-efficient solution for hiring.

Location

Given the post-pandemic period, a lot of development companies work remotely. You might not face location issues. However, if you are keen on having an onshore software development company as your partner, this might lead to a significant difference.

Development Approach

What type of application are you planning? Do you want to consider web development or software development? This will also decide the cost of hiring the development company. If you are planning a web and mobile application, you might need a company with similar expertise.
Want to Know the Cost of Developing Software Solution?
Consult our experienced software development team. Share your software requirements and get an in-depth cost estimation.
What Are the Things to Know Before Hiring a Software Development Company?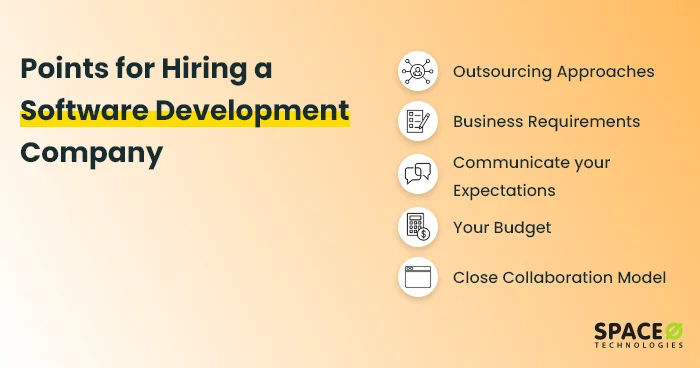 You should consider a few things before searching for the right partner. Here are all the things you should know before commencing the hiring process.
Outsourcing Approaches

There is no defined way to outsource your software development project. You can choose an offshore company. If you have worked with software companies in previous projects, retain them. Also, choose a company in the same country to outsource your requirements.

Choose the approach that best fits you. For this purpose,

Research the different approaches
Look for a culture-fit
Check their technical expertise

Business Requirements

You should be clear in your head regarding the business requirements and work scope before you approach a service provider to build software. Draw a small business outline, and define the project milestones and business model along with the time and material model. It will help you pull in the right resources. Hire the software company only after you are clear.

Communicate Your Expectations

Project owners have a set of expectations from the software solution. While the development company is known to offer creative solutions, they may not know your vision.

Ensure there is no communication gap when you mention how you want them to deliver the software project. If there is a language barrier, make sure to come to a common language or hire an interpreter to help with communication.

Start with the flexibility you need, the challenges, and the complexities. Next, look into the tech stack. Avoid using specific programming languages as well.

If your in-house team will be working in a team with the offshore development company, you should ensure everyone is aware. If you have the UX flow, the user persona, and other aspects ready with the design research, you may improve your hiring outcomes.

Define Your Budget

It is essential to be very specific about the amount you plan to invest in this specific project. You may not want to go overboard at the last minute. Plan for everything including the technology, the approaches, and the hourly or dedicated developer fee.

However, be prepared to see an increase/decrease in the budget. At the end of the development phase, the cost may increase depending on the last-minute additions. Having contingency funds is a good idea.

Close Collaboration Model

It is possible you might want to work in close collaboration with an offshore company. In that case, you might want to work on the communication process and collaboration model. Having a project manager will help play this right. You should also outline the development process and identify the ways to optimize the collaboration.

Unaware of the software development process, our client wanted to build a water delivery solution for his business. He discussed his software requirement with our team. We understood all the requirements in the minimum time and built the best on-demand water delivery app solution for our client. Have a look at it.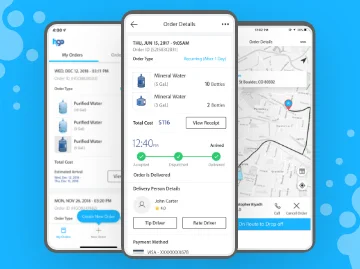 Next, check how to directly reach experienced software developers for your business project.
How to Find Experienced Software Developers for Your Project?
Finding a software developer for your software projects is like finding a needle in a haystack. Yes, there are just too many players in this market. You need the appropriate approach to find a suitable partner.
Research the Developers

Start with the question- where can I find software developers for software development? You will be matched with several sites.

Tech Blogs: This is the ultimate treasure of software developers, offshore development companies, and nearshore companies. Guest blogs and articles by leading developers are a great way to find leading software development companies.
Online Directories: This is the simplest way to begin your search. Most businesses are listed in these directories. They will give complete detail of the software solutions they offer, the services they provide, and other necessary details.
Business Network: This is another place to begin your search. Check out other businesses that have recently employed a developer or software development company for their requirements.
Google Search: Nothing beats this ultimate treasure of knowledge. Search for appropriate phrases, and you should get your hands on the right software company.
Freelance Websites: Search for companies on Upwork, Freelancer, or contact us. Most companies are listed on these websites as app owners, and businesses look for potential partners here. Or go through our post about best sites to hire software developers. Here you will find well-researched sites where you can find software developers with different skillsets and experience.

Check the Experience

When you are hiring partners, experience plays a pivotal role. For complex projects, you need senior-level developers who have worked on similar projects in the past. Junior-level executives can help with MVP development.

If your project is crucial and the offshore companies you are considering don't have the relevant experience, you might delay the project launch.

Look at their portfolio to see the list of successful projects. Ask them questions about their role in the project. Considering experience can improve cost savings on your project.

Define the Business Scope

To ensure successful project management, you should define the business requirements and work scope in advance. It is equally important to communicate your expectations regarding app development to the potential software development company. Apart from the requirements, make sure you are clear on the project timeline

For example, you want to introduce an AI-driven recommendation to your application. Make sure your development company is aware. It will help to know if they are capable of the same. The clearer the app goals and vision are, the easier it is for you to visualize the development partner.

You will know all the skills and expertise you want to see in your partner team.

Communication is Important

The best software development company needs to be prompt with their communication. Focus on their communication processes, abilities, and attitude before hiring the company.

For example, if you have sent an email asking questions, see how promptly they reply. Check if they have a point of contact serving your communication needs.

It is equally important to see how they plan the communication. Do they have a protocol for async and synchronized communication? Do they keep the client in the loop when planning and executing the software projects?

Avoid language barriers and communication gaps using the best-defined protocols and processes. This will ensure you are on the same page as the potential development partner.

Selection Criteria

Have a selection criterion to ensure you choose the right software development team for your business.

For this purpose, you will need to check these things:

| Select Criteria | Description |
| --- | --- |
| Recommendations | Ask for past client references and recommendations. Reach out to these companies to get an understanding of how the company works |
| Portfolio | Check their active portfolio to see what types of apps they have developed in the past |
| Tools & Resources | Do they use tools and current technologies to develop web/mobile apps? What are some of the impressive technologies they work with? |
| Reviews | Check online reviews and ratings to see how they fare against the competition |
| Development Process | Check if they use proven methodologies and the proper process to accelerate development and deployment |
These are just some of the must-use standards to judge if the company is competing for your needs.
Best Websites to Hire Software Developers
To help you with building software, you need capable software developers. Here are all the websites to approach for hiring software development firms.
Logo
Platforms
Benefits
Per-hour Charge
Space-O Technologies

Experience inhouse software developers
4 types of different engagement models to choose from

$25/hr to $50/hr
Upwork

Hire experienced developers across the globe
Cost-effective solution
Complete payment protection

$40/hr to $100/hr
Clutch

Check reviews of the top companies
Option to filter companies based on services, price, and location

$25/hr to $100/hr
GoodFirms

Find qualified developers
Anonymous company review
Choose the right development company by decreasing screening process

$25/hr to $300/hr
AppFutura

Get access to top resources and expert developers
Check services and reviews

$25/hr to $100/hr
Space-O Technologies

Whether you want to develop an MVP for enterprise-level software, you will find app and software developers that suit your budget here.

With dedicated hiring engagement models, excellent pricing, and a pool of experts, this place will support all your app development goals.

Space-O Technologies is accredited by Upwork and Clutch for the app solutions. Their developers are featured among the top ranks. Their USP is to get it delivered on time with the best project management approaches and zero risks.

The team at Space-O Technologies takes care of infrastructure management, developer training, and project deployment.

Upwork

You will find several app development companies listed on this website. If you want to search for the best software development company, create an Upwork profile, add your job to the list and let the developers apply.

The website does a complete background check of the company and ensures that only white-hat profiles are added to the list. Get a complete glimpse of the projects done by the company, their portfolio, and other relevant details on this website.

Clutch

Clutch ratings hold a great value. If you want to hire a good software development partner, look at their clutch ratings. A lot of top-notch companies would highlight these ratings on their website.

Clutch is another place where you can look for potential partners. They will list all the accredited mobile app developers/companies along with their portfolio, ranking, ratings, reviews, and services.

GoodFirms

Good firms are another accurate place where most B2B companies promote their products/services. Their clients are more likely to offer ratings and reviews for the solutions received on this platform.

You will get a detailed insight into the offering, the services, the good and the bad about the company. The reviews you view on this website are user-generated. As a result, more people are bound to believe in the score offered and the reviews provided.

AppFutura

If you want to end your search for an offshore team, go to AppFutura. It is a community specifically created to find mobile app development companies and software firms that offer a cost-effective solutions.

The website has a complete list of all top directories. If you want to find mobile app developers from a neighboring country, this website will help. Similarly, if you need help from top software consulting companies, they will provide a list of IT consulting firms.

Along with the directories, you also get reviews and ratings for the individual companies.
Still have questions related to hiring a software development company, read the following section.
FAQs About Hiring Software Development Company
What are the skillsets to look for while hiring a software developer?
The software engineer skillsets you should consider:
Technical knowledge
Know the latest technologies
Critical thinking ability
Interpersonal skills
Time management skills
Communication
What are the appropriate situations to hire software developers?
Once you have an idea, validate it, and develop the business model. After this, start hiring software developers. You shouldn't start hiring till you are sure there is a market for the idea you have developed.
Will the software developer help me to make my software live?
Yes, our team of software developers will help with the launch and deployment of the product. However, it is important to discuss this in detail during your first meeting.
Tell them if you need their help throughout the development lifecycle or during particular stages.
Ready to Hire the Right Software Developers?
With this, we come to an end to how to hire software developers for your business. Defining the scope and having a fixed budget in mind accelerate the process and optimize your hiring.
Ensure you have defined a hiring and recruitment process that can prevent productivity loss and make the process cost-effective.
Finding the right company is the first step you will take toward converting your app idea into an effective solution. At Space-O Technologies, we have visionaries that ensure proper development and market fit for the product. We have achieved 100% job success on Upwork and you can check out reviews of Space-O Technologies on DesignRush, Clutch and GoodFirms.
Whether you need an audit of the mobile app or, want a detailed analysis of what your next steps should be, our team is always available to support you.