Do you know more than 20 million people are using Dubsmash across 192 countries?
Dubsmash becomes one of the popular social networking app after it launched for the third time in November 2014. In Germany, it becomes #1 in the iOS store and later, climbing to the same spot in 29 other countries, including France and U.K.
We have seen a quick YouTube search for Dubsmash compilations that already turns up a bevy of Dubsmash video montages, which is same as one we have seen of Vines. So, why Dubsmash becomes more popular?
The only answer is, it has a simple UI which makes the process easy, quick and funny. Users can able to choose any sound that they want from Dubsmash's Soundboard and a short video up to 10 seconds for lip-syncing.
Dubmash also invites iOS app users to upload their own dubs with the Dubloader to take the user-generated content to the next level.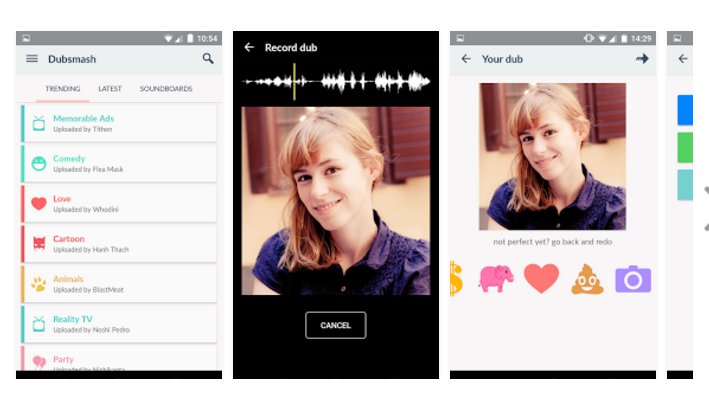 How Can Users Dub Their 10-Seconds Clips?
Get the latest version of Dubsmash for your Android and iOS devices. This application has been rated about 4* out of 5 across Google Play Store and iTunes. You just have to take a selfie video and mix it with any sound you like.
Dubsmash also allows production of user-generated content. Moreover, it allows iOS users to upload their own Dubloader.(This feature is yet to come for Android users.)
Dubsmash Make you feel like a Rockstar
2015 was an era where we have the trend of video selfies. According to the Tech Crunch report, Jonas Drüppel, Roland Grenke and Daniel Taschik, the founder of Dubsmash has failed to conquer the iOS app store twice before, but even they could not have expected that they had a wonderful hit on their hands.
But, within 7 days of app launch, the application reached to the number one spot in the Germany. Dubsmash app gives you quotes, which is taken from the variety of sources, including songs, movies, and TV shows. It is simple as choosing the quote you like and then start with recording it.
This application manages quotes in the different folders and relates to the theme that you are looking for. It also includes trending videos and clips that surely make you a ROCK STAR.
Do You Want to Develop an App Like Dubsmash?
Developing an application like Dubsmash means you are thinking to develop clone application. It's an easy way to make money from Dubsmash clone application. Although the logic is same, but graphic and purpose are changed. Even, additional features can be added to make application extra-ordinary.
For example: If you have a messaging application, you can change your app for the health sector and/or add functionality and graphics related to it. This same can get by using the Dubsmash clone script app.
We have seen a huge market potential in Dubsmash app clone and thus, getting more requirements of clone application.
What Are the Advantages of Apps Like Dubsmash?
Being an easy to understand and funny app, Dubsmash already maintains its user-base. People are loving this app and it's a great idea, no one had done before and it's interesting. Developing an app will be a tough job as it takes huge time to develop.
However, with Space-O, you don't have to spend enough time, as we already have experience of developing such type of application. We have a strong team of Full-stack Developer, who helps in developing Dubsmash clone app legally and safely.
How much does it Cost?
No one can tell you an exact cost of clone Dubsmash app, as it depends on many factors, from choosing the platform to customization and designing. On an average, iOS apps like Dubsmash would cost around $10,854 and Android clone app cost $10,854.