Do you belong to retail, insurance, finance, healthcare or any other industry where you constantly have to maintain an excel sheet for updating data and information? Then, you must be facing various problems like the hassle of manually updating, maintain a record of a number of sheets, track who updates what and where, and learning difficult excel formulas. Right? Then, it's a high time to save these efforts and time that you are wasting on maintaining an excel sheet. By converting an excel sheet into an app, you can save hours of effort like one of our recent clients, who turned his excel sheet into app.
Recently, our Android app development team has successfully c and that's even within a month. 
Yes, you read it right. Our team of Android app developers has converted an excel to Android app within a month.
It actually took us 160 hours. We do work 8.30 hours a day. So we completed this project and turned excel sheet into a mobile app within a month. 
The app is all about generating landscape irrigation audit report in the device within a few minutes that used to take hours of the time of auditors. Now, you might have a lot of questions like:
What type of excel sheet it was?

How our team converted spreadsheet to app?

Were there any challenges that our team faced?

 

What type of features our Android team integrated into this app?

How many

excel sheets we have converted so far into mobile applications?

What are the benefits of converting excel to standalone application?
To give answers to all your questions, we interviewed one of our Android app developers, who lead the project of turning an excel sheet into mobile app. While interviewing him, we asked him some of these questions that he answered one-by-one. 
10 Queries We Asked Our Android App Developer on Excel to App Project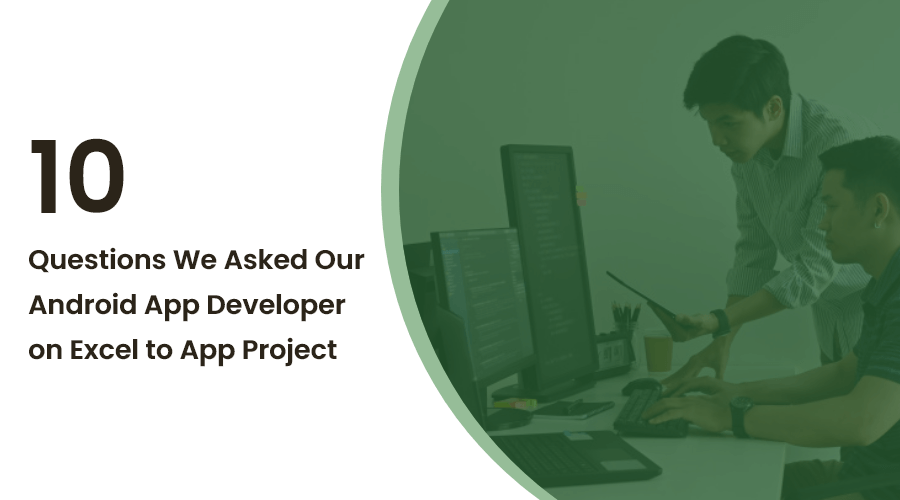 What was our client's native place?

Answer:  Our client (Greeley Government) was from the USA (United States of America).

Why did the 

Greeley Government 

want to create an app from excel spreadsheet?

Answer: The main goal of Greeley Government was to eliminate the paper-based forms and hassle of manually maintaining an excel sheet. So, the department decided to turn excel spreadsheet into app (water audit mobile app) so that water auditors don't have to fill information in paper-based forms and maintain excel sheet manually. Using a water audit app, Greeley water auditors can generate water station audit report within a few minutes.

How did we start the project?

Answer: We started this project by understanding. Yes, we took almost one week to understand our client's requirements and vision. Our team also spent time on comprehending the entire Greeley Government department and its conventional process of generating a report.

We checked the paper-based forms and excel sheets that our client used to maintain. After comprehending and researching on this project, we decided to turn excel spreadsheet into app for the Greeley Gov. Department.

How many resources worked on this project?

Answer: Total of 4 resources worked on this project.

1 Project Manager

1 Designer

1 Sr. Android Developer

1 Quality Analyst

What challenges did you face while converting excel into the app?

Answer: While converting excel to app, our assigned Android app developer, who has almost 3 years of experience in the Android app development industry, faced some challenges in macros of excel that had complex logic. It was quite a major issue for our developer as he did not work on any such application previously. So, he spent some of his time understanding excel sheet and its formulas, and ultimately converted it successfully into an Android app.

How much time did we take to convert excel into the app?

Answer: We took only a month to convert excel to mobile app successfully.

Can you please share the live link of this application?

Answer: We can't share the live of this application as it is developed for Greeley Government Organization only. So, the Greeley Gov. department does not want to upload and make it public. Here are the screens of the app that you can check:

How many excel sheets we have converted so far into mobile applications?

Answer: We have converted over 25 excel sheets into mobile applications, eliminating the hassle of our clients to maintain and manage excel sheets manually.

What are the benefits of converting excel to app?

Answer: There are various benefits of converting excel to mobile app such as:

No chance of human errors:

The chances are high with user-generated spreadsheets and excel. Even experienced excel users can also do some common mistakes, so it would be better to turn it into an app and there will no chance of mistakes.

Easy-to-access anytime & anywhere:

By converting an excel spreadsheet into a mobile app, it becomes easily possible to access it anytime and anywhere from the smartphone. Employees don't have to look for important formulas or carry a laptop to access the spreadsheet.

No need to keep track:

With excel spreadsheets to app, you don't have to keep track and maintain a number of excel sheets, filling data and information manually. Excel to app gives an ability to save it as a template inside the app for reusing. It also helps users to generate PDF reports to send emails.

In fact, we have written a dedicated blog on the benefits of converting excel into app, so bookmark this and refer to it whenever you need to know the benefits.

Did we receive any testimonial from the client? How was his experience working with us?

Answer: Yes, after successfully converting excel to Android app, our client shared his work experience with us. It was a great experience for him to work with an entire team, who took only one month to turn excel to app. In fact, our client gave us a 4.5/5 rating on the feedback form that we send every client after project completion.
On a Concluding Note
You have gone through the recent interview of one of our Android app developers, who was a part of the excel to mobile app project. It might help you to get answers to your basic questions like benefits of turning excel into app, an approximate time we take to convert spreadsheet to app and some other essential questions.
If you want to know how converting spreadsheet to app can benefit your business or how much does it cost to create app from excel spreadsheet, or what is the mobile app development process steps we follow to turn excel into app, get in touch with us. 
We are a leading mobile app development company in India and have already converted over 25 excel sheets into mobile apps and got appreciated by our clients. So get the best mobile app development team for your project. Here's a testimonial that we received from our client after successfully completed his project. In this testimonial, our client is sharing his complete experience like how he hired us, shared his requirements and how we proceed ahead and successfully developed the app.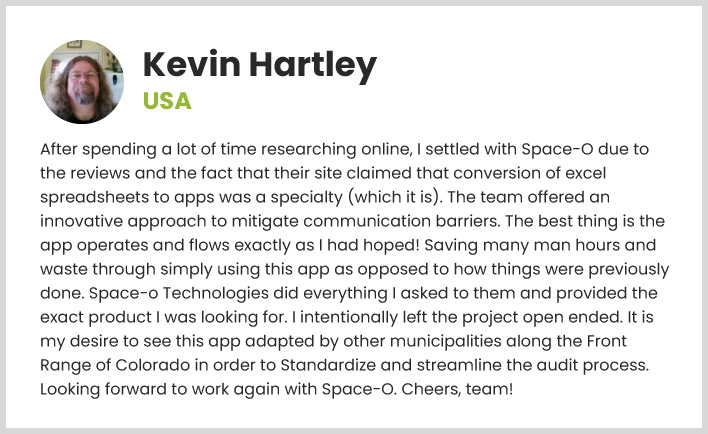 In case, if you have any query, just fill our contact us form with your requirements and one of our sales representatives will get back to you shortly and provide you with a 30-minute free consultation.