If you have a food delivery app idea and want to convert it into a reality, you are in the right place.
Reason?
We are a leading food delivery app development company. We have expertise and experience in developing custom food delivery solutions from scratch. So we know what it takes to create a successful food delivery application like Uber Eats, Grubhub, Postmates, and Seamless.
In fact, recently we designed and developed Delishry, an online food delivery solution based in North Eastern Arizona, USA.
From this post, you will learn:

How to create a food delivery app from scratch

Best food delivery apps available in the market

How do food delivery apps make money?

How do food delivery apps work?
Let's get started.
Introduction
Who had ever thought that a simple idea of door-to-door deliveries can be so popular in the coming years? The best food delivery apps like Seamless, Postmates, GrubHub, and UberEats are the game changers that made things possible in Uber for the delivery genre.
A flood of capital is dishing over billions of dollars in the online food delivery model and order business. As a food startup, it is a great opportunity for you to dive into the evergreen food apps segment.
According to Statista, the online food delivery segment amounts to  US$122,739m in 2020. It is expected to grow at an annual growth rate of 7.5%, resulting in a market volume of US US$164,002m by 2024.
According to the same report, a large part of this market segment is platform-to-consumer delivery with a market volume of US$62,798m in 2020.
By 2030 the food delivery industry is expected to reach the amount of $300 billion.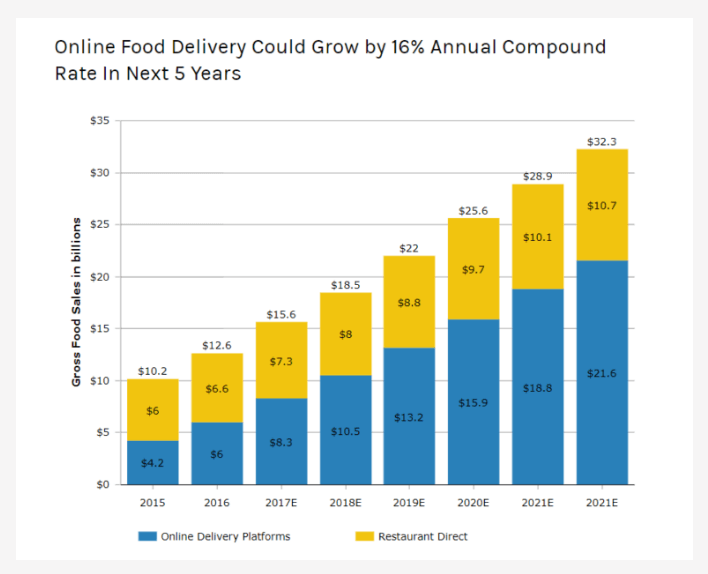 With such encouraging market size, the investors are also eagerly waiting to grab a bite of this cake. According to Crunchbase, Columbia's Rappi had the largest venture capital funding among the food delivery companies in 2019, with the startup bringing $1 billion in Series E round.
DoorDash is one of the top food delivery apps that raised $1 billion in venture capital this year through its $400 million Series F in February and $600 million Series G in May.
Thus, there is a lot of room for food apps with unique concepts and services. We, at Space-O Technologies, have helped various food businesses, startups, cafes, restaurants, and restaurant chains to double their business revenue through food delivery and ordering apps like Postmates and DoorDash. From designing to deploying your app to the App Stores, our mobile experts will take care of everything no matter what type of restaurant mobile food delivery business you are in.
Now, if you are already having a food app delivery idea in mind, go through this blog. Herein there are certain steps that you need to follow to make a successful food app in the food delivery market.
Want to Create Food Delivery App?
Tell us a little bit about your app idea. We will send you a free quote.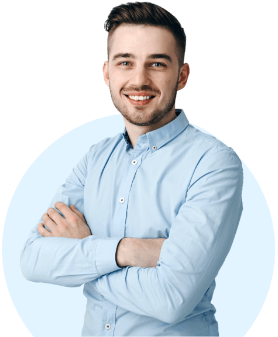 How to Create a Food Delivery App in 5 Simple Steps
Integrate these powerful features in your on-demand food app

We have curated a complete list of must-have features that the current food delivery system or ordering platform should have for customers, drivers, and restaurant business owners. Let's check out the latest features.

Customer's App:

Search filter: Allow your app users to explore restaurants, cafes, bars, by location and cuisine. You can also curate your search filters by different restaurants, dishes, favorite cuisines of your online users. This makes ordering food extremely easy.
Order Placement: Make it easier for customers to place their orders with a few simple taps. Provide them with intuitive navigation that leads them directly to the check-out procedure. For instance, let them select and add their favorite dish through an 'add to order' functionality. From there lead them towards the final 'check-out' and 'payment' process.
Real-time tracking: Tracking their food order through a geolocation map as Google Maps integration assures customers about their package delivery. Users can also check how much time a driver will take to reach. This helps in building trust in the food on-demand service.
Payment gateway integration: Integrate your apps like Zomato or GrubHub with payment gateways like Paypal, Stripe, and Braintree. Allow users to pay by credit/debit card. Make sure that you provide your customers with multiple payment options.
Real-time availability: Allow your users to check the availability of the tables in different restaurants through your food app development. Make sure they are able to book the space in just a few simple steps.
Review and ratings: This feedbacks are necessary to know the response of your online food app. Provide your users to rate and review your app so that you can look into the loopholes in time.

Delivery Driver's App:

Signup or login: Allow your drivers to signup in the app through social media networks like Gmail, and Facebook. Make the login procedure easy by entering personal details so that drivers can register in the app.
User profile: Let your drivers maintain a complete profile that includes a photo, name, email address, contact number, photo, and other important information. Drivers can keep their profiles updated.
Notification alert for new orders: Drivers must get push notifications for the new orders that are assigned. Even when the food delivery application is closed, they should get a sound notification for the order assigned.
Manage multiple deliveries: Drivers can also manage multiple food deliveries at a time and respond to all the requests that are nearby to other delivery locations.
GPS map integration: For the delivery boy to make a last-minute delivery and to deliver it on-time he needs to choose the shortest and fastest routes to reach the user location. This also helps him in reaching the correct destination based on the user request.

Admin Panel (Dashboard Panel):

Monitoring performance: Drivers, deliveries, scheduled/canceled orders, and data related to drivers can be easily monitored through the admin panel.
Manage orders: Manage every activity from pickups, to dispatch, and scheduled orders. In this way, you will easily streamline orders and deliver them on a timely basis to the customers.
Real-time Updates: Get real-time updates and notifications about the driver and restaurant owner when they update their profile, restaurant information, and made changes in the availability.
Payment and commission management: Allow owners to set payment and commission rates and manage it directly from the admin panel with every single partner and make payments.

Where you want to target?

Defining your target audience for a successful mobile app has to be a strategic task. Whether you are planning to start grocery delivery or mobile food ordering business, you need to precisely know and understand your target audience.

The easy way out is to understand your own product. You need to have a clear idea of – for whom have you made this food delivery app or Uber for online food delivery platform.

This will not only help you in revenue generation but also during the marketing of your app. To find the best way to market or promote your online delivery business model, you need to know about your potential customers including demographics, geolocation, interests, and lifestyles. This will help you in creating your buyer's persona, which is a picture of the targeted audience you want to reach.

Such food apps and on-demand grocery delivery apps are used mostly by people having a busy schedule, a working-class lifestyle, or students who spent more time amongst others. They are going to be your primary target.

Now, to lessen your burden, our expert food app developers have researched well in advance on the regions which are actually interested in the idea of such delivery apps development.

The US, Germany, China, Europe, UAE, Brazil, Saudi Arabia, and Korea are the countries with the highest online user penetration for food apps.
Due to COVID, Europe's grocery market is in need of digitization and that allows the huge opportunity for the businesses to establish and thrive.
The top five countries that are leading in the 'food delivery' service are Singapore, the US, Malaysia, the Philippines, and New Zealand.

Thus, if you are planning to initiate online food ordering app or on demand grocery delivery business, you should have a close look at these countries and regions. Study the online user trends and their buying patterns for a successful grocery or food app development.

Find the best food delivery app

It is essential for you to keep your enemies close to you than your friends.

To stand out from the leading market giants like DoorDash, GrubHub, and Uber Eats, you need to research and analyze their market strategy and get an insight into the features. You can enhance your feature integration by studying your existing competitor's apps.

Moreover, there are apps like Dija, Weezy which offer ultrafast grocery delivery in less than 10 to 15 minutes. You can enhance your features by studying your existing competitor's apps.


The best way to do this is by studying what your competitors have or lack. For instance, if your competitors do branding on social media, even you should market your apps there. This is because most of your target audience is young and they all spend a lot of time on social media.

You can also learn which restaurants are partners with your competitors and which restaurants aren't. You can design your strategy in such a way that you have more restaurants and this way generate more orders and more revenue on each order.

Most of the food ordering and grocery delivery app startups spot buying patterns to ensure reliability and speed. The aim of most of these apps is to make you order as many goods and food as possible. To develop a food delivery app with an innovative approach, it is crucial for you to research the industry giants. So, that you can learn about the features and benefits they offer to their audience.

We have discussed how to make a food delivery app. Next, check some of the most popular food delivery apps from which you can get a clue for your own food apps.

Name Of The App
Features
App Link
DoorDash

Ordering Food Anytime
Check Order Status
Real-time Order Tracking
Schedule Deliveries
Online Payment

GrubHub

Ordering Food Anytime
Locals Deals & Offers
Real-time Order Tracking
Online Payment

UberEats

Order with a Tap
Find Restaurants
Real-time Tracking
Online Payment

1. DoorDash

Image Credit: DoorDash

This is an on-demand restaurant app that delivers breakfast, lunch, and dinner from online user's preferred restaurants. They also have an alcohol delivery service facility from restaurants, stores, breweries.

With DoorDash you can get delivery in under 45 minutes. Started in 2013, DoorDash expanded in more than 23 major markets including Canada, the USA, Boston, San Francisco, LA, and Toronto.

The mission of DoorDash is to help small businesses grow and to offer economical convenience to customers. DoorDash has generated around $60 million to date and its current valuation has reached around $1 billion.

Pros
Cons

No-contact deliveries
User-friendly
Free deivery available

Lacks proper customer support
App crashes frequently
Long loading time

2. GrubHub

Image Credit: GrubHub

This Uber for delivery is considered to be the most seamless food ordering service. It allows users to search for their desired cuisines or browse through the list of local restaurants which are nearby through its "food near me" functionality.

As you are planning for a food delivery mobile app development, you can implement a feature "favorite list" where users can personalize their search and can find or reorder the food items just in a tap, rather than roaming through the menu.

Along with that, many entrepreneurs like to looking forward to developing a similar type of application like GrubHub. If you are planning to start a home delivery app development business, GrubHub can surely inspire you.

Pros
Cons

No hidden fees
App provides a vast selection of restaurants
24/7 customer support

Not user-friendly
Order cancelations not handled properly
App freezes frequently

3. Uber Eats

Image Credit: Uber Eats

This app provides users with an easy payment gateway and simple ordering functionality. Thus while you plan to develop food delivery app, make sure you cross-check your app's check-out features.

Pros
Cons

Available in a lot of areas
On-time delivery
Exclusive offers and deals

Issues in tracker
Not user-friendly
Payment issues

For more in-depth knowledge of the estimated cost of on-demand delivery app, the technical part of delivery app development, how to monetize your food app, you should dive in to read the guide of how to make on-demand delivery app.

Why you must validate it with food delivery app developers?

There are many things you need to do before you start building an app, the first and foremost is to cross-verify the food delivery app idea with a professional and experienced mobile application development company like us.

A developer can actually guide you through the technical aspects and market app trends. You will get an insight into your overall cost of development, and an expert in designing and deploying app knowledge.

It is viable to know about the success ratio of the idea rather than investing and going through business losses. Thus validate your food delivery app like Zomato idea with an app development firm that has already worked on the same projects already.

Final decision

The market is saturated with these food app ideas, you will have to be prepared for cutthroat competition. After discussing your app's scope, features and functionalities, if you believe in your idea, then with the right technique and strategy, you can create a food delivery app as rich in features and navigation as Uber Eats. After clearing all these things, take a final decision and move ahead along with a professional iOS and Android mobile app development company to develop your food delivery app.
Food Delivery Startups in the times of Coronavirus Outbreak
We all know that with COVID-19 becoming increasingly widespread, the lives of people around the world have changed. Most countries have announced lockdowns, and life, as we know it, has come to a standstill.
Almost everything is closed except for essential services. Food delivery services are one of the most essential businesses out there.
With people practicing social distancing, self-quarantine, and not going out of their houses, food delivery startups are in demand more than ever. They cater to more orders than ever. Your food delivery business can actually help people stay indoors and fight this pandemic.
Want to Develop a Food Delivery Application?
Book your free consultation with our app experts.
If you already have a startup of food delivery or restaurants, this may be a good time to build a food delivery app like UberEats or GrubHub. The best part is, you don't need to come out of your house to get it developed. You may get it outsourced from a mobile application development company.
Moving on, you should not get carried away and be careful when it comes to safe and hygienic food delivery. Let's take a look at the precautions you must take.
Precautions to take while running a startup of food delivery during a virus outbreak
You must urge customers to pay online, make sure your food delivery app like GrubHub has an option of digital payment.
You must make sure that the delivery executives and customers agree on no-contact delivery. The delivery personnel can drop the package at the door and cal or message the customer to inform.
Sanitization and gloves for drivers are a must. Their safety is more important than any other aspect of your business during these times.
In the case of takeaways, the customers should pick up the package from the counter and there should be contact between the restaurant staff and customers
You should also make sure that you use fewer human resources at the workplace. Let people work from home if they can such as customer service and accounts department.
Frequently Asked Questions
How do food ordering apps make money?
A Food ordering app development primarily makes money through the following monetization strategies:
Commissions: These apps charge their restaurants and restaurant partners on every meal order. They have a predetermined commission cut for every amount. This varies from order to order.
Delivery fee: Most food ordering apps levy a delivery fee from their customers. Some part of this order delivery fee goes to the app revenue while most of it is for the delivery personnel.
Paid listings: Restaurants pay money to get listed on the apps. This gets them the needed visibility, orders, and customers.
Sponsored ads: As your app becomes popular, you may also get running ads from networks like Google Adwords and Facebook Ads that bring revenue.
How do food delivery apps work?
Food delivery apps allow customers to order food from nearby restaurants at their convenience. The customers can get their order delivered, they can pick it up themselves or they can dine in. The restaurants receive the order on the restaurant app and prepare the food according to the order. The delivery guy picks the order from the restaurant and drops it at the delivery address.
How much does it cost to make a food delivery app?
The meal delivery app cost depends upon functionalities and features that you want to integrate into your app like UberEats or Zomato. The time consumed to integrate features in your app also depends on the complexity of the features. The hourly rate of the developer is obviously a factor that needs to be taken into account, all this combined decides the cost of the development process. In order to calculate the cost, you can use the following formula.
Development time X Cost per hour = Total cost of application development.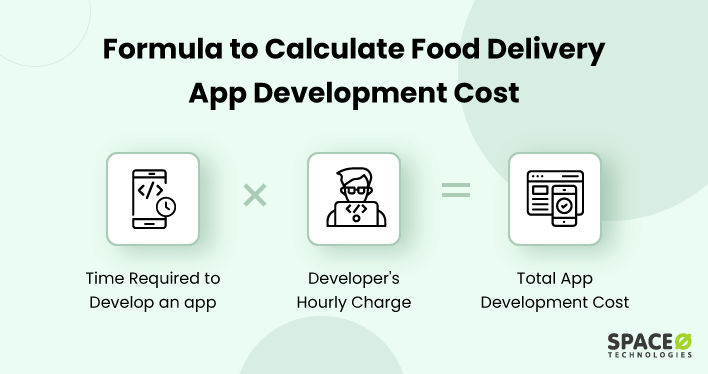 Do you provide support after the app has been deployed?
Yes, we do. Our sole purpose is to help our client get the best product that he had in his vision. This is why we provide 90 days of free-of-cost technical support after the app has been launched. If there is are any issues like in orders or order tracking, that you face while using your app like UberEats or Zomato, or need any changes, we discuss your requirements and take further steps to resolve them.
Ready To Develop a Successful On-Demand Food Delivery App?
You need to be absolutely clear about your demands and requirements. Discuss every single query related to food delivery mobile application development project like how much does it cost to develop a food app, how to make money with free apps, and development timeline.
If you need any more information, contact our app development team. Just fill our contact us form given and one of our sales representatives will get back to you to answer your query. The consultation is absolutely free of charge.