This blog is for entrepreneurs or startup owners who want to solve real-life problems and serve this human community with the help of technology. We are one of the top taxi app development company and we know how much will it cost to develop ride sharing app, like Grab, the Singapore-based ride-sharing app, which you can consider during ride-sharing app development.
"Taxi!!", this statement that you may have noticed that nobody says right now in order to struggle to hire a cab. The old trend is broken now. It has been shifted to Push notification like "Your Booking for Taxi has been Confirmed!" that you usually receive after booking a cab or taxi. Since the time has changed a lot.
Being a regular customer of popular taxi booking app like Uber, Lyft or Grab, you may feel that you do much rely on these taxi booking apps rather than the driver whom you know for several years. For the sake of quick & professional taxi service without spending a fortune, everyone loves it's taxi app like Uber.
According to the report of Uber, in the year of 2017, the number of customers has reached to $40 million per month.
The Uber's fast growth and success are directly proportional to decrease in traditional taxi usage. From the following graph, we can clearly understand that people are getting used to a mobile application to book any taxi, instead of direct booking.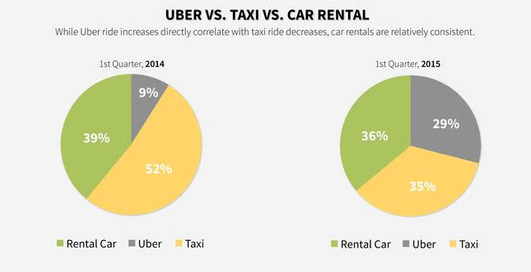 When it comes to the U.S ridesharing market, Uber & Lyft (Uber's competitor) have already set up their benchmarks. Similarly, in Asia, Grab is sharing the same status as Uber. And, undoubtedly, it will soon compete for Uber-like apps in taxi booking services. Furthermore, Grab is recognized as a reliable taxi booking app in Asia and known as GrabTaxi by Techinasia. Grab announced on their official website, it hits the 1-billion milestone on 26th Oct 2017.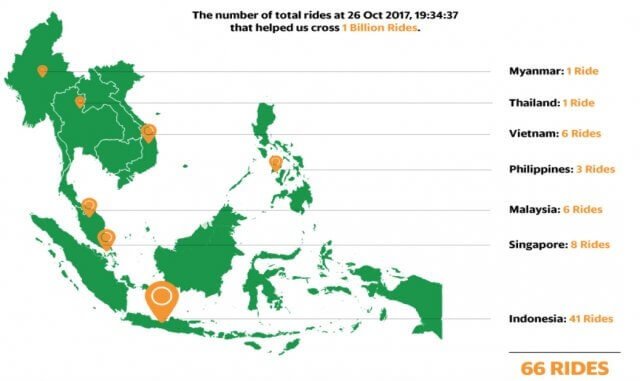 Undoubtedly, this data from Grab seems fascinating for those who are planning to develop a taxi booking app like Grab.
Want to Develop a Taxi Booking App like Grab?
Let's talk. With thorough research and market analysis, we help you define your project scope and check the feasibility to develop Grab app.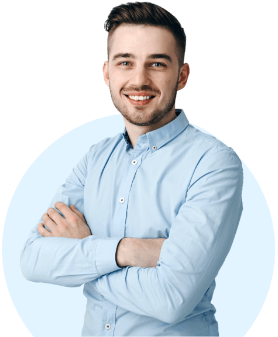 Grab's Overall Growth
Emerged in 2012, the Singapore-based ride-sharing app – Grab is excelled to deliver seamless transportation services in 55 cities across Southeast Asia.
"In the year of 2016, Grab app has been downloaded over 45 million devices", according to the report.
Recently, we came across another news from TechCrunch that Grab, on-demand transportation app, has raised $2 billion led by SoftBank. SoftBank is being earmarked Grab's operations in Indonesia that is the biggest in Southeast Asia in the next five years, competing with Gojek.
Also, Grab will raise the additional US $500 million, and GrabTaxi is the largest single financing in Southeast Asia.
If we talk about Grab's growth, then it is worth mentioning that according to the Fortune report, "GrabTaxi drivers has 2,00,000 in Southeast Asia in the year 2016."
The Unicorn ride-sharing company, GrabTaxi has raised $1 billion in the Corporate round of funding led by Toyota Motor Corporation on 13 June 2018.
When you check the SimilarWeb, you will notice the overall usage of the Grab is dramatically increasing.
According to sensortower.com, Grab was the second most installed ridesharing and taxi app worldwide last month with more than four million installs that represented a 7% increase from May 2018. Indonesia represented 44 percent of these downloads whereas 16 percent were from Vietnam.

The ride-hailing app, GrabTaxi is also claimed to have 2 million driving partners, over 68 million mobile app downloads, and 3.5 million daily rides in 2017.
The Southeast Asian Uber rival, Grab has jumped into the bike-sharing space after it launched service in Singapore. According to the report from TechCrunch, "Grab has already launched its bike-sharing service in Southeast Asia ". The new Grab's bike-sharing service is known as GrabCycle Beta will offer services, including bike-sharing services oBike that includes Grab as an investor, GBikes and Anywheel, plus e-scooter rental Popscoot.
According to the latest report from Crunchbase, "Grab has new mobility moves with the latest funding of $250 million in Series H round of funding, led by Hyundai Motor Company and Kasikorn Bank." This famous ride-sharing company, Grab is now valued at $6.6 billion."
According to the latest report from TechCrunch, Grab is on a push to go beyond transport and become an everyday "super app" and that strategy just embraced video streaming today. Another report from TechCrunch reveals about Grab's new fundraising. The company has declared that it has raised $200 million from Central Group, a retail conglomerate based in Thailand.
In this graph, you can see the complete growth of Grab until now.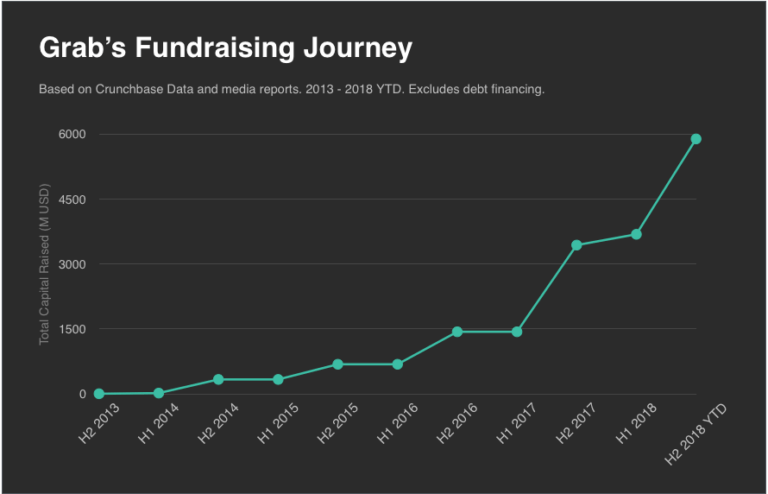 As per the latest report from Crunchbase, "The ride-hailing giant, Grab has raised $150M in Series H round of funding, led by Yamaha." The real motive behind this fundraising to double down on motorbike on-demand services.  
What Makes Grab Stand Out From its Competitors like Uber, Lyft and Careem?
You may be aware of all popular ride-sharing apps like Uber, Lyft and DiDi Chuxing. Nevertheless, GrabTaxi includes some essential attributes, which make the Grab app stands out.
It provides many other services such as budget taxi, executive taxi, GrabCar, GrabHitch. As it allows users to choose from best options according to budget and requirement. On the other hand, Uber has UberX, UberXL, and UberBlack options.
Grab Provides New Driver's Experience Feature – Better 365

In order to improve the driver's experience, Grab Launched a campaign, which is named as 'Better 365'. This feature is designed to work in four ways like better support, increased earnings, efficient tools, and strong community.

Basically, it is designed to work on the welfare of driver partners of Grab. On the other hand, you would not find out this characteristic on any other ride-hailing app like Uber.

Pricing

When it comes to pricing, GrabCar charges the lowest fare to customers as compared to Uber and other taxi services. Check out this graph by Value Penguin.

Grab Simplifies Driver's Incentives & Earning Trackers

GrabTaxi app has a feature for ensuring a safe and rewarding driving experience. They can access in-app training videos and quizzes. Also, driver-partners can earn points after completing the quiz, and also they can be redeemed for special rewards.

Grab Provides In-app Training Videos to Safe & Rewarding Experience

GrabTaxi app has a feature for ensuring a safe and rewarding driving experience. They can access in-app training videos and quizzes. Also, driver-partners can earn points after completing the quiz, and also they can be redeemed for special rewards.

Others

Grab allows providing advance taxi booking system up to 7 days. The user can also select a starting point, dropping off point, and can choose whether travel is personal and for business reasons. Also, riders can take benefit of real-time driver tracking.
After discussing all the unique factors of the Grab app, we will now discuss the main features of the GrabTaxi app. Let's see what are its main features.
The Main Features of GrabTaxi App
Apart from this, there are main features of GrabTaxi mobile app, which are worth mentioning here for developing a rideshare app like Grab.
The Diverse Range of Car & Taxi Options Available in Grab

Yes, that's true! As we've already mentioned that GrabTaxi app offers a diverse range of options in order to hire a cab instantly. Grab does provide the different options in choosing car & taxi type according to user's requirement and budget-

GrabCar: This concept of service is basically designed for the everyday needs of the user. GrabCar includes three categories further like

GrabCar (Premium)
6-Seater (Economy)
6-Seater (Premium)

In terms of ride and car options, GrabCar offers a great deal to the customers.

GrabTaxi: In this, GrabTaxi service pairs with licensed taxi services only. You as a user can book a professional and licensed taxi through the GrabTaxi app. It also provides flexible payment options to users. With the integrated payment system, riders can easily make payments using credit cards, debit cards, and cash. In this app, users have the highest chance of booking a taxi coupled with a short waiting time. The service, GrabTaxi includes three taxi options further:

Standard Taxi
LIMO Taxi
Electric Taxi

Image Source: Grab

GrabHitch: A social ride-sharing option by Grab as it allows to book a cab at the lowest price. It works only by connecting the user with one another driver if the driver is going to in the same direction. GrabHitch has a longer waiting time as compared to the other two services i.e. GrabCar and GrabTaxi.

Licensed and Insured Drivers

Whether you choose GrabCar or GrabTaxi option, Grab assures their customers to provide licensed and insured car owners with a safe driving experience.

Now, we will discuss the average cost to make an app like Grab. Please check how much it costs to develop an iOS as well as an Android app like Grab.
How Much Does it Cost to Make a Transportation Application Like Grab?
One of the most important questions is – how much does it cost to make an app like Grab? It's as important as Uber app development cost. Well, in order to provide the estimated hours and grab app development cost, we contacted our dedicated Uber-like app development team, which has developed more than 50 Uber and grab like app cab service solutions. They have provided us with this basic price idea for the user app and the driver app. Still, if you have any idea or want to get an exact quote, you can directly contact our team by filling a form at the end of this article.
| Deliverables | Estimated Man Hours |
| --- | --- |
| (I) User's iOS Application | 469 |
| (II) Drivers' iOS Application | 226.8 |
| Sub Total | 695.8 |
| (III) User's Android Application | 575.4 |
| (IV) Drivers' Android Application | 273 |
| Sub Total | 848.4 |
| (V) Web Services (API), Frontend & Backend Websites | 511 |
| iOS App Grand Total | 695.8+511= 1206.8 |
| Android App Grand Total | 848.4+511=1359.4 |
So here are the estimated hours if you are planning to develop an app like GrabTaxi. Although, it all relies on various factors, including platforms Android & iOS. Plus, above-mentioned hours do vary from developer to developer, which you will consider to hire mobile app development company or Grab ride sharing app developer. However, we've described the hours in one of the best ways possible.
Want to Hire Skilled Developers?
Hire professional web developers that will work dedicatedly with your project. Talk to us and find the most eligible developers.
In case you want to know more about the Grab app, then refer to the FAQ section. Check who has developed the Grab app, how to make money using an app like Grab, and also how the Grab app works. Please go through all the questions one-by-one:
Frequently Asked Questions
Who developed Grab app?
Emerged in 2012, the Singapore-based ride-sharing app – Grab is developed by Anthony Tan and Tan Hooi Ling.
How to make money using an app like Grab?
There are multiple ways to make money out of an app like Grab. Here we have mentioned some of the ways that you can implement to earn money. Let's check all these methods.
Base fare
Commission from drivers
Trip fares from passengers
Charges from trip cancellation
The booking fee (or safe rides fee)
Premium rides
Brand partnerships/advertising
Leasing to drivers
Which are the best features for a rider app?
If you are planning to make an app like Grab, then you consider implementing the following features into your own app. Here are the essential features for a rider app.
Register/Login via social media
Fare calculator
Tracking
Payment integration
Drivers' ratings and reviews
Booking ride history
Messaging
Ride cancellation
Push notifications
How does the Grab app work?
Book Ride: The rider can easily book his rider within just 2 taps. They just need to enter pick-up and drop-off locations to get the estimated ride fare.
Get a Driver: The Grab app will help the rider to find the nearest available car driver.
Track The Driver in Real-time: The Grab app offers this feature, where they can track driver's location in real-time and also check the estimated time of arrival.
Arrive Safely: A rider can also share his ride details with his loved ones for safety and also just let them know that they are on their way.
Which are the key features of the Grab admin panel?
Here are some of the key features of the Grab admin panel that you can also consider while creating your own Grab-like app.
Users Management
Drivers Management
Driver Tracking In Real-time
Payments Module (Cash & Online)
Ride Tracking & Management
Reports & Analytics
Pricing Management
Offers & Coupon Code Management
Reviews & Rating Management
Deliveries Management With GrabExpress
Ready to Build Your Own Ride-Hailing App
Still, you may have query or confusion related to the cost to develop ridesharing app Like Grab or want to get quote for taxi app like Uber along with complete features or custom carpool app development services, all you need to get in touch with us via the below-given form, and we will revert you within 48 hours.