Apple's iPhone users are increasing day by day.
Based on this fact, we can determine that developing an iOS app has the potential to target the right audience and generate better ROI for your business.
But, do you know by using which tools you can accomplish that?
Don't worry if you are not aware of the right tool because we have listed the best iOS app development software before starting iPhone app development to help you succeed in your venture.
In this guide, we have broken down each iPhone app development tool by its features to help you understand which software to use for your unique project. So, let's get started!
Year by year, the app development industry sets new revenue generation records, be it Apple, Google, or mobile app developers. Hence, the revenue is growing steadily each year. In fact, the App Store spending reached $72.3 billion, according to Sensortower.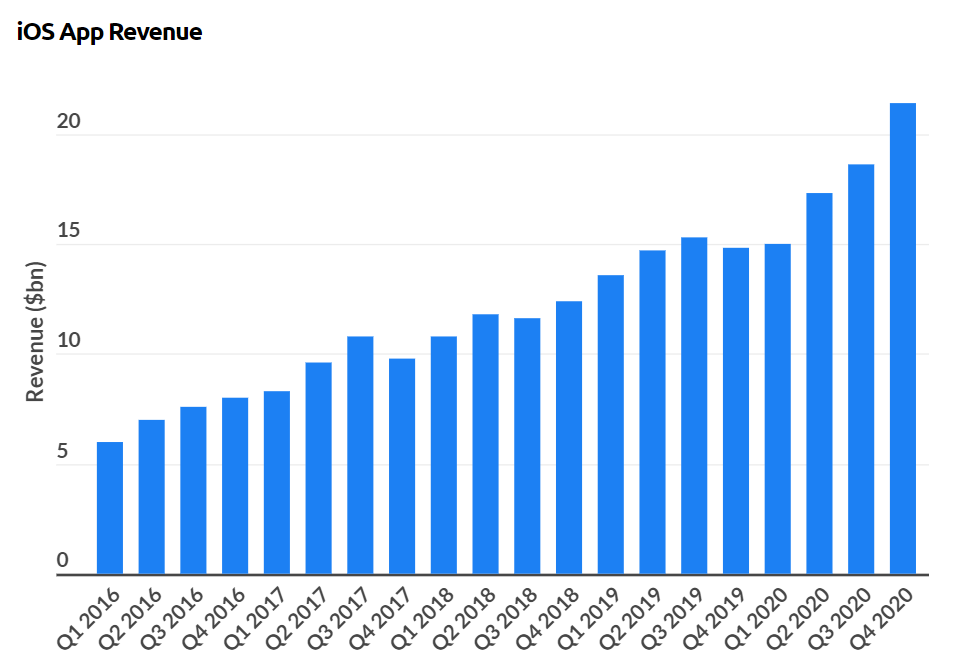 Image Source: Statista
The iOS app store has surpassed Google Play Store in revenue. That is the core reason behind the iPhone's popularity. Businesses have started to develop iOS apps to use as advertising tools. Whether you are an entrepreneur or student choosing the right app development tool determines your app success.
Best iOS App Development Software
Prior to developing iOS apps, first, it is important to design a perfect app prototype using iPhone app designing software. Once the prototype is ready. Go ahead with building an iOS application.
With the help of our experienced iOS developers, we have listed down the 6 best iOS development tools for you to check. We have divided the information based on ratings, price, and features.
Tool
Developed by
Ratings (G2)
Price
Features
Xcode
Apple
4.1
(799 Reviews)

Single window interface
Intelligent source code editing
Built-in support for Git version control
Integrated debugging

AppCode
JetBrains
4.3
(17 Reviews)

30 days free trial
$199/yr

Intelligent code assistant
Built-in tools & integrations
Multiple languages – one IDE

CodeRunner
Nitobi
4.7
(19 Reviews)

Write and run code in any language
Advanced code completion
Live errors and linting
First-class text editor

Flutter
Google
4.5
(26 Reviews)

Free and open source
Fast development
Expressive UIs
Native performance

BuildFire
BuidFirejs
4.7
(129 Reviews)

Endless customization
Experience real-time updates
Marketplace of integration
Easiest custom app platform to use
Develop iOS apps with plugins

AppyPie
Appy Pie Inc
4.5
(649 Reviews)

Offers app analytics
Offer prototyping tools for iPhone and Android
Consists of multiple features like IAP, GPS, push messages
List of 6 Best Software for iOS App Development
FAQs About Software for App Development
Which is the best iPhone app development software that is free?
AppCode
CodeRunner
Flutter
Ionic framework
Note: Some of these tools offer a free trial initially, then allow you to convert to a paid subscription.
Which is the best free iPhone app development software for Windows?
Conclusion
In this guide, you have learned about the best software for iOS app development. The Xcode will be an ideal choice to start native iOS app development. Flutter tool is an excellent option if you plan to develop apps in a single codebase for multiple platforms. If you don't want to get into coding much, BuildFire software will help you to develop customizable mobile apps in less time and cost.
Now, if you face any difficulty in developing your first iOS app, get in touch with us, and our technical team will guide you further. Since our iOS app developers have created 2800+ iOS apps successfully, our team is capable of turning any app idea into a smoothly running application. Some of our top applications have been mentioned below.
Glovo – A most downloaded on-demand delivery app in Spain
PayNowlink – Application for Stripe checkout