Are you inspired by education apps like Duolingo, Google Classroom, and Brainly? And why wouldn't you be when the EdTech market is growing exponentially.
You might be surprised to know that 'Education' is the second-most popular category on the Google Play Store, according to the report of Statista. It accounts for 10.47% of available apps worldwide.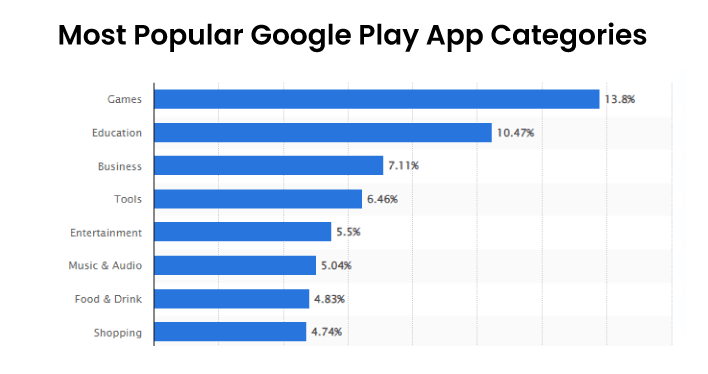 Image Source: Statista
So having an education startup company, if you have decided to create educational app like Duolingo or Brainly, this is the right opportunity. Check this complete guide to know how to create an education app.
With the help of our experienced developers and technology consultants, we have curated all the information in this blog.
Get more information on the market size of e-learning
Steps and timeline to develop educational apps
Monetization ways for your own education app
So, let's get started.
Overview of Online Learning App Market
You must want to know the market size of e-learning and other related statistics related to e-learning before you are planning to invest or want to know how to make a learning app.
Therefore, we have shared the top 6 statistics related to the online learning app market. Before we dive into learning how to build an e-learning app, let's take a look at these stats first.
Image Source: Global Market Insights

Image Source: HolonIQ

Image Source: Statista

Have you noticed anything seeing all these 6 statistics related to the e-learning market?

Yes, the e-learning market is thriving, be it in the USA, Canada, or any other region. This brings the opportunity for all the appreneurs who are looking to invest in e-learning app development.

Have an Education App Idea?

Want to discuss your app idea? Want to talk to our experienced app developers?

So, let's dive deeper to know how you can build your own successful educational app.

How to Create an Educational App for Android and iOS [6 Steps]

We have listed 6 simple steps to explain you how to create an app. This step-by-step process will help to know what you actually have to ensure while develop educational apps like Brainly, Memrise or Duolingo. Let's check all the steps one-by-one.

Decide on What are You Planning to Offer

Even when we talk about the education industry, there is a lot more to explore.

Why?

There are a lot of educational app types and enough ideas that probably become difficult for everyone to explore. You can refer to this blog, where we have shared the top 13 educational app ideas.

So, once you decide what exactly you want to offer, it would become much easier for you to know what functionalities and features you want in your app. And that is how you step ahead to build a successful education app.

So let's say you want to build a language learning app, then you need to focus on integrating various languages considering the point of view of students and learners. Plan the features accordingly, such as integrating small tasks, bite-sized videos/tutorials, audios, and tests.

With this, think about the look and feel of the application. This also includes identifying the target audience because the look and features of your application should attract your users. Let's discuss how you can identify your target audience and do competitor research in the next section.

Conduct Market Research

Being an entrepreneur, when you invest a lot in something, surely you wouldn't want to take a risk then. Therefore, it is recommended that you conduct market research before you go ahead with developing an educational app.

Why is research necessary before developing an app?

To analyze what customers want from your product
To know the challenges of your customers
To create a potential educational solution for your target audience
To know how your app will bring efficiency to your business
To understand the revenue models as well as finalize the monetization ways
To improve upon existing strategies and identify market trends

How to conduct research before you start the app development process?

Check app stores to find apps that are similar to your education app idea
Evaluate feedback that these app has received to know what your target audience expects
Look for opportunities and mistakes made by competitors
Hire a professional market research company

However, there is one more thing that you need to do and that is the SWOT analysis for your own app idea to ensure your education mobile app sustains in the market.

SWOT: Strength, Weakness, Opportunity, and Threat

Conduct SWOT Analysis for App Development

Strengths
Weaknesses
Opportunities
Threats

List down the advantages
Find your app's USP
Write down the ultimate goals

Figure out improvement parameters
Decide what to ignore
Check for challenges in revenue generation

Figure out the latest technology trends
Identify competitors' weaknesses
Find business scaling ideas for future

Figure our difficulties you might face
Identify funding issues

After these 2 stages of the app development process, you will be in the position to decide the features that you want to include in your education mobile application. So, let's check the 3rd step.

Essential Features to Include in Educational Mobile App Development

The best way to identify the features for your app is to know what exactly you are willing to offer to your future students. Apart from this, you can check the top comment section of the educational apps in Google Play Store and Apple Play Store.

Usually, the app users share their feedback and expectations related to the functionality in the comment section. You can even create a poll and ask your potential customers to share their preferences for features.

You can also refer to the following advanced features of an education application that we have shared. We have curated this list keeping all the latest education trends in mind.

Advanced Features of Educational App

Audio and video-based content
Live classes and tutorials
Offline courses
Gamification & 3-D lectures
Push notifications
Group chat and in-app discussion
Regular practice and analysis
Screen recording
Student/parent dashboard
Track progress and achievement

Determine the App Development Platform

Have you decided to develop your app on an Android or iOS platform? Or do you want cross-platform development, i.e., building a single app that runs on multiple platforms?

In the online education market, determining the right platform ensures success for your app. At present, Google's Android has the greatest number of users – around 2 billion.

Surprising Fact: Although Android has more users compared to other platforms, more than half of the market share of the USA prefers iOS as their smartphones' operating system.

This means you might want to develop your education application for both platforms including iOS and Android. Or you can also go with the option of cross-platform mobile app development.

Here are the few factors that you need to consider before selecting the app development platform:

Geographic location
App development time
Development complexity

In case you are still confused, you can hire a company that provides educational app development services. They will guide you on choosing the best platform for your app and also develop the application according to your requirements.

Hire Mobile App Development Company

After deciding all the important factors, you have to find a professional educational app development company. And definitely, this is one of the most important app development stages.

Being an entrepreneur, you would surely not want to compromise the quality of your app by selecting an amateur developer or a company that doesn't have experience in developing educational mobile apps.

However, you can find a professional team of developers on Clutch, Upwork, Toptal. Check their websites or portfolios and total work experience before hiring developers/companies based on your business requirements.

You can also consider Space-O as your reliable mobile app development partner because of our experience in developing educational apps. So far, we have developed over 4400 iOS and Android apps. You will be surprised to know that Space-O has 96% job success on Upwork.

In fact, we have experience developing 10+ education mobile applications for our clients. Our developed apps have been downloaded by over 30+ million users and have received funding of more than $1.2 billion.

After the successful launch of an education app, our client, Michael, has shared feedback. According to Michael, Space-O has offered him the app development services. And his education app is doing really great and helping him to earn expected profits.

Have a look at the feedback given by our client.

Launch and Market Your App

If you choose Space-O to develop your education app, then be assured. We will help you to launch your app successfully. In fact, launching the app on the respective app stores is a part of our mobile app development process. Above all, we also offer 90 days of free app maintenance services after the launch of the application.

So your app is now launched? What is next? How would you reach your target audience?

No need to worry, we have an answer for all of these questions.

To reach your target audience for your app, you can market your education app on various social media platforms. In fact, you can introduce your app to your website or conduct a press release to attract relevant traffic. Let's check some more strategies.

Strategies to Market Your E-learning App

Write a blog or guest post
Create a landing page
Create video introduction and teaser
App store optimization
Offer promo, coupons, and discounts

Looking to Hire Experienced Educational App Developers?

We have a team of 200+ mobile app developers having experience in developing over 4400 mobile apps for varied industries.

These are the 6 steps to build an educational app. Now that you know how to build an educational mobile app, you would like to know the timeframe to make an educational app. Isn't it?

So, let's discuss the educational app development timeline in the next section.

How Long Does It Take for Educational App Development?

After discussing with our technical professional, we have curated this estimated timeline to develop an educational app.

Education App Development Timeline Based on Process

You can refer to this table to check how long it takes to build an education app based on the app development process.

Education App Development Process
Estimated Man Hours
iOS
Android
Wireframing
32 hours
32 hours
Design
40 hours
40 hours
SRS
17 hours
17 hours
Test Case
10 hours
10 hours
App Development
220 hours
220 hours
Backend Development
160 hours
160 hours
App Testing
40 days
40 days

Now, we will share the average number of hours to integrate the advanced features in an education app. Check the following table to get further information.

Education App Development Timeline Based on Features

We have shared the top features of an education app and based on this, mentioned the average time to implement these features. Let's have a look.

Top Features of Education App
Estimated Man Hours
iOS
Android
Sign up/Login
43+ hours
43+ hours
Search
23+ hours
23+ hours
Profile
41+ hours
41+ hours
Course
17+ hours
17+ hours
Payments
36+ hours
36+ hours
Menu
95+ hours
95+ hours
Push Notification
14+ hours
14+ hours
Student Management
56+ hours
56+ hours
Test
55+ hours
55+ hours

This list for the educational app development timeline does not just end here. We have also shared an estimated timeline based on the different types of education apps.

Education App Development Timeline Based on App Types

Please refer to the table and check the different types of education apps along with their estimated timelines and examples.

| Education App Type | Estimated Man Hours | Examples |
| --- | --- | --- |
| Language Learning App | 740+ hours | Duolingo, Babble |
| Math Learning App | 800+ hours | Mathway, Rocket Math |
| Mobile Learning Management Systems | 1000+ hours | TalentLMS |
| App for Organizing the Learning Process | 850+ hours | Formative |

Apart from the timeline if you are interested to know the education app development cost, you can use the following formula.

To help you in calculating the app development cost, we have shared one example.

Let's say the app developer charges $35/hour. And it takes 800 hours to make an educational app. Now, you just have to multiply both the numbers.

800 hours X $35/hour = $28000

So, in this scenario, the app development cost for your education application would be $28,000.

You can also refer to the following table to know how much a mobile app developer charges based on their locations. Generally, the developers of the USA and Canada tend to charge more compared to countries like India and the Philippines.

| Country | Per Hour Charge of Developers |
| --- | --- |
| The USA | $100 to $150/hour |
| Canada and Australia | $90 to $130/hour |
| Europe | $60 to $80/hour |
| India | $25 to $50/hour |

Also, we have shared one image below to help to check the average app development cost based on different regions. GoodFirms has conducted this survey and found the average app development costs.

Where the app development cost is high in the USA and Canada, India offers app development services at lower prices. Let's have a look at the following image to check app development costs by region.

Image Source: GoodFirms

Now, let's discuss the top 3 monetization methods that you can use in your app to generate revenue, even if you choose to keep your app for free to use. Excited to know? Then let's dig into the next section.

3 Ways to Monetize Your Educational App

There are various ways to monetize an app and earn a passive amount out of it. However, we will discuss the top 3 monetization ways that generally e-learning startups or entrepreneurs use.

Subscription
Advertisements
In-app Purchases

In this section, we have explained how all the monetization methods work along with examples to make it easy for you to understand quickly. Now, let's discuss all the monetization ways in detail.

Subscription

Subscription is one of the most popular e-learning app monetization methods. Instead of purchasing the services for a longer period, the subscription allows you to pay a fee on a recurring basis.

This means you only have to pay until the time you are willing to avail of the services. Therefore, you can avail of a monthly subscription, yearly subscription, or lifetime subscription based on your requirements.

Let's take an example to understand it better. DROPS is a visual language learning application. It offers a lifetime subscription to its users for just $209. DROPS is now used by more than 25 million users and is available in 42 languages.

Advertisements

If you are interested in using this monetization method, then probably you have decided to keep your app free for your target audience. This way you can earn revenue by showing ads.
Let's understand how this method works.

You will be paid whenever your app user will click on the ad and also if the user installs the app via the same advertisement. In fact, the app owners also get paid when an ad is displayed (per impression).

Tip: Just ensure the ad matches with the intention of your app users, especially if your target audience is kids. Otherwise, irrelevant ads will make your users avoid using your app, which might lead to the uninstallation of the app.

Here is one example to check how one ad can lead your users to avoid using the app. One user of Duolingo shared her views on Twitter about how badly she is affected by an ad.

Image Source: Twitter

In-app Purchases

Using the in-app purchase monetization method, you can keep your app for free to use. However, you can offer paid upgraded services to your users. This includes paid features, special online courses for sale, and paid audio/video tutorials.

In fact, you can ask users to take regular tests in exchange for money. The users will give tests to monitor their learning progress, and in turn, the personal tutors can guide them on their performances. You can also distribute certificates on their participation in taking tests.

Fact: Almost all types of educational apps offer in-app purchases to generate their revenues. This list includes Duolingo, Memrise, Brainly, Bussu, and so on. Therefore, you can also plan to use this monetization method to make money from your app.

Want to Build an Education Application and Make Money?

Tell us a bit about your app idea. We have experience in developing custom educational and language learning apps with the latest technologies, such as AR/VR, and AI.

Now, let's discuss the popular educational app types. If you are unsure at this stage about your app idea, you can take inspiration from one of the following educational app types. Let's get started.

Top Educational Apps of 2023

The reason behind sharing these top 7 educational apps is that we want you to know their offerings and their unique USPs. This will help you to build your education app with a unique idea and strategy. Going through the following table, know how you can make your app stand out from the list.

For your information, we have created this table based on the top educational apps used in the USA, number of users, reviews, and unique features.

App
Features
Reviews
Number of Downloads (Play Store)
Download

Duolingo

This language learning app offers organized and progressive lessons
Regular practice tests
Offers bite-sized video lectures
Allows you to set learning goals
Push notifications for user engagement
Social network integration

4.5
11,876,589 Reviews
100+ Million
Android | iOS

Mathway

Helps to solve equations and simplify expressions
Solve math problems to get quick answers
Helps in doing calculations and basic math
Use Mathway for algebra, graphing, and calculus

4.4
360,301 Reviews
10+ Million
Android | iOS

Google Classroom

Join classes by sharing a code
Paperless assignments make it easy for the teachers to review and mark assignments quickly
Integrate learning materials, such as YouTube videos, Google Forms survey
Get direct and real-time feedback with video classes

3.9
1,856,980 Reviews
100+ Million
Android | iOS

Brainly

Scan or type the question to get quick answers
Brainly offers all subjects in this one app
Earn points by sharing knowledge
Search filtration to get specific answers

4.2
2,126,532
Reviews
100+ Million
Android | iOS

Canvas Student

Access to the grades and online courses
Communicate and discuss with your groups
Easy to submit assignments
Offers videos and quizzes to engage students
Push notifications on recent updates

4.5
145,437 Reviews
10+ Million
Android | iOS

Kahoot

Get self-paced challenges
Join study leagues to compete with friends
Host kahoots (games) live for family and friends
Create own kahoots by adding images and videos
Find kahoots on different topics

4.7
4,36,930
Reviews
50+ Million
Android | iOS

Toca Life World

Create your own characters and create stories
Get more than 500 characters to choose from
Design your own house
Make storylines and discover a new world

4.4
29,64,186
Reviews
100+ Million
Android | iOS

Still, looking for answers on creating educational apps? Check the next section of most asked questions to find answers to the latest trends in educational app development, cost to build an educational app, and the business model of Duolingo.

FAQ About How to Create an Education App

What are the latest trends in learning app development?

Video content / video lectures
Trending technologies like augmented reality, virtual reality, and artificial intelligence
Gamification – Gamified educational app
Micro training / bite-sized tutorials

How much does it cost to build an education application?

The average educational app development cost ranges between $10,000 – $30,000. The range could vary depending upon your requirements, features, and functionalities, the technology you use, and the hourly charge of the developers.

What is the business model of Duolingo?

Duolingo Plus: It costs $6.99 per month and offers unlimited test attempts, uninterrupted learning, and personalized attention to your progress.

Advertising: Duolingo displays ads and earns revenue from each impression.

Language Test: Duolingo users need to pay $200 for the test, and also they are eligible for getting certificates of the test.

Where to find mobile app developers for an education app project?

What are the things to consider while selecting an app development company?

Here are the following things that you consider while selecting an education application development company.

Check customers' reviews and feedback
Experience and portfolio
Global presence and development team size
Educational app design and development standards
NDA agreements

Which are the top education app ideas?

AR-based education app
App for handicapped students
Education games and quizzes
Question and answer app
Language learning app

Build Your Educational App

Let's take a quick recap of what we have discussed in this blog so that you can take away key points for developing your own education mobile application.

You have learned 6 basic steps of developing an e-learning app, and along with this, you have checked the market size of e-learning. Later, we have discussed the education app development timeline and the top 3 ways to monetize an app that you can use in your education app.

In addition, you also get to know the top 7 education apps based on their features, ratings, and the number of downloads. Now, it is your turn to build a successful education app according to your requirements.

Need guidance on your education startup business or want to hire a leading education mobile app development firm, contact us. We have experience in developing more than 10 education apps by delivering excellent results, helping our clients to generate high ROI.

Get in touch with us through the 'Contact Us' form, and our sales representative will guide you further.