The fintech industry has experienced exponential growth in the past years globally. According to Market Screener, the global financial sector is expected to be worth the US $26.5 trillion in 2022 with an annual growth of 6%. It is no surprise that everyone wants to know the business model to earn money in this ever-changing tech-savvy mobile finance world. Thus, with the help of our app consultants, we have curated 5 ways through which your finance app development project can be profitable or we can say how do fintech apps make money.
The term fintech is made of "finance" and "technology." With cutting-edge innovations like blockchain and artificial intelligence, there are new ways of doing business in the finance industry. Fields including banking, insurance, loans, wealth management are all getting a digital facelift.
Best finance apps like Mint, Robinhood, Venmo, Acorns, Tycoon, Coinbase, have made an exception when it comes to online presence and revenue generation. For a better understanding of the current fintech trends and its existing ecosystem have a look at this report by Business Insider.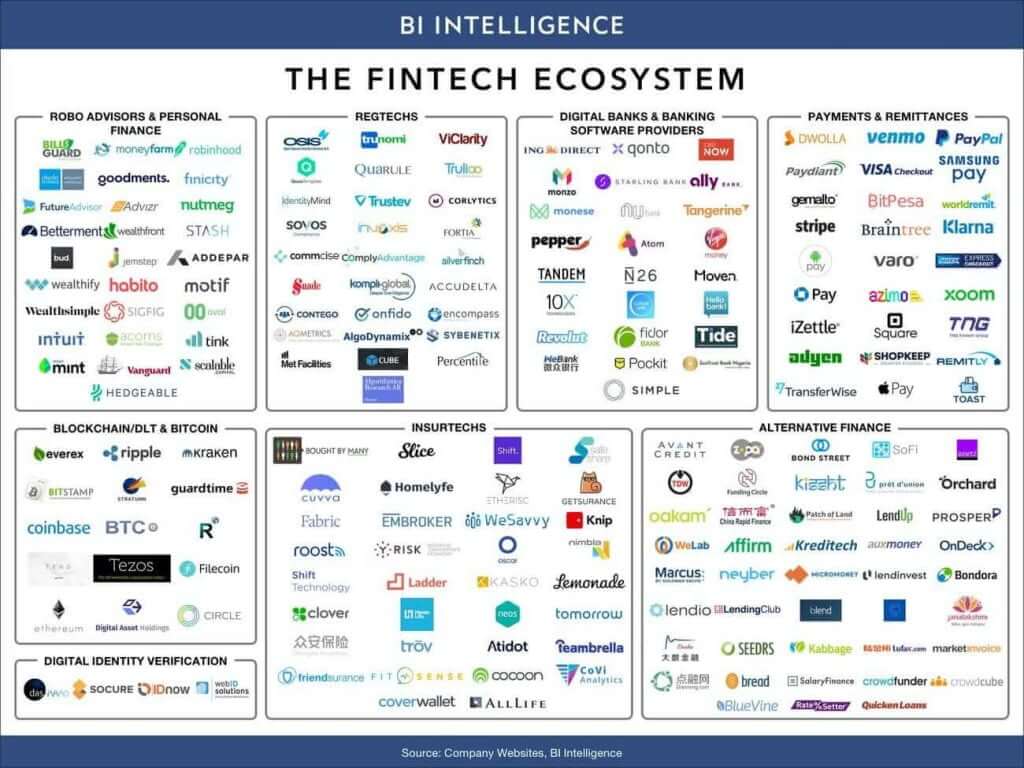 Image Credit: BI Intelligence
Ok, so you can clearly see that there's a lot of different alternative finances to make money with finance mobile app solution, but which are the top options here? How do fintech apps make money with these ways?
To find out, let's analyze the top and most popular revenue models of finance app development.
How Do Fintech Apps Make Money? Let's Explore 5 Proven Ways
Robo-advisors

Robo-advisors are a platform to generate revenue from trades. The online user can manage their money automatically at Betterment or Wealthfront and not pay for investment advisors. It also helps to enable the commission-free trading that has made the best fintech app Robinhood so well known.

For instance, investment advisors charge x% of the total assets they are managing. Betterment, the Robo-advisor, does the same, but for a smaller percentage. If traditional brokerage charges are about 1%, then the management fees of Betterment can vary from 0.25% to 0.50%. This results in an average account size of about $36,000. This means Betterment makes roughly $90 in a revenue per customer per year.

According to a statista report, the Robo-advisor segment amounts to US$980,541m in 2019. The number of online users is expected to amount to 147,018.4 thousand by 2023. This clearly states the arousing online investment trends through online banking applications. Thus, you can consider this monetization tactic for your finance app.

P2P Lending

Peer-to-peer lending enables individuals to obtain loans directly from other individuals cutting out the financial institution and middle man. This model creates a venue where individuals can earn interest by lending money to other individuals. In return, you as a fintech startup can take a small fee for brokering the connection.

No one is now ready to go the traditional bank ways. Thus, instead of going through multiple rounds associated with borrowing money, borrowers will have the ability to secure loans by presenting compelling reasons for why they need capital. Your finance planner app or finance management app can become a one-stop solution for money lending and a direct source of your online revenue generation.

The global peer-to-peer lending market is valued at around $ 15 billion in 2018 and the market is expected to grow at CAGR of over 19% to surpass $ 44 billion by 2024.

You might think of how is such an increase in peer-to-peer lending possible?

Nowadays, an increase in student population is preferring loans at a cheaper interest rate which is anticipated to promote the growth of peers. This market is gaining traction and engagement in regions like Asia-Pacific, North America, Europe, South America, Middle East, and Africa. The largest market of P2P lending is in North America.

If you are planning for a finance app development keeping the p2p money-making strategy in mind, then you can consider developing your app in these regions for easy access to the targeted audience.

Subscriptions

To become the best fintech apps, subscriptions can be a useful monetization strategy. You can allow your users to use the mobile banking app development on free trials. After the completion of free trials, you can charge the user for further use.

According to recent news from Sensor Tower, the app world revenues are on constant growth. Online users are spending $14.2 billion, up 22.3 percent from $11.6 billion in Q3 2018.

The subscription is the most secure approach when it comes to money-making. Being a finance app, you can have a direct revenue source from online users. Subscriptions are charged at flat fees, thus, there is no percentage planning or third-party integration needed in the app. In short, subscriptions is the one answer to your question of how do fintech apps make money.

Advertising

Apps have become the source of digital advertising. Using ads to monetize apps and make money is quite simple. An app owner just needs to display commercials inside their mobile app and get paid from the third-party ad networks.

Also, you can get paid every time an ad is clicked, you can approach on a partnership basis to certain loan firms, trading businesses, banking tutors, to advertise in your finance app development.

Your personal finance app can generate revenue through banner ads and rich media ads.

Banner ads: These are the ones that appear very first on the app's home page. They are basically displayed in different sizes and at the top or bottom parts of the app screen.

Rich media ads: These are interactive advertisements with various creatives audio, video, text, images or even mini-games. These ads do not force users to quit the session, the user experience is not damaged.

Market Maker Rebates

There are three key players in this monetization tactic. Major ones are money taker, money maker, and the app itself.

Money Taker: Money takers are the online users who agree with currently listed prices on the order book and wishes for immediate trade.

Market Maker: A market maker is the one that places the orders for the app users, that are different from the current market price. Usually, a maker tries to sell for a higher price and buy for a lower price. Thus, he makes an order with a price that is different from the market price and makes trading possible online.

The App: Your finance app will play the role of a mediator, who sends orders to the market maker, and enjoys the commission per order. For instance, Robinhood earns a small rebate of 0.026% per order from the makers.

This tactic generates very little revenue per account, but since there are millions of users making trades every day, your fintech startup can significantly gather rebates in this manner.
Conclusion
With the growing app world, it is obvious that we have to give money related thought to our app ideas. However, trying out these tactics and analyzing what competitors are doing is a good starting point. Now, you might have got the answer to your questions like how do fintech apps make money, how free apps make money or found different ways to make money from finance apps.
In case, if you still have any query or confusion regarding creating a finance app that makes money, like:
How do fintech apps make money?
How to make money from online finance?
How do people make money off free apps?
How to make money from app development?
How to make money from iOS apps or Android apps?
The average cost of developing an Android app for finance
Then you can get in touch with us through the contact us form. One of our sales representatives will revert to you as soon as possible. The consultation is completely free of cost.