Who should read this content:
Entrepreneurs – Who want to build their own niche marketplace or looking for new hotel app development ideas for online hotel reservations.
Hotel chains like Marriott & Hilton – Who wants to create an app separately for their business to provide more functionalities than just booking.
Hotel Business Owners – Who want to increase their brand awareness and create an additional source of income.
How do you think the hospitality industry should work in the age where Elon Musk announces that he's going to make an underground hyperloop that runs at 700 mph speed?
The answer is quick and easy.
Nowadays, looking for a place to spend the night has become a scary story for kids. With the use of your own mobile app, travelers can now easily find the nearest and most comfortable rooms to stay in.
These apps are actually nothing new for modern travelers. Just take a look at the following statistics by Ice Portal:
Booking hotels through mobile apps increased by over 33% from Q2 2015 to Q2 2016.
Roughly 40% of U.S. travelers and 61% of smartphone travelers book a room via a booking app.
65% of tourists reserve a room for the same day via the room booking app.
But, do we really need to make the best room booking apps, even when travel agencies can take care of it all?
The answer is Yes!
Here's why: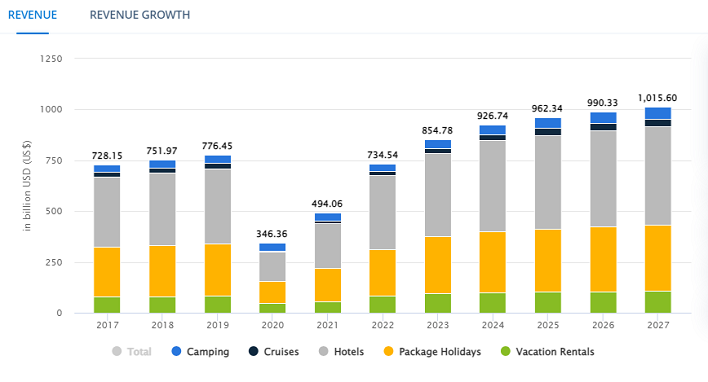 So, the above worldwide travel & tourism revenue numbers by Statista suggests that there is a lot of opportunity in this industry.
To help you get started, here are the top 3 ideas for hotel app development ideas for booking hotels.
3 Hotel App Development Ideas For Hotel Business
There are 3 different ways to build a hotel app development services app. Let's take a closer look at each of them.
Hotel Booking Aggregators

This is the most common type of hospitality business mobile app. And if you're starting afresh in the hospitality industry, you can consider building this type of reservation product for your business with the help of the software development team.

The logic of such booking apps is quite simple. It is usually connected with maximum online booking services. So when a traveler is looking for a room to stay in, he gets a list of options with various price ranges from different online booking services.

Once the traveler selects the most relevant one from the list, he or she is redirected to the corresponding booking platform.

There is a company called Booking.com (available on iOS & Android) which is the best example for anyone who is looking forward start a business in the travel industry.

Hotel Booking App for chain of hotels

This type of booking app is most suitable for well-established businesses. For example, Hilton and Marriott have their own apps that unite all their resort brands.

Now the idea of hospitality app development is only reasonable if you own a hotel chain. Also, if you have unique industry ideas which you think will turn profitable, then you should surely plan to create your own app.

In addition, this type of mobile app for hotels usually has many functionalities other than just booking.

For instance, they let their guests make special requests during their stay in the apps.

Hotel Room Booking Apps With Hybrid Approach

We can also create a booking app for your hotel by applying a hybrid way of creation.

What's the hybrid approach?

In hybrid development, the app can run in multiple operating systems like iOS, Android, and Windows.

In simple words, you can allow travelers to choose from a list of top online booking services along with adding offers to the reservations you provide.

This type of online reservation for hotel app development is the best solution for industry owners who own their place to give for rent.

In fact, the benefits are good as well. On one hand, you'll attract many new travelers that can be your additional source of revenue. While on the other hand, building an app with a hybrid will also increase your brand awareness by offering extra deals for your hotels.

Now, whether you're an Entrepreneur or in the travel business, it's critical to know how to generate revenue from these reservation apps.
Know the 5 Business Models for Hotel Booking Mobile Applications
We've only discussed the latest hotel business ideas for mobile app development, but what about the income?
How to generate revenue from a hotel reservation app?
To answer this question, we've explained 5 different ways to make money out of hotel apps.
Monetizing with Paid Downloads

In this type of business model, the user generally pays a sum of fees to use the specific features. It's the most difficult way to generate revenue. And to be honest, most of the time it scares people off.

There is a very slight chance that a person will download a paid hotel app. Therefore, you should definitely avoid this business model.

Commission Based Business Model

Unlike the paid option, the commission-based business model is the most effective and profitable. Generally, app owners charge a commission from each guest that booked a room through your app.

Hotel Advertisements

People never spend money so willingly as they do when they're on vacation. Thus, they're the ideal audience for advertisements. And you can benefit by displaying your partner's advertisements too.

Not only that, but advertisements are also useful for your users to be informed about nearby offers, ongoing events, etc. However, if you're considering this business model, remember that you don't overflow your app with excessive ads.

Subscription-Based App

Subscription is like the freemium model, but for a longer period of time. This model basically includes a fixed amount of fees paid by users every month to get benefits in return.

These benefits can be either removing all the ads or receiving special deals and biggest sales earlier than normal users.

App As a Platform

This hotel booking app model doesn't charge any regular fee from any party. In this business model, the hotel pays either to place their offer in the listing or for some extra features such as permission to post more photos or be at the top of the list for a fixed amount of time.

At this point, we've discussed enough theory, now there is only one thing remaining to discuss – Benefits.
The online travel market grows by more than 10% every year.
What does it mean for Entrepreneurs and hospitality owners?
It means that modern travelers relish freedom, so they want to have control over everything they do. And traveling is no exception.
In this modern world, travelers have many options to plan their vacations or holidays the way they want them.
Where to stay? And How to get there?
These are the questions that can be now solved with hotel booking apps.
It may sound like a big task, but by creating a mobile app, you can easily improve your existing business, or also start a new one.
Let's Create Your Hotel App – Share Your Ideas With Us!
Share your hotel app idea with us, and let's discuss how we can turn it into a successful app with our development expertise.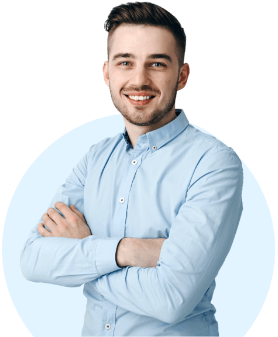 Benefits of Creating Apps in Hotel Industry
For App Owners:
Option to offer easy booking facility.
Provide quicker accessibility to information to your guests.
Collect a large amount of user data and insights on their behaviors.
Boost staff productivity.
Increase brand awareness.
Strengthen brand loyalty.
Create a strong bond between you and your customers.
For Users (Guests):
Facility to book a room from anywhere.
Option to check the availability of rooms.
Facility to search hotels by city, country, date, and number of persons.
Option to get directions with geolocation functionality.
Option to read reviews from past customers.
Easy login via Facebook, Twitter, and Gmail.
Option to get detailed descriptions and photos of the selected of the place your staying in.
We Believe in Developing Business Apps That Increase ROI and Improve Everyone's Lives!
Adaption of making apps for hospitality industry has significantly increased in recent times, which helps to boost the customer base and enhance the user experience of the guests, and it will continue to do so in the times to come.
Being a well-known hotel booking app development company, we believe that these 3 Android app development ideas for the hospitality industry mentioned here will give you the best insights on how to develop a hotel app that will be competitive in the market.
Our business mobile app development services will help you reach out to the millions of travelers looking for the best deals on hotel rooms.
Overall, hotel booking app development for the hospitality business is a good idea to implement with the right strategy and planning. You should start by choosing the concept, and then move further to the development part. And if you've any questions about building a mobile app for your hotel industry, we're happy to clear all your doubts about your hotel app development.