Being a startup or entrepreneur, if you are planning to build an app that shows what celebrity you look like or identify the perfect celebrity look-alike apps, this article is for you. It includes some of the highlighting points regarding the application and how these apps are generating revenue, and answers some general questions including, "which celebrity do I look like"? We will cover in-detailed information on celebrity look alike app solutions with better and easy language compatibility.
People are also showing more interest in taking selfies and it is occupying the entertainment at a great pace. The usage of social networks is estimated to increase to 302 million in 2023.
Like Faceapp, applications usually use an algorithm to identify the best celebrities that match their faces. Also, if you want to know what stars you look like, this app will help you answer your question.
Are you wondering how to find celebrity look alike apps in 2023?
Here, we have come up with the latest and the best celebrity look-alike apps in 2023 along with the inspiring features that invoke users to download them on a large scale whether it is in terms of Android or iPhone.
Want to Make an AI-based App?
Unlock the potential of your app idea with a free consultation from our expert team. Contact us now.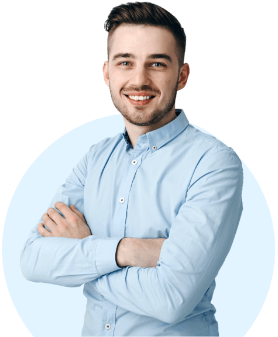 5 Best Celebrity Look Alike Apps
Are you having questions like who's my celebrity look alike? Find your celeb look alikes app from the following table which contains features, play store, and app store links to make app downloads easier for you.
To answer your question about how to find your celebrity look alike app. We have listed the best celebrity look alike apps below for you to check out.
Gradient

A gradient is a leading photo editor application that comes up with a large number of innovative and impressive features mainly intending for its user's data safety as their priority. One of the key features of the gradient is its "look like" or we can consider it a "celebrity face match" feature. Gradient app is a well-known celebrity doppelgänger is a feature that invokes its users to simply upload their images and view the best celebrity match the perfect to them. Powered by AI and beautification techniques, this is the most accurate celebrity look alike app giving a wonderful experience to users while matching their faces with the celebrity they resemble. Then, this app creates a series of images and turns them into collages.

Top Features of Gradient App:

Doppelgänger feature is in-built with the application
Share pictures among family and friends
Impressive Hair collages
Charging users every month
Handcrafted filters and textures for impressive outcomes
Attractive AI Portraits
Estimate your beauty score with enhancing AI tech

Celebs

Celebs are a celeb look alike app that includes an impressive comparison and improved accuracy as it is built with machine learning technology. With the invention of machine learning in celebs, it becomes quite easy for the application to identify the emotions, and based on it, this celebrity look alike filter app drives the best possible outcomes. In short, if I want to find my look-alike celebrity, this celebrity twin app will surely help. The Celebs is the app that makes you look like a celebrity as it is fast and uses recognition technology to scan your face and features against thousands of celebrities. Celebs allow you to set a celebrity look-alike filter to allow you to look exactly like your favorite celebrity.

Top Features of Celebs App:

Identification of the celebrities and twin-faces that exactly resembles the faces
Searching for the best lookalike
Identification of the best resemblance of the famous person
The astonishing feature of Animal is to check who you look like
Easily share images and pictures on Instagram and Snapchat
Primarily uses Face Recognition Technology
Comparison compatibility to search for the best celebrity
Shows beauty score estimation with the help of AI technology

Star By Face

Star By Face is nothing but, one of the best celebrity doppelganger apps. As the name suggests, works as a generator to create a picture the same as the faces of celebrities. To help you find celebrity look alikes, the application uses facial recognition technology to identify the facial data as the mobile users upload pictures of celebrities look alike themselves or any other person.

This celebrity doppelganger finder app does not store any personal data of the users unless and until it is shared by any other means. All the photos are deleted once the recognition process is completed.

Top Features of Star By Face App:

A very simple approach to working with the application
User-friendly environment
Data safety of the users is a primary concern
Users can download it for free
Provides the best resolution for every modified photo
Thousands of celebrities are available, providing a collection of choices
With an effective usage of machine learning technology, enormous numbers of functions make the application more user-friendly

Y-Star

How do I find my look alike celebrity? Ever had this question? Y-Star is a celebrity look alike app that tells you what celebrity you look like within a few seconds. Once the Y-Star is downloaded on the device, just take a snap from the camera and the application scans the entire face features and performs the celebrity, and provides its users with the best match from the collection of the famous celebs available. The main goal of this celebrity look alike finder app is to identify the best solution to the question normally raised by the users: 'What celebrity do I look like' app? The application does not concern with gender, rather it provides an accurate measure to match faces to give celebrity twins.

Top Features of Y-Star App:

This celebrity lookalike app provides an attractive image quality to users
High-Definition (HD) pictures supported
Full convenience in adding multiple celebrities
Provides better and impressive results if used with the front cameras for clicking the pictures
Includes the facial points that include eyes, nose, and mouth for face mapping and fetching the best outcomes as the celebrity faces.

Replika: My AI Friend

With the use of Replika: My AI Friend App, it becomes quite easy to edit the photos more professionally. The new and impressive features of this application include the best touches, retouches, and the users can easily grab the chance to apply the best filtering to the selected photos.

The application provides everything related to filtering intending to apply to the photos. Sharing and posting on social media platforms like Instagram, WhatsApp, Facebook, and others are easily possible.

Top Features of Replika: My AI Friend App:

Uses facial recognition technology
Simple, Fast, and Fun based application
Uses advanced Machine Learning techniques to click and edit pictures
The mobile users can find an answer to the questions: How to find my celebrity doppelganger? Which celebrity do I look like?
In case you are wondering what celebrity do I look like? The best suggestion is provided for comparing the faces of users with the celebrity faces that most resemble them.
Comparison of the user's face with well-known celebrities like Singers, Politicians, Historic people, Actors, Actresses, sportspeople, and much more is available in the application.
Best Celebrity Look-alike Apps Ideas To Consider
Voice-Based  Celebrity look-alike App

Currently, the users are involved in taking the picture from their high-resolution cameras and selecting their best celebrities among them that resemble the same. But what if such selection is done with the use of their voice message.

For example, by taking a picture from the mobile device, the user gets an option to speak for the celeb name and the application converts the same. Such an idea will have time for the users to select a celebrity from the list of options. To develop this type of celebrity look-alike apps, voice-based technology can be used and allow users to click pictures using their voice.

Cartoon Look-Alike App For Kids

Nowadays, kids are more involved in using mobile phones by using an application that includes playing games, clicking photos, watching cartoons, performing basic kids' academic rhymes, and many more.

What if we have such an application that is primarily developed for kids that once they click their picture, they are prompted with multiple cartoon characters. So such an application creates a great attraction among the children by sharing the pictures to their personal gallery and even to social media platforms. This type of application will surely entertain kids, giving them a new and wonderful experience.

You can also include a feature like 'look-alike celebrities quiz' to attract more users.

Sclupture or Painting Look-Alike App For Kids

Adding the features of sculpture and painting will make your application a unique celebrity look-alike segment. You can also introduce suitable sculpture options according to the user's face. By adding painting and sculpture options, more people will engage with this unique app approach which may increase your application's user base as well.
Want to Develop Celebrity Look Alike App?
Ready to create your own celebrity look-alike app? Let's discuss your vision today.
How Do Celebrity Look Alike Apps Make Money?
After deciding to develop an app the first question arises is "How do apps make money?". The revenue model for the celebrity look-alike apps primarily depends on important factors like whether it is free or paid the number of features, and the functionalities it provides. Here are some of the ways that free celebrity look alike apps can make money: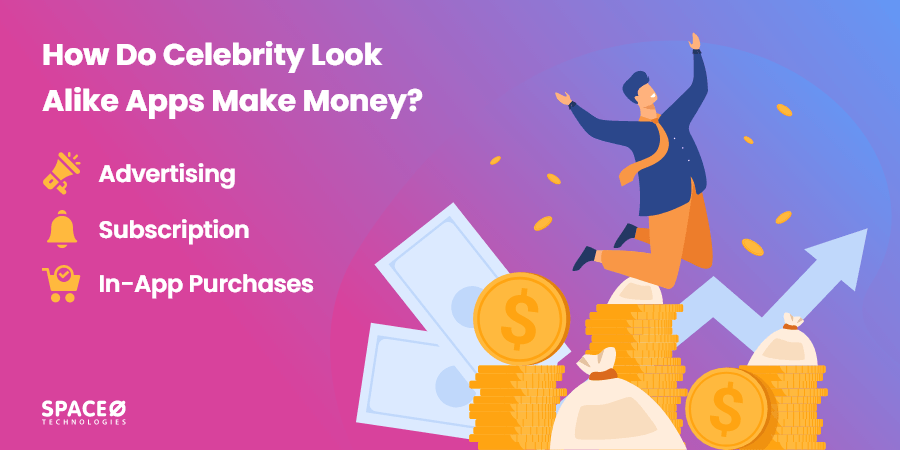 Advertising

Generally, for the free apps, it becomes quite a mandate to include an advertisement in the application. According to the recent survey, it was expected that by the end of 2024, around $399.6 billion dollars are going to be spent on mobile advertising.

The primary role of a celebrity match application owner is to display their commercials inside the application.  An alternate way is they can opt for affiliate marketing and can easily get paid from third-party networks.

Once the user downloads the advertised application, the organization gets paid for each time an ad is displayed, per-click on add, and other factors. This, in turn, provides an optimum solution in generating the revenue from mobile apps developed.

Subscription

One of the methods that many application publishers can opt for is selecting the best content to provide to the customer free of cost for a limited amount of time.

In the case of celebrity look-alike apps, many celebrities are included in the paid version. So, if the user wants to use that celebrity as they resemble, they need to pay a charge for it.

The subscription usually comes up for videos, audios, tutorials, or other cloud services that are leading the market to a great extent. So, the application must include some informative content for enhancing the revenue for an application.

In-App Purchases

The simple approach to generate revenue is including the in-App purchases into the application. This helps in selling the virtual item directly from the application developed.

The in-App purchases are usually used by celebrity look-alike apps publishers as they are mostly involved in digital money. They charge for using the celebrity face in terms of special features and collection that attracts the users more impressively and innovatively.

Sponsorship

This advertising method is another way to earn money from the mobile app. Before using this method, make sure your application is receiving daily user traffic. Then you will need to connect with other companies with the same business niche. To get into details about how to monetize your apps using sponsorship, there are two ways.

The total revenue should be equally divided
Monthly sponsorship fees

Apps like Subway and Marriot are some of the well-known brands which use sponsorship ad methods to generate revenue.
Want to Know How to Monetize Your App?
Maximize the profit potential of your app. Contact us now to learn how to monetize your app effectively.
Let's check out some of the frequently asked questions
Frequently Asked Questions
How does celebrity look-alike apps work?
The working process of the celebrity look-alike apps is very simple and accurate. Let us share it with you.
For uploading a photo, it should be noted that only one person should be on the camera.  The face should be visible, mostly recommended to use front cameras.
A facial pattern is created once the system detects the face. The locating factors of the key components of the faces are being detected by the facial detection system that includes everything like eyebrows, nose, mouth, hair, faces, and most importantly the position. The users can also add the beard for looking just like their favorite celeb.
An attractive result is generated by using the neural network for comparing the person with the different faces of celebrities and suggesting the best similar ones for them.
What are the important measures that need to be taken into consideration for developing a celebrity lookalike app?
First of all, you need to identify the best mobile application development company that possesses strong experience in developing apps for any sector. It is even preferrable if the company has the portfolio developing celebrity look alike app before.
The proper and informative consultation should be done with the application development experts to make a clear understanding of your needs.
You should communicate your requirements, ideas, and other points with the mobile app developer to consider while developing the application to make it more interactive and responsive.
What are the other leading celebrity lookalike apps that are performing well?
There are many other best celebrity look alike apps available in the Google play store or app store other than we have discussed.
Who Do I Look Like App – Celebrity
Celebrity Look-alike
Looky
Face Idea: Celebrities, Who look like me
Popsugar Twinning App
Which are celebrity look alike generator websites?
Here are the list of celebrity look alike generator websites which are free to use.
Starbyface
Creative Career Now
Celebs Like Me
Pictriev
Conclusion
After going through this blog, if you are planning to develop a celebrity look-alike application, then we possess strong skills in building the apps as per your needs. We have an experienced team of mobile application developers. Who is capable of understanding the client's requirements and providing the apt application solution.
Being a leading mobile app development company, we have delivered 4400+ mobile apps to the world's leading enterprises and startups. We have developed apps like picture translator app, an AI-based app solution to translate text, image, and object, and TopIt a competition app that allows users to generate video and image-based contests.
If you have any confusion or issues about the topic we have discussed, you can contact us by filling our contact us form. Our representative will contact you soon with free of cost.