Statista reported that Apple has paid over USD 320 billion to iOS app developers as of January 2023 for selling its services through the App Store. This statistics is enough to lure many beginners who want to be an iOS developer.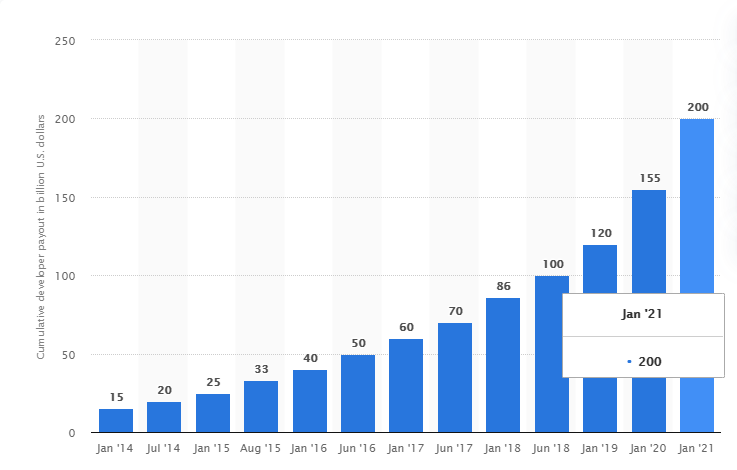 Source: Statista
Being a beginner, whether you wish to work in an organization or want to work as a freelance iOS developer, you will need guidance from the iOS experts who have years of experience. Therefore, to help you to embark on your career, we have shared a list of the 12 best iOS app development courses.
But which course to choose; free online courses or paid online courses? Don't worry, for your preference, we have also bifurcated the list. Let's check all the free courses first and start learning!
Top 8 Free Courses for iOS App Development
We have compared all these 8 free courses for you based on their ratings, duration, and course offerings, so you know which course will perfectly fit your requirements. Moreover, do not forget to read the abstracts to find the concept of each course.
Platform
Course
Abstract
Duration
Student Rating
iTunes U
Developing iOS 11 Apps with Swift

Learn to build iPhone applications using the iOS SDK
Know how the model-view-controller paradigm functions

25 Hours 15 Minutes
4.5
125 Ratings
Pluralsight
iOS 11 Fundamentals

All the best practices to develop a native app
Get to know the iOS architecture
Revive your iOS app development skills into the iOS development world

4 Hours 22 Minutes
5
263 Ratings
Udemy
This Is How You Make iPhone Apps

Learn to develop an app without writing a single line of code
Know how to develop an app using Objective-C language
Explore the iOS SDK and also learn how to publish the app

4 Hours 30 Minutes
4.7
2599 Ratings
Udemy
Introduction to iOS 11 Development: Swift 4 and Xcode 9

Introduction to the development of iOS application
17 lectures on Swift 4 Bootcamp
Create your first iOS 11 app
Tinkering with table views
Create a full-fledged iOS application

3 Hours 32 Minutes
4.7
1215 Ratings
Udemy
iOS App Development For Beginners

Get the introduction of stack view to layout your controls
Designing tips to give the best look to your app
Get to know the UINavigation controller and its unique properties
Learn to add layout constraints in both ways automatically and manually
Familiarize with Xcode to boost the productivity

4 Hours 57 Minutes
4.5
468 Ratings
Udemy
Basic Swift Programming and iOS

Get to know the fundamentals of iOS and Swift
Understand how Swift will help to build a reliable app
Learn the basics of app development for advanced coding programs

2 Hours 24 Minutes
4.2
429 Ratings
LinkedIn Learning
Building Your First iOS 13 App

iOS mobile development
Learn how Xcode functions
Sharpen your Swift programming skills

1 Hour
–
Udacity
Intro to iOS App Development with Swift

Introduction with the tools, like Xcode and Swift
Get to know the iOS application structure and how you will build it
Learn how to use ViewControllers for building an app
Know how to record audio and add a sound effect
Learn to use the delegation and design patterns

1 Month
–
This was the brief introduction of these programs. But if you want to dive deeper, then continue reading the next section to know more about them.
We have checked these 8 free courses for you. But if you want to move to the advanced level for developing complex apps, then you can opt for any of the following courses. These are advanced to learn app development process. So, let's dive deep to know more about them.
Note: Please ensure that the following list is for paid courses.
Want to Build an iOS App?
We have designed and developed over 2500 native iOS applications. Get your free consultation from our iOS app expert.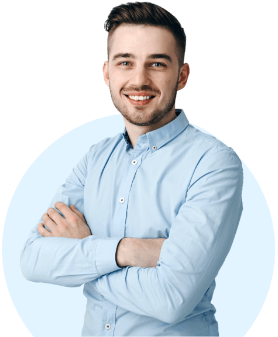 Top 4 Paid Courses for iOS App Development
The following table is the comparison of the top 4 paid courses to learn app development. We have compared them based on their ratings, duration, prices, and course offerings. Check which course will help you the most.
Let's get started with each course and find the best one which fits your requirement list. Make sure you have complete information about all of them and then decide which suits you the best.
Note: We have also shared their prices, as these are paid courses.
Platform
Course
Abstract
Price
Duration
Student Rating
Udemy
iOS & Swift – The Complete iOS App Development Bootcamp

Work with the latest SwiftUI Framework of Apple
Create apps with CoreML that use machine learning
Learn to publish your apps to generate downloads
Master app design for wireframe, mockup, and prototype the app idea

USD 118.47
59.5 Hours
4.8
56,159 Ratings
Udemy
The Complete iOS 11 & Swift Developer Course – Build 20 Apps

Learn to build apps for business and organization
Learn how CoreML will help to build powerful apps
Get familiar with various app development tools

USD 118.52
36.5 Hours
4.7
4088 Ratings
Udacity
Nanodegree Program: Become an iOS Developer

Get familiar with the development environment of Apple
Learn how to use AutoLayout to create user interfaces
Learn about the delegate pattern and how it functions

USD 313.28
6 Months
4.6
500 Ratings
edX
Learn how to design and build iOS apps

Learn how the Apple developer tools work
Implement a range of features in your app
Follow the best practices to write code
Get the steps to publish your app on the App Store

USD 497.37
6 Months
–
Now, if you want to go into detail, then check the mentioned information of these programs. We have highlighted the essential information that you need to know before enrolling in any program.
We have checked all these 4 paid courses, and each course offers its own unique benefits. According to your expertise or project requirements, you can opt for any of the mentioned training programs.
We have also answered the most asked questions that beginners have in their minds. Please check all the following questions to get more information on app development.
Build Your iOS App
We have been making iOS apps for entrepreneurs and startups since 2010. Want to get your free quote?
Frequently Asked Questions
How can I become an Apple app developer?
First, you need to learn the fundamentals of Swift and Objective-C programming languages.
Learn using Xcode for iOS application development. This is an IDE that you will need to write, compile, load, and debug software.
You may also have to opt for any free or paid programs to learn how to build iOS applications.
Purchase membership of Apple Developer that costs $99 per year.
All these preparations are enough to be an Apple app developer. Now, you can go ahead with developing iOS applications for your projects.
How can I learn Xcode?
The following tutorial will help you to learn Xcode and to know how it functions. Meanwhile, you can also learn Xcode while developing iOS applications and learning from these online programs.
You can also download it through Apple's developer portal to know more about Xcode: Apple Developer
Which is the best programming language to build iOS apps?
How can I learn mobile app development?
Choose One Platform: Focus on what you want to learn. Whether it is iOS app development or Android app development, make sure you are focused enough to explore the platform completely.
Learn Essential Background Skills: You need to know about various tools, frameworks, software, and app development languages to master all the background skills.
Select Best Course: In case you need any help in learning all the development process, then you can select one course and start working on your skills.
Mastering the Coding Skills: You will also need to master the coding skills based on the type of app development. If it is an iOS app, then you need to learn Swift, and if it is an Android app, then you will need to learn Java.
Move to Other Platforms: Once you have mastered the first platform, jump to another platform until you have successfully completed the course.
Ready to Start Building Your First iOS App?
We hope that this information will help you to choose the best course which fits your requirements to develop an iOS application.
In any case, if you find difficulty in developing your first iOS application and want to get assistance from professional iOS development experts, then you can get in touch with us. We do have a team of iOS developers, who has experience in developing over 2800 iOS applications.
Just fill our contact us form with your requirements and one of our experts will get back to you shortly.