Are you an owner of a healthcare center, hospital, or any fitness startup? Have you decided to invest in health and fitness app development, but have some doubts about the return on investment? Don't worry, we got you covered in this blog. You can go through these top money-making health and fitness apps that are widely receiving funding and earning a lot of profit.
Talking about fitness and wellness apps, Sworkit, Aaptiv, Fitbod, Headspace are some of the prominent names in the fitness and wellness niche. On the other hand, London-based Palta, a health and wellness technology company, has raised a funding of $139 million. So taking inspiration from these apps, if you're also thinking to invest in health and fitness app development then this blog is for you.
Being an award-winning medical app development company and having expertise in developing over 40 healthcare apps, we exactly know how to create similar mobile apps. Here are some of the mentioned features to consider while creating your own app for health and wellness app solutions.
6 Best Money Making Apps in the Health and Fitness Apps Sector
There's zero doubt regarding the future of health and fitness apps. Due to the constant increase in varying lifestyles, obese population and intensification of rising health concerns, this market will continue to grow. As per an estimation the net worth of the fitness app industry is expected to reach $14.7 billion by 2026.
Herein, with the help of our fitness app consultant, we have researched the top and successful money-making apps in the healthcare and fitness industry and decided to write a dedicated blog. Here are the top 6 health and wellness apps that you can find in this given table and scroll down for detailed information on them.
App
Country
Top Features
Ratings
Download
Runtastic
European Union

Get body transformation training plans
Health & nutrition guide
Bookmark workouts

4.5
11,57,747 Reviews
Android | iOS
Headspace
The USA

Session timers
Email reminders
Progress tracking
Program training

4.3
2,36,099 Reviews
Android | iOS
Epocrates
The USA

Clinical guidelines
Scan brief medical news alerts
Access drug coverage information

4.3
25,667 Reviews
Android | iOS
Figure 1
Canada

View medical cases in real-time
Get case collaboration
Find quick quizzes & effective CME

4.6
13,517 Reviews
Android | iOS
Sweat
Australia

Track weekly progress
Share pictures with the Sweat community
Post-pregnancy programs
PWR weight-training programs

3.8
33954 Reviews
Android | iOS
Doximity
The USA

Voice call and video call
Simple telemedicine tools
Find clinicians

4.6
5,094 Reviews
Android | iOS
Adults mostly track their sleep, exercise, and weight. Check this image from the report from Morning Consult.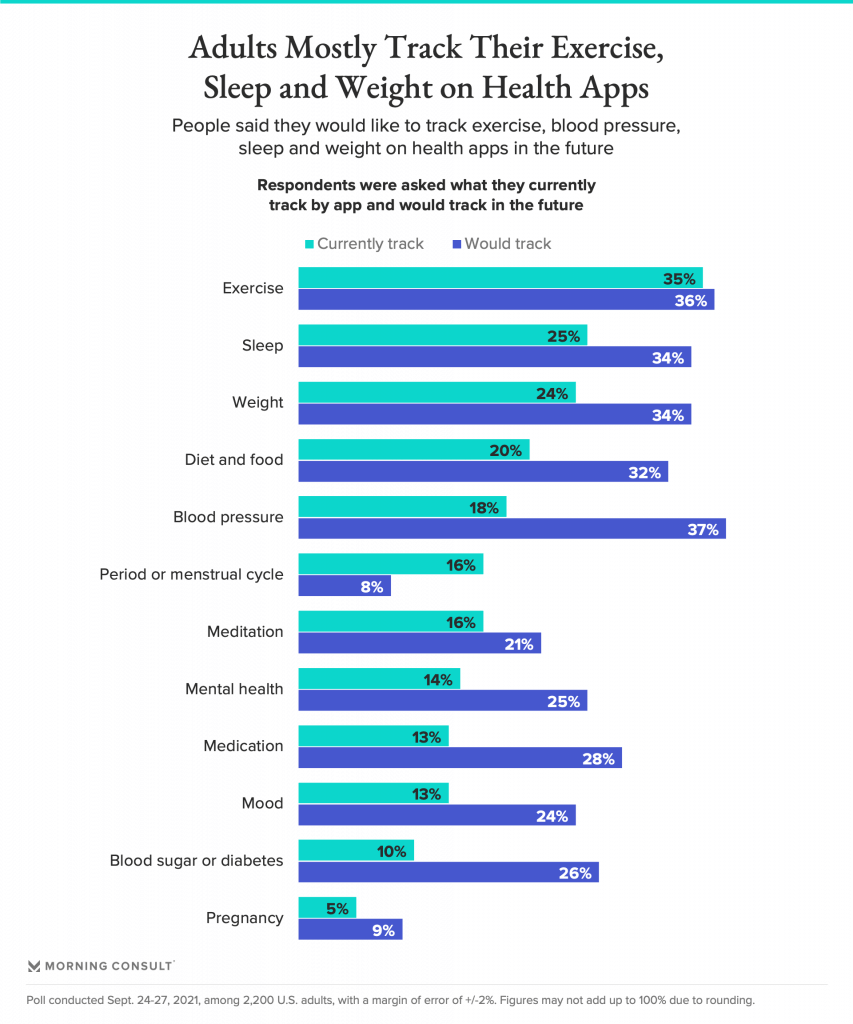 Now, let's dive deeper to know more about these health and wellness apps one by one.
Runtastic

Country: Austria, European Union
Current Valuation: €150k

This workout app was founded by the Austrian company Runtastic. Among the company's 20 distinct mobile apps, Runtastic Results is the leader among revenue.

Image Credit: Runtastic

This app is ideal for trail runners, marathon runners, joggers who run outdoors or on indoor tracks. Some of its unique features that our premium though allows users to find appropriate routes in their locality, auto-pause, power songs for a motivation boost. Its voice feedback is available in several languages.

There's one missing feature though that there's no coach here. Health and fitness startups and entrepreneurs, who are planning to develop a health and fitness app similar to this, can take ideas from this and improve on them in their app.

Headspace

Country: United States
Current Valuation: $75.2M

This app was started by Rich Pierson and Andy Puddicombe, an ex-Buddhist monk and meditation pundit. One of its unique features is personalized coaching to train the mind and daily meditation practice.

Image Credit: Headspace

It also allows users to perform sitting meditation, breathing exercises, body-scans, and focused attention. Users can see engaging animations to understand concepts. There's also a headspace for kids section. There's also email reminders, progress tracking, and an app community. If you have a similar app idea you can learn more by reading our post on how to create a meditation app.

Epocrates

Country: United States
Current Valuation: $35 Million

This app is owned by Massachusetts-based Athenahealth Inc. Goldman Sachs is one of its prime investors. It was the first medical and doctor app for Apple's iPhone. It has drug information and interactions for doctors.

Image Credit: Epocrates

It gives information from big sources like the FDA to ensure appropriate decision-making. This healthcare app has the capability to identify and unidentified pills from its characteristics. It is equipped with hundreds of medical calculators and risk assessment tools, laboratory test ordering guide.

Figure 1

Country: Canada
Current Valuation: $23.2M

Figure 1 is one of the unique healthcare apps that provide users with free and instant access to thousands of real-world medical cases from healthcare professionals across 185 specialty groups and prominent institutions. Doctors and health specialists can view and discuss cases that they may never see in their own practice, expand clinical knowledge, and access a community of millions of healthcare professionals.

Image Credit: Figure 1

This Canadian-based physician app was founded in 2012 and has raised a total of $23.2M in five rounds of funding. Kensington Capital Partners limited is its lead investor. One of its distinct features is that this app protects patient privacy and with automatic face-blocking and also removes identifying information.

Sweat

Country: Australia
Current Valuation: $46M

This gym app is owned by Australian entrepreneur and fitness trainer Kayla Itsines. This app earned $17 million that is the highest amount in the health & fitness app category in 2016.

Image Credit: Sweat

This personal training app has top features like series of aerobic exercises in the Bikini Body Guide (BBG) that can be also be practiced at home and nutrition recommendations. In fact, this app has been listed in the list of top-grossing health and fitness apps in the USA for 2019.

Doximity

Country: United States
Current Valuation: $81.8M

Morgan Stanley and Threshold are its most recent investors. This healthcare app has raised $54M in its last Series C funding. This medical app is like a social community and network of doctors.

Image Credit: Doximity

Doctors can communicate with other doctors via this app and consult for pivotal medical cases instantly. It has a built-in calculator that allows performing many calculations such as BMI and GFR. Moreover, this app has helped over 1 million healthcare professionals to take the friction out of everyday challenges that are unique to clinicians.
Conclusion
We hope you've got a good idea regarding health and fitness apps after reading this. These 6 apps have been very successful and making money in the fitness and healthcare domain. They brought with themselves a new era for fitness and healthcare app development with their mobile app solution. If you want more inspiration then check out our post on medical app ideas.
So, if you have any rough or raw idea on health and fitness app development or any kind of app idea no matter how simple it is, you can consult our mobile app consultant and book your free consultation. Being one of the leading iOS and Android app development companies we have developed over 40 health and fitness apps with top features and functionalities. You may check out our portfolio and case study section to have a more elaborate idea. You can also go through our case study on how we provided health and fitness app solutions with Dara Torres app.
Feel free to contact us if you have any queries regarding fitness and healthcare mobile application development cost, app development time, just fill our contact us form and one of our sales representatives will get back to you shortly.