AI always has been a boon when it comes to sustaining current market competition and growth of the mobile app development industry.
In fact, the global artificial intelligence software market has been rapidly increasing over the years, reaching around USD 126 billion by 2025.
This is why entrepreneurs look forward to implementing artificial intelligence in mobile app development. If you are also one of them and looking for the ins and outs of AI for app development, then read this blog.
Being a leading artificial intelligence development company, we researched and discussed how to implement AI to develop featureful mobile apps. This blog includes complete information about the role of AI app development, reasons to integrate AI in app development, and a cost breakdown of app development. Read on to know more.
Introduction of Artificial Intelligence
Artificial Intelligence is a simulated version of human intelligence that thinks similar to humans and copies their actions.
According to AI researchers, artificial intelligence perceives the surrounding environment and takes action to increase its chances of achieving its goals.
AI has been used in computer programs for a long. However, now it is applied in many services and products, especially in mobile application development.
Let's understand how AI functions and helps us in our day-to-day lives.
When it comes to driving cars or parking them accurately, nonexpert drivers face many challenges. However, AI offers cars 'the power to see, think and learn' to revolutionize how people drive by enabling vehicles to drive and park themselves.
Currently, Tesla, Toyota, Mercedes-Benz, Audi, and Volvo are using this AI-powered technology for self-driving and parking vehicles.
Role of AI in Mobile App Development
If you want to bring innovation and creativity in your mobile app then AI will play a major role in the mobile app development process. Artificial intelligence technology in mobile applications uses the ability of a machine to understand and respond to stimulation to offer the best user experience.
The main goal of using AI in mobile apps is to solve day-to-day problems faced by users and make life more comfortable. AI has the ability to collect essential data from mobile phones such as location, contacts, and daily actions to enhance user engagement and solve complex problems.
AI-enabled apps can collect and store data by analyzing user behavior and interaction with the app. This capability makes it possible to develop AI-powered mobile apps that transform and ease human needs.
Also, AI can be used to enhance the functionality and user experience of AR apps. For example, if you are developing an augmented reality app then using AI you can improve the real-time recognition of objects and images within. This will help you create more intelligent, responsive, and innovative applications.
The crucial roles of AI in development are:
Search engine optimization
Increment of automation level
Automated logical reasoning
Automatic reply function
AI & IoT amalgamation
Highly personalized user experience
Enabling real-time translation
AI-powered chatbots
Enhanced security with facial recognition
Apart from these uses of AI in mobile apps, you can also learn more by reading our post on AI app ideas using OpenAI API.
Want to Build a Mobile App Using AI Technology?
Space-O is a top US AI app development company, building over 4400 mobile apps for global clients.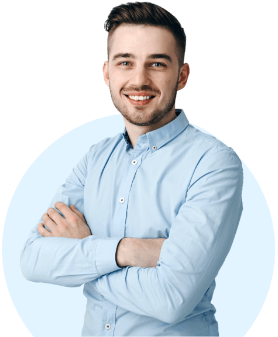 You know the importance of AI in mobile application development. Still, being an entrepreneur, it is essential for you to learn why you need to develop an AI-enabled app for your business. So, let's find that in the next section.
Why Develop AI Integrated Apps in Business?
This question troubles a lot of entrepreneurs out there who want to implement AI technology. But you need not worry, as we have addressed this question to help you discover how implementing AI in business will give you a competitive edge in the market.
Automating Business Process to Achieve High ROI

Using robotic process automation technology, AI in the business lets you automate your day-to-day digital and physical tasks, such as back-office work, data entry, and financial activities.

You can refer to our post on the best AI frameworks that are ideal for carrying out such complex operations.

The robots act like humans for performing such tasks. It also might include the following functions:

Collecting or transferring data from one system to the records
Updating data or customer files with new changes or service conditions effectively
Immediately reaching into multiple systems to update records if the ATM cards are lost or replaced
Usage of natural language processing to read legal and contractual documents to extract provisions easily

Robotic process automation is the best way to bring a quick and high return on investment. Therefore, Nasa has also started using RPA pilots to automate some of its core functions, such as accounts payable and receivable, IT spending, and human resources.

"We've been able to use [RPA] for a lot of various use cases, and we've been able to share those with other federal agencies just to generate ideas for automation," said Pamela Wolfe, chief of NSSC's Enterprise Services Division.

In HR, 86% of the tasks were achieved without the intervention of humans. Now, Nasa is planning to launch more RPA bots with an advanced level of intelligence.

Enhance the Quality of Your Service Through Data Analysis

AI technology uses algorithms to detect patterns in a large number of data to interpret their meaning and use them to enhance the quality of the offered services. Integrating machine learning apps in your business lets you:

Predict what your users are expecting from your services
Identify fraud in real-time and resolve issues early on
Offer personalized services to each user
Provide better insights on identifying safety or quality problems in the manufacturing industry
Get the most accurate and detailed reports on insurance and banking information

Using machine learning platforms, you can develop data-intensive and detailed-oriented machine learning apps as well. It is also possible to make apps that make predictions using new data and improve the quality of the services to gain a competitive edge in the market.

Using artificial intelligence technology, GE has integrated supplier data and is able to save $80 million in its first year by negotiating contracts, which were earlier made at a business level.

Engage More Customers By Applying AI-based Technologies

AI helps businesses to engage employees and customers using various technologies, such as natural language processing chatbots, intelligent agents, and machine learning.

Intelligent agents made it possible to be present 24/7 to address a wide range of issues, from changing simple data to answering all the technical support questions
Internal sites for addressing queries on the topics of IT, policies, and guidelines
Recommendations for custom products and services that improve the sales for retailers and increase personalization and engagement
Healthcare and treatment recommendation systems for individuals to leverage customized care plans based on their medical history

Currently, Vanguard, a leading investment advisor, is using an intelligent agent that helps customers answer the most asked questions related to the services.

Cognitive agents eventually help customers to engage better with the services rather than the customers engaging with the human customer service agents.

Apart from these benefits, here are some other benefits of implementing AI-integrated apps in your business that you can consider.

Source: Statista
If you are convinced why you should build an AI app, schedule a call with an experienced AI consulting services provider and discuss your app requirement with them. After discussing the requirement, comes the next stage which is to understand the AI app development cost.
How Much Does it Cost to Develop AI Mobile Apps?
Building AI mobile applications will cost you a little more expensive than building a traditional mobile app. As AI is an advanced technology and many complexities are associated with it, app developers and a list of top mobile app development companies tend to charge according to the project scope.
Artificial Intelligence app development costs between $50,000 and $150,000.
The cost of an AI app is calculated based on various factors, such as
Data cost
Research cost
Resource cost
Apart from these, the following factors also influence the AI app development cost.
Number of the features in the app
Types of AI you want to build; process automation, machine learning, voice recognition, or chatbot
App development platform, iOS or Android
Software requirement specifications
App development complexities
Usage of the third-party APIs
Location of the AI mobile app developers
Apart from these factors, also understand the overall cost of mobile app development that includes type and category wise mobile app development cost.
Hourly Breakdown of AI App Development
Refers to the following table to find how much time it takes to build an AI based on its app development phases.
| App Development Phase | App Development Timeline |
| --- | --- |
| Market Research | 40 – 80+ hours |
| Wireframing & Prototyping | 40 – 90+ hours |
| SRS | 30 – 100+ hours |
| UX/UI Design | 40 – 300+ hours |
| Front-end App Development | 50 – 250+ hours |
| Back-end App Development | 100 – 400+ hours |
| QA Testing | 50 – 100+ hours |
| App Launch | 48+ hours |
| Total AI App Development Hours | 1300+ hours |
To find the cost of app development for an AI app here is the easiest formula that you can use.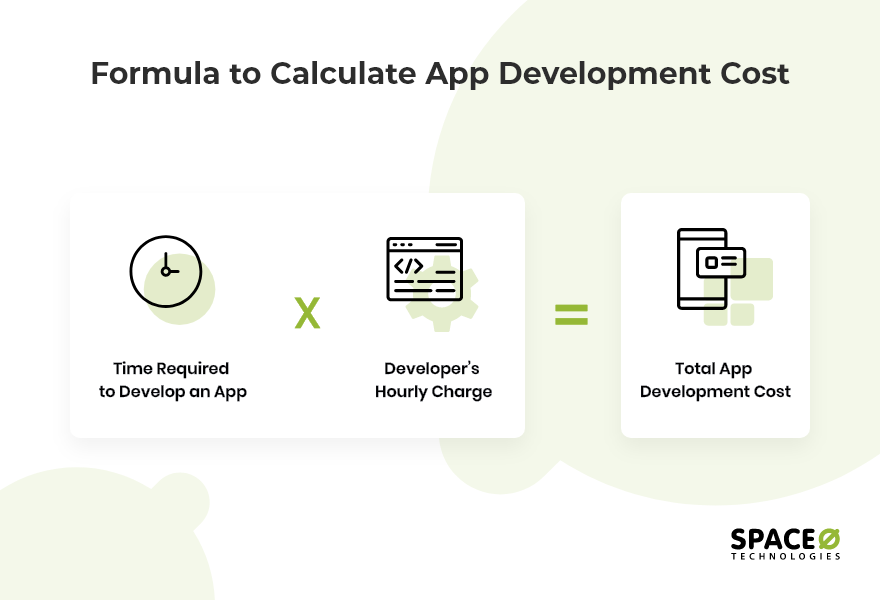 Example of calculating the app development cost:
Let's say the app developers charge $35/per hour to develop an artificial intelligence app, then multiply $35 by the total app development hours.
1600 hours X $35/hour = $56,000
If you are still not convinced why you should create an AI app, then check the following section that discusses the benefits of integrating AI into your project. Let's discuss this in detail.
What are the Benefits of Using AI in Mobile App Development?
AI comes with a lot of benefits that you can leverage to build AI-powered mobile applications. Please refer to the following table to check the benefits of utilizing AI technology along with its description.
| Benefits of Using AI | Description |
| --- | --- |
| Study User Behavior Patterns | Machine learning is integrated with natural language processing to offer a realistic interaction based on user behavior. It lets you study user behavior and its patterns to identify what exactly your users are looking for. This will help you offer personalized services to your users for long-term engagement. For example, Netflix uses this approach to provide content recommendations to users based on their likes. |
| Automated Reply Function | It lets you communicate with the device effortlessly. For example, Google has leveraged this benefit, known as a smart reply. It automatically determines the sentiment of the message and helps you with the answer suggestions accordingly. |
| Completes Monotonous Tasks Rapidly | Artificial intelligence ensures that you are able to eliminate tedious and monotonous tasks from the job. With AI, it is easy to complete such tasks quickly and efficiently. Also, you get enough time to invest in doing something important for your business, which is innovative and solves real-time issues. |
| Real-time Language Translation | With AI technology, you can integrate AI-enabled translators into your mobile applications that also work in real-time and offline mode. Such apps help people to communicate around the world without facing challenges. |
| App Security and User Authentication | Mobile apps need to stay ahead in technological advancements when it comes to offering security and user authentication. To prevent user data from cybercriminals or hackers, AI helps reduce threat perceptions and vulnerabilities. This allows smooth user authentification without worrying about getting data leaked. |
| Emotion Recognition | AI is capable of reading human emotions. For this, it requires advanced image processing and audio data interpretation. Actually, this captures human senses and voice intonation and recognizes the facial expression to understand the emotions of a human. |
Looking for more answers on the usage of AI in app development? Check the next section, which answers the most asked questions on artificial intelligence.
Have an AI Mobile App Idea?
Discuss your app development requirements with us. Our experienced mobile app developers will help you build an AI app custom to your needs.
FAQs About AI in Mobile Application Development
How AI can impact mobile app development and user experience?
In mobile app development and user experience, AI impacts in the following ways.
Applying AI You Can Develop Self-learning Mobile Apps: The focus of this app should be user-centric, these applications understand the user requirement without being physically present. Rather, these apps understand human behavior which makes the AI apps more sophisticated and substantial.
Implement Logical Reasoning to Apply Automation: An app with logical reasoning integrate automation. The goal is to reduce human intervention. For example, Amazon's AI model is specially designed to screen candidates. AI screens resume and find the best candidates available for the jobs.
AI Impacts Designing: AI helps to blend design and critical thinking to power innovation. The reason for applying AI is, that it can generate flow diagrams and will be an output of pre-fed patterns as well as the data.
Which are the best AI mobile app technologies?
Speech recognition technology
Chatbots
Natural language technology
Machine learning
Biometrics
Emotion recognition technology
Image recognition technology
Text recognition technology
Voice recognition technology
Sensory recognition technology
Develop Mobile Apps Applying AI
This guide has helped you discover the ins and outs of AI technology for application development. Now you know the role of AI and the benefits of using AI to build your next app project. Along with this, we have also discussed the cost and timeline of building an AI app.
Leverage the benefits of AI to build your next app and stand out from your competitors. If you are looking for a reliable mobile app development services provider, then contact us with your requirements. We have experience developing mobile apps using the latest technologies, such as AI, machine learning, and IoT.