With legalization in the LGBT community, if you have decided to develop a gay dating app like Grindr, allowing people to find and connect with the right partner, then you will really benefit from this blog post. Herein we have curated a list of 5 features from the popular gay dating app named Grindr. We have written it with the guidance of our dating app consultant who has experience guiding over 40 dating apps. Ready to check out these 5 features to consider during gay dating app development? Let's begin!
Being a dating app entrepreneur, you must want to know what is Grindr app used for. Launched a decade ago, Grindr is one of the most popular gay dating app used by men around the world. Be it a new friend, a new relationship, or just a casual hookup, people love to find their next new guy on Grindr. Users get a lot of options and it changed the way that the gay community finds its partners. 
Unlike the features in Tinder, there is no swiping (only sweeping off of the floor allowed!) in the Grindr app. The users have a lot of control and Grindr also offers several unique features to them. So, if you are interested in launching your own gay dating site or app then you can take a leaf from their book. These features can help you boost the growth of your new gay dating app development and ensure that the app can provide a great user experience to the people who sign up. 
But before you invest in a gay dating app development, wouldn't it be better to check out the competition and the status of this industry? Let's take a look at the same!
Online Dating App Industry Statistics
More than 49.7 million Americans have tried online dating.

62% of users of dating apps are men.

There was also a study that showed dating apps actually make marriages stronger.

2 out of 5 heterosexual couples in the USA now meet online and the percentage is actually higher when it comes to homosexual couples.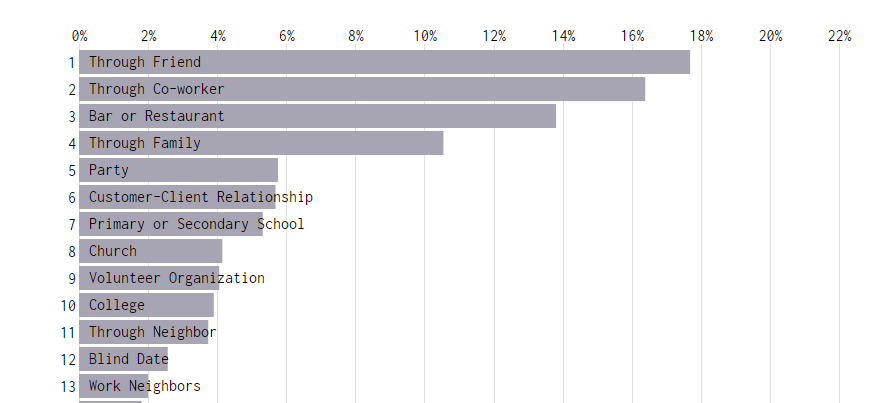 Before we discuss core Grindr features, here is a complete list of simple and advanced features you can integrate when developing a dating application.
| Simple Features | Advanced Features |
| --- | --- |
| User Profile | Advanced Search Filters |
| Photos and Videos | Incognito/Private Mode |
| Matching System | Push Notifications |
| Swipe Feature | Read Receipts |
| Chatting System | Message Translation |
| Video Chatting | Voice Chatting |
| Social Media Integration | Instagram Integration |
| Location-Based Services | Travel Mode |
| Premium Features | Unlimited Blocks |
| Safety Features | Photo Verification |
Have a look at these 5 Grindr features which are melding online dating with technological advancements. 
Consider 5 Most Important Features During Gay Dating App Development
The Grid View

Image Credit: Grindr

Unlike Tinder or Bumble, the Grindr dating app for gays has a unique view of profiles. It doesn't feature the normal swipe-left-swipe-right view. Instead, when the user's first login to the app, they are shown 32 various profiles in grids. Each row is of 3 profiles each and users can tap on the images to check out the user's profile that they are interested in. 

The grids also show the user if the other person is online or not. Plus, one can also see the real-time status of the person's location with the help of GPS. The profiles are also listed as per the distance from the top to the bottom of the page. Users can refresh the profiles being shown in the app to them. Other than that, if someone takes a premium subscription of the app, Grindr Xtra, then they will be able to see about 6x times more profiles at one time. 

As per our dating app consultant, this is a very useful and unique feature in the Grindr dating app because it helps users avoid having to reject other profiles right then and there. They can scour through all the profiles and talk to the ones they like without any hassle. Also, Grindr has launched the "into you" feature, you might ask "what is the into you feature on Grindr"? the feature helps to understand the match about what you are interested in doing like dating or Netflix and chill. So, if you have planned to make a dating app like Grindr, make sure to provide your app users with a listing view by filters so that they filter the list and find the perfect match.

Favorite Or Block People

If users have a particular profile that they are really interested in, Grindr gives them the option to add the profile to their list of favorites. This ensures that the users don't lose access to a profile even if they haven't started a conversation with the person. Users won't get a notification if somebody favors them either, which works in their favor. You should definitely consider adding the option to favorite profiles in your dating app like Grindr. 

Going the opposite way, Grindr users also have the option to block other users whenever they feel unsafe or annoy anyone on the app. This helps maintain a safe and secure environment for everyone in the gay dating app development. Our dating app consultant suggests allowing your app users to take actions like favorite, block, liked, interested and other actions. If the app users will have some actions in their hands, they will prefer your dating app over other apps.

Group Chat

Image Credit: Grindr

A rather uncanny feature, this could be useful if a majority of the users use your gay dating app as a social media platform. Often, we've seen people write "Not here for hookups" in their profiles. Although it defeats the purpose of a free gay dating app, you have to keep your audience in mind and cater to them. 

The developers and owners of the Grindr dating app have understood this. Of course, that's the reason behind their app being the best gay dating app. They offer 7 different options to their users when they are looking for new people to interact with from the app. The options are Chat, Dates, Friends, Networking, Relationship, Right Now, and Not Specified. 

Like this, provide your app users with in-app messaging or group messaging options so that they can connect with the people they are interested in. In-app messaging is considered the most important feature as it allows users to break the ice and talk with each other. 

Search With Filters

As per the dating app development expert at Space-O, one of the best features of any dating app is that users are able to look for new profiles by applying filters to ensure a certain type of match. Grindr dating app has a number of filters that users can apply to customize the guy feed in the app.

Many gay dating app developments allows users to set an age limit so they can match up with others in a similar age range as their own. They can also set the age limit higher or lower if they are okay with dating someone older or younger than them. Other than this, there are gay tribes. These are various categories for the gay community that tends to put the men in different tribes as per their body types, sexual health, and other factors. 

Let's take an example of the Grindr app, this is one of the best LGBT dating apps which lets users join just one tribe and it shows up on their profile. If a user has a Grindr Xtra subscription then he is allowed to join up to 3 tribes. Lastly, as mentioned in the previous point, users can select what type of relationship they are looking for. Depending on what they are using the app, they can select from 7 options such as dates, friendship, networking, right now, and others. 

By including certain filters in your gay dating app like Grindr, you will make it easier for users to find each other and ensure that they get the best experience.

Messaging Features

When it comes to messaging, popular dating apps do provide some unique features and some similar to those of regular online texting apps. Users can check if their message has been read or not, they can see when the other person is typing. Users can send instant messages, images, live locations with Google Maps, and saved "phrases".

Phrases are a unique feature of the Grindr gay dating app. Users can write and save phrases that they want to use often. Later, they won't have to type the phrase out over and over again. The messages are divided into 3 different feeds All, Unread, and Favorites. Users are allowed to message any guy from the feed and while it isn't against Grindr's rules to send nude photos, users rarely receive unsolicited nudes by others without at least exchanging a few messages. 

Users are also allowed to block or report anyone that they want from the feed. This allows for a safer dating app and gives more control to the users. Applying some of these features in your gay dating app development could bring a lot of traffic to you. Unique features also work like a charm when you are working on app retention.
In a Nutshell
So after reading all 3 features of the Grindr app, you must have got a rough idea of what solutions to provide to your dating app users and how to build a dating app like Tinder that can engage more lovers. The dating app segment generated a revenue of US $555 million in 2018 and is expected to reach US $649 million in 2023.
Thus, if you are thinking about the scope of the gay dating app development or dating app industry genre in general, need not worry. There is a plethora of Tinder-like apps enjoying their own share of profits and engagements online like OkCupid, Happn, Coffee Meets Bagel and Bumble. Your dating app can also be among one of them.
Thus, if you have any query or confusion regarding the dating app development timeline, iOS app development services, how does Tinder location work, how to hire a mobile app developer for Tinder app, fill up our contact us form and our sales representative will get back to you shortly. The consultation is absolutely free of cost.