This data might not surprise you. The global e-learning market was worth the US $165.36 billion in 2016 and is projected to surpass the US $243 billion in 2022 at a 5.08 percent CAGR.
This data represents that more and more institutions and organizations have been incorporating e-learning tools.  It is the right time to invest in eLearning and educational software, with the COVID-19 pandemic being a large part of our lives from now on. 
Here you will read about what is LMS, what are its benefits, and which are the best learning management systems in 2023.
What is LMS Software?
LMS software is a learning platform for managing and delivering educational courses or training programs. It offers features like course creation, administration, and progress tracking. Examples of LMS software include Moodle, Blackboard, and Canvas.
Understanding Learning Management System in Detail
It has two main components for its functioning: server component, user interface.
Server component: This component creates and manages courses, authenticates users, sends notifications to the users when required.
User interface: This is the component that users- administrators, students, employees run.  It works like an application, or on the web like Facebook.
LMS was initially used by the higher education sector but now has branched out to any sector that needs to provide online courses.  Whether it is a playschool, coaching classes, primary schools, colleges, or corporates needing to train their new employees.
Wait, we missed sharing this graph with you. It shows the global e-learning market size.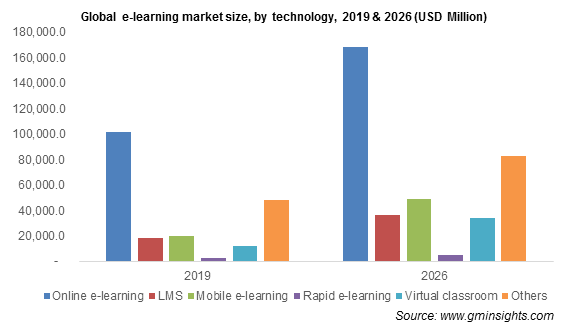 Many people still prefer teaching and training in the traditional way.  Yet, as modern problems require modern solutions, using a software of learning management can do a lot more benefit to you than you can imagine.  Let's see how.
5 Benefits of Using LMS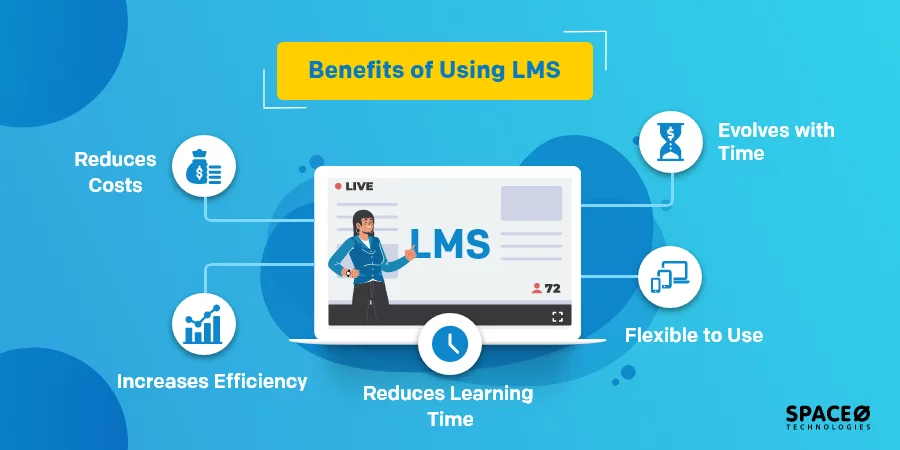 The 5 benefits of using LMS systems are
Reduces cost
Increase efficiency
Evolves with Time
Flexible to Use
Reduce Learning Time
We are going to discuss all of them in detail.
Reduces Costs

Traditional teaching methods may seem cheaper but in the long run, using a learning management system is pretty cost-effective.  You can use the same training program for all new employees or students.  You won't have to pay an hourly charge to a trainer for teaching the same stuff to every pupil.

Increases Efficiency

Instead of teaching the same topic again and again, if the tutors and students have a recorded video of the lesson, it saves a lot of unessential work.  The trainer may spend the saved time in clearing any doubts or queries which will lead to a fruitful utilization of time and boost productivity.

Evolves with Time

Conventional teaching methods have remained the same for a long time.  LMS platforms break this barricade and keep evolving with technology.  You can include video lessons, create quizzes, upgrade courses, monitor learning progress, everything with a simple tool.

Flexible to Use

With the Coronavirus outbreak, in-person training doesn't seem to be an option anymore.  Remote employees and distance learning students need a way to gain practical knowledge without too much human involvement.

Online learning programs and online courses are flexible for everyone as they can be accessed at any time convenient for the user.

Reduces Learning Time

In conventional training methods, every trainee had to sit through the entire session even if they already had knowledge of half of the topics covered.  In learning and training courses, they only need to click on the modules that want to learn and skip the rest.  This again saves a lot of time.

Being a leading software and mobile application development service provider, we received a lot of questions about which are the best LMS solutions in the market.  We prefer customized LMS systems that we can provide as they cater to each and every need of yours and are tailored to have the features that you need. No need to pay for extra features or tools.

However, if you're looking to select a learning management system for your institute or want to develop your own LMS you need to know about your competitors and do a learning management system comparison.

Here are the best management systems to learn that you need to know about.
Want to Create an LMS or E-learning App?
Looking to create an LMS or e-learning app? Get in touch with us and let our expert team help you bring your idea to life.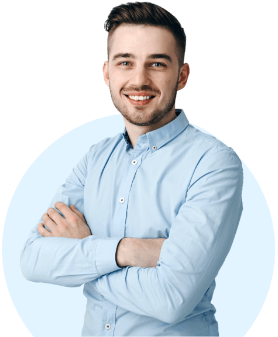 10 Top Learning Management Systems in 2023
In this table, we have compared the 10 best LMS platforms on the basis of their features. Let's take a look:
Name Of The App
Features
Website
Adobe Captivate Prime LMS

It allows uploading from a spreadsheet
The admin makes learners' groups based on location or department
Use self-enrollment or automate adding new users.
Host all standard e-learning file types

Talent LMS

You may mix eLearning with instructor-led training
You may re-use presentations and videos to build courses
Collect and analyze survey responses
Gain insights with reports

Moodle LMS

The entire course overview is visible
It has calendar filters to manage courses
It also allows forum grading, forum export, and summary report
It provides analytics insights and reports

EasyLMS

It has features of synchronous and blended learning
You can generate reports and get analytics insights.
You can carry out individualized assessment and scoring
You can schedule tests and do automatic grading

Canvas LMS

Learners can be provided course content automatically on their performance
Teachers have the feature to preview student's work, give feedback, and manage homework
It has a feature to record audio and video messages for the digital classroom
It also lets the parents engage with their children's education by reviewing their assignments

Docebo LMS

It has the ability to create assessments
You can track and analyze course content and data
It also has an eCommerce functionality
You can generate reports

SAP Litmos LMS

Admins can schedule and track registration and attendance for online courses
VR Immersive 360 video player to create immersive online learning experiences
Litmos Bot enables students to interact with instructors
It also has a feature to track course history

Lessonly LMS

It has a learning portal
Allows document management
Built-in course creation
Collaborative lesson building
Integrates with Zendesk

LearnUpon LMS

Allows taking exams and surveys
Builds interactive and diverse courses
Create user groups to ease training
Social Learning features

iSpring Suite LMS

It has a quiz editor, a screen recording tool and an interaction editor
iSpring Cloud hosting and sharing platform.
Supports PowerPoint features such as animation, and transition effects
Testing functions, plus options for custom reports, completion certificate
Adobe Captivate Prime LMS

Backed by Adobe, this LMS obviously had to be on our list. It is a really effective cloud-based learning management system.  It is mainly used by enterprises and sometimes used by small-mid businesses as well.

Image Source: Adobe Captivate Prime LMS

The best part is that content can be downloaded and accessed offline.  When the user logs in the next time, the software of learning management will automatically sync and track progress.

However, it is not easy to use and tools to create courses are very basic.  Admins don't get notified in the social aspect of the system or course discussion boards and also cannot do an evaluation within the system.

Who uses it?

If you want to provide and manage end-to-end training across employees, customers, and partners, you may go for this software. 

If your company has corporate trainers or LMS managers, they prefer using Adobe Captivate Prime. Further, learning and development (L&D) trainers, sales professionals, HR Leaders use it.

Pricing plans

They give a free trial as well as a demo, so the users may take a test run before deciding if they want to buy it or not.  The pricing starts from $4 per registered user and a minimum of 10 users are required to get a license.

Pros
Cons

It has good informative webinars
Easy document reviewing
Allows customization for learning
Solid user experience

You have to outsource building a quiz
It is not easy to use
Reports generated are not in detail
Requires a big upfront cost

Talent LMS

TalentLMS is a cloud-based digital learning software with a range of learning management system features. It is highly customizable and is, in fact, a Whitelabel solution.

It is Enterprise friendly, you can also sell your courses using PayPal or PayNow for Stripe making it good for E-commerce as well.

You can train your employees, partners, and customers as it is easy to integrate already owned material into the LMS.  The best part is that it may be accessed from any mobile device including iPad, iPhone, and Android.  It is a simple yet sophisticated online training platform, suitable for experienced as well as aspiring trainers.

Who uses it?

It is mainly used by small to midsize companies for training their employees, partners, or customers.  Various people and companies related to tech, healthcare, manufacturing, professional services, and retail have been using TalentLMS.

Pricing plans

It has a free version that is free for up to 5 users and 10 courses with unlimited email support.  This can be considered as a free trial.  The basic version starts from $59 / month (if paid annually, or $79 if paid monthly) for up to 40 users, unlimited courses, and email support.  The price increases with the number of users and features.

Pros
Cons

Simple clean and customizable interface
Easy to use even for new online trainers
Ability to get reports on all of my end-users and how they are progressing
Support for multiple file types like videos, presentations, iFrame, SCORM, etc.

Lack of reliability in tracking the real study time
Poor customer support
The only videos accepted for the "Video" object are YouTube
Doesn't support many eCommerce features

Moodle LMS

Moodle is an open-source learning management system with multilingual capability that allows users to use different languages.  The admin may manage user roles as well permissions- meaning that admins assign roles to users and manage what they can access.

Image Source: Moodle LMS

It has a calendar feature to track course deadlines, meetings, and much more.  It is used by many teachers to take online classes during COVID- 19.

It is easy to take backup and create bulk courses. It is highly customizable and lets you create your own themes.  However, it looks a little old fashion.

Who uses it?

Moodle is ideal for schools, universities, non-profit organizations, enterprise organizations, Vocational Education Training (VET) sector.

Pricing plans

MoodleLMS software gives a free trial to check out the features before anyone decides to buy it.  There is a free version that an unlimited number of users can use it, however, it has limited features.

The starter pack is $80 per year and the medium package is $1000 per year.  The users may also become a partner with a certified Moodle partner.

Pros
Cons

It is open-source so anybody can use it
It is highly customizable, helping any business to use it
It comes good documentation to understand usage

Canvas doesn't have gamification features built into it
It is not enterprise-friendly
Customer service could be improved

EasyLMS

EasyLMS was founded in 2013 and has become an internationally growing LMS software company with a specialization in online training courses and mobile learning.  They claim to be customizable and help you build the best learning management systems for business or your organization.

Easy LMS helps you build educational as well as customer training courses very easily. It can be used on any learning platform- smartphones, laptops, iPads, tablets.  This way most people can access it on whichever platform they want.

Who uses it?

EasyLMS may be used by any organization regardless of its size.  Academic institutes like schools universities, eLearning companies, enterprises need to train their employees, everyone can use this.

Pricing plans

It has two types of subscription packages- monthly and yearly.  The customers can choose from $50 per month / $499 per year, $99 per month or $990 per year, and $250 per month or $2500 per year.

Pros
Cons

It is academics, eCommerce, and corporate-friendly
Easy to create courses on your own
It has many intuitive tools like quizzes, lectures, evaluations
Simple and easy to use

Size and dimension constraints on pictures
Customer support could be improved
Doesnt allow importing PowerPoint presentations
Difficult to navigate the back-end

Canvas LMS

It was developed in 2011. Canvas is a cloud-based and open-source software of learning management created by Instructure for educational tracking and reporting.  Grades K-12 and higher education institutions have employed Canvas LMS for their online courses.

Image Source: Canvas LMS

Canvas has introduced an inclusive video platform, Arc, for online training.  This online learning tool is used to easily upload and share videos in a digital classroom. 

The students and instructors have an option to comment on videos, this creates conversations and collaborations with every team member.

Who uses it?

It is mainly used by schools, colleges, and universities for academic purposes.  Small and mid-scale businesses may also use it for training their employees, customer training, human resources training, and business development training.

Pricing plans

The pricing has not been disclosed by the company.  However, if interested, anyone can contact them on the website.  They also provide a free trial and demo for the customers to decide if they want to purchase and which plan to go for.

Pros
Cons

They have native iOS and Android apps that help students in mobile learning
Track every student's performance in real-time
Admins can provide feedback and annotate homework submissions in a single frame

Canvas doesn't have gamification features built into it
It is not enterprise-friendly
Customer service could be improved

Docebo LMS

Docebo stands for "I will teach" in Latin. It was launched in 2005 especially for the service sector.  Many companies consider it the best LMS software for their employees, partners, and customers.  Various companies like Thomson Reuters, Sharp, Bloomberg endorse this learning management platform.

It uses the power of Artificial Intelligence to personalize the admin and learners' experience and produce measurable learning outcomes aligned to business objectives.  It has a range of practical features.

Who uses it?

Large enterprises with over 10K employees, small-medium businesses use it for employee onboarding, customer and compliance training management, and other purposes.

Pricing plans

The pricing structure depends on how many active users will be taking courses in every month There are two main plans: The Growth plan gives you access to up to 300 active users at a charge of $3.33 per user per month. 

A free 14-day trial is available along with the ability to schedule a demonstration.  Enterprise plan, which provides access to 500 users for $5 per user per month.  A free 14-day trial is available along with the ability to schedule a demonstration.

Pros
Cons

It has ease of use and dynamic gamification
The software is excellently customizable, also is white-label
Docebo's multidomain app gives a stellar mobile learning environment
It has a neat User Experience

The question pool is difficult to edit
Many users have reported login issues
There is a lack of control over the default settings
Reporting is not customizable enough

SAP Litmos LMS

SAP Litmos was founded by Rich Chetwynd, Dan Allen, and Nicole Fougere in early 2007. T his LMS software was built with an aim to enable smarter, faster corporate eLearning experiences. 

Image Source: SAP Litmos LMS

SAP Litmos LMS claims that it has over 22 million users worldwide including education, retail, public sector, nonprofit companies, technology, healthcare, and construction.

It is available on almost every desktop platform like a mobile application, SaaS / Cloud, Linux, Mac, Windows.  It has integrations like Google Calendar, Zendesk, Zoom, Mailchimp, CRM Shopify, and Salesforce.

Who uses it?

Small-mid scale business to large enterprises with over 10k employees can use this top learning management system.  They use it for channel training content, compliance training, extended enterprise industries, and customer and employee training.  It is used by industries like food and beverages, hospital and healthcare, nonprofit organization, and computer software.

Pricing plans

It starts at $4 per user per month if the number of users is 500 or more while it is $15 if the number of users is 50-150.  They also provide a free trial and a demo is available.

Pros
Cons

Automates communication with communication tools and tracking
Simplifies use for learners and admins
Secure to the highest standards

Not all features are included in the subscription plan
Poor customer support
Very simple and basic functionality

Lessonly LMS

Lessonly is a simple yet powerful software of learning management that helps teams learn, and practice new courses with new LMS products. It claims that it is used by over 3 million users.  More than 900 leading enterprise companies like Trunk Club, Ibotta, U.S. Cellular, and Zendesk use Lessonly LMS.

This learning management system has a drag and drop capability to make lessons simple for all learners.  It also provides customization and white-labeling.  You may change the theme according to your brand.  They also provide sales coaching for salespersons.

The best part about this LMS is that it can simplify tracking and organizing big volumes of data, which makes using it extremely easy and efficient.  It allows the sharing of videos and projections of images dynamically.

Who uses it?

Talent recruitment executives, enterprise customer service trainers use Lessonly for curriculum management.  This LMS serves growing progressive companies and is perfect for small to mid-sized businesses.

Pricing plans

The Basic plan is for up to 20 learners or users and costs $300 per month.  The Plus plan costs $750 per month and can be used by 75 learners.  The Growth plan covers up to 200 learners and the cost is $1,250 per month.

The cost for the Enterprise plan is not disclosed and depends on the number of users but it is for companies with over 200 learners.  A free demo is allowed.

Pros
Cons

This LMS is great for small businesses
The Progress is saved for all lessons and completion is tracked
It is easy to build lessons without a lot of technical know-how
The interface is very clean and self-explanatory to use

The cost is a little bit high
Doesn't have video conferencing
It is not suitable for eCommerce
The dashboard is a little weak for discovery

LearnUpon LMS

LearnUpon LMS was founded in 2012 and is a cloud-based learning management system company.  It is based in Dublin, Ireland and now has offices in Sydney and Philadelphia.

Image Source: LearnUpon LMS

This LMS allows administrators to upload course content in various formats, including text, video, Microsoft Word, PowePoint, and PDFas well as eLearning standards like CORM and xAPI.  The software of learning management is also integrated with webinars and videoconferencing tools.

LearnUpon LMS is available in 11 languages and can be white-labeled or rebranded by customers.  The software is provided as SaaS and works on desktop, tablet, and a mobile platform as well.

Who uses it?

Various software companies, enterprises, and SMEs worldwide use LearnUpon.  They use it to deliver professional training to their employees, partners, and customers

Pricing plans

LearnUpon LMS has four billing plans.  The Basic version starts from$599 per month (billed annually) for up to 50 active users and 1 portal.  The Essential plan costs $999 per month for 250 active users and 2 portals.

The Premium plan costs $1699 for 500 active users and 3 portals. If there are over 500 active users and need more than 3 portals, then the Enterprise plan comes into work.  The price depends on the number of users.

Pros
Cons

It is highly customizable and is a white-label solution
The learning platform has a clean look
There is no need for coding experience to customize the content
Creates professional-looking courses

It does not have a free version
The default settings cannot be changed easily
Some tools are difficult to understand
It could be too expensive for small businesses

iSpring Suite LMS

iSpring Suite was initially called Flashspring, a prototype called Flashspring Pro was released in 2005.  It was a simple PowerPoint-to-Flash converter that was available in free and commercial versions. Later, they released Flashspring Ultra with SCORM compatibility.  FlashSpring Lite and FlashSpring Server, the companion products, were released in 2006 and 2007 respectively.  They changed the name to iSpring in 2008.

This LMS is a PowerPoint-based authoring toolkit that was created by iSpring Solutions.  The users are allowed to create the slide-based course material, quizzes, screencasts, dialog simulations, video lectures, and other interactive learning materials.

This LMS helps to train employees, partners, and customers. It also tracks and helps achieve learning goals.  The learning management system streamlines the training efforts enabling to delivery of a more comprehensive supported learning pathway for a remotely-based network of learners.

Who uses it?

It is considered one of the top LMS platforms for schools, staff training, healthcare, education, and training agencies.

Pricing plans

The starting price is $770 per year per user.  If you need more features and support you can go for the iSpring Suite Full-Service which is more expensive.
Pros
Cons

Conversion to web-friendly formats
Easy to create interactive PowerPoint presentations
Develops interactive modules
Draft, edit and publish professional-looking online courses

Restricts you to one computer
The LMS occasionally crashes
There are sometimes issues in media types
The quiz maker doesn't have an "auto-save" feature
Frequently Asked Questions
How does an LMS work?
Software of learning management works like a huge gated website. Only people with access credentials may get access to the LMS. The LMS platform provides a way of learning and teaching to the teachers and students.
Online and collaborative learning methods help train students and employees in their respective courses and sessions. Learning management systems provide space where materials can be stored and organized.
They also help in giving assessments. The students and teachers can interact using chat, comments, web conferencing, and other LMS tools.
What is the main function of LMS?
There are two main functions of a learning management system:
Providing training
Reducing the cost of the training provided
What are the features of LMS?
Here are the main and advanced LMS features:
Integration with various systems like talent management, workforce management, compliance platform, ERP tools, CRM tools, etc.
Content management system and engagement tools
Built-in reporting and analytics insights to tracing learner's progress
Customer support to solve any issues faced by customers
The customizable content creation tools
Skills and certification testing
What makes a good LMS system?
Best management systems to learn have a few elements in common. Let's take a look at what those are.
Ease of Use: If a learner is taking an online course, the main requirement is that the learning management system (LMS) that they are using supports this online course and they can use it easily. The features should be optimum and easy to use.
Learner-Centric Experience: The online learning experience during any online training is the most important. The course and tools should be adapted according to the training needs. Entire online training should be customizable and have personalized learning.
Intuitive User Experience: The navigation through management systems for learning is very important. If the users don't know how to find the relevant tools and online
Mobile Capabilities: Learners might not always have the option of using a desktop computer or a laptop. This is why your LMS must be mobile-friendly. The tools, online training courses, features should be available while using a mobile platform as well.
Security: Most learning management software store personal data of learners. Not only this but they also have learning material that is usually proprietary or of commercial value. This is why security tools are a must in top learning management systems.
Supports Blended Learning: Only online training is not enough in LMS software. Most businesses require blended learning with hands-on training, instructor-led, and on-the-job learning.
Want to Create an LMS or E-learning App?
Looking to develop an LMS or E-learning app? Get in touch with us and let our expert team turn your vision into reality.
Conclusion
We hope that now you know about the best LMS of 2023. These were only a few of them.  We will keep adding to our list as we research more and more learning management systems that are out there.
It won't be out of line to say that the best LMS systems and learning management software have the power to change how social learning and corporate learning work.
Whether they are used by educational institutions for academic purposes or by enterprises for corporate training, they have a wide range of learning programs.  Many LMS software also offers training materials that are open source.
More and more companies have been seen to absorb LMS like enterprise LMS for course authoring and as learning platforms for new employees.  While school districts have been quick to adapt to an LMS solution as a training platform following the best practices.
If you are looking for a custom training solution like a software, mobile, and web app development company for developing a learning management software for your organization, feel free to contact us.
We have experience in developing educational software as well as apps like Step1 Expert which is used by the medical students for the USMLE Step 1 exam.  We have also developed an interactive quiz app to help students study for their driving test known as DMV genius.
If you have any questions regarding the app or software development process, timeline, or budget, you may ask us.  In fact, all you need to do is fill up a contact form and one of our representatives will get in touch with you. Don't hesitate to ask for a free quote as well!