Are you facing challenges while streamlining business processes, inventory management, and work orders?
Do you want to keep track of your client needs, manage leads, invoices and accounting? Are you planning to enhance your existing customer relationship management?
HVAC business software will help you to achieve that.
The global HVAC system market size valuation was 136.3 billion in the year 2021. It is about to increase at a CAGR of 6.3% between the years 2022 to 2030.
The above statistics indicate the huge potential in the HVAC business.
Therefore, choosing the appropriate HVAC software will surely help you to solve the majority of your business challenges.
But you might have several questions while choosing the best HVAC software.
Questions such as
Which is the best HVAC software?
How to choose the right HVAC software?
What are the core features of HVAC software?
What are the advantages and disadvantages of using ready-made HVAC software?
Read this blog to get answers to all of the above questions. By the end of this post, you will learn how to choose software for your HVAC business.
Here is a quick HVAC software-recommendation based on its price, features, and customer service. All of these reviews are taken from the Google Play Store.
FieldCamp

4.4
Schedule multiple jobs according to your time to with job scheduler feature, see jobs even without internet connection
Allocate a staff person based on their preference and app usage, and save 95% of your business's scheduling time
Dispatch jobs in one click to efficiently allocate the best resource to perform the job efficiently
Get real-time field staff status and tracking in a few clicks
Track business operation with comprehensive business reports
HouseCall Pro

3.8
One-click digital invoicing and seamless integration with Quickbooks
Online payment support
Setup new & recurring jobs, organize your calendar
Customer management with online booking, and easy payment options
ServiceTitan

3.1
Comprises of best HVAC software tools such as business valuation calculator, flow rate calculator, etc
Marketing Scorecard to create, and monitor marketing campaigns
Field reporting with visual breakdowns to get the complete details
As of 2023, there are more than 200 HVAC software listed on the Capterra. But, which field service scheduling software to choose for your business?
We have compared the 5 best HVAC software on the basis of their features, software ratings, and popularity.
5 Best HVAC Software in 2023
The following table includes the list of best HVAC software in 2023 with their features, software pricing, Play Store rating, and website.
Logo
Software Pricing
Play Store Rating
Website

7 days free trial
Start – $29/month
Grow – $49/month
Manage – $99/month


4.4

Basic – $49/month
Essentials – $109/month


3.8


3.1

Free trial
Starter – $149/month
Plus – $219/month
Pro – $399/month


2.9


2.0
The above table contains the comparison of the best field service companies. Each software includes unique features.
Next, let's discuss each HVAC business software in detail. You will be able to find the right software for your company.
FieldCamp – Field Service Scheduling Software

Having 4.4 ratings on the Google Play Store and 4.8 on the Apple App Store, FieldCamp is the ultimate field service management software to fulfill all of your field service management requirements.

FieldCamp is the complete job management platform to help you track, plan, organize, and review your entire project.

FieldCamp is on the top of our list as it has earned users' trust over time.

With FieldCamp, you get smart planning, dispatching, and notifying options to complete the jobs in seconds.

The powerful job dispatching feature allows your business to assign the resources needed to complete a project efficiently. In just a few clicks, eliminate the time-consuming manual effort of assigning projects to your workforce.

Additionally, with the team tracking feature, you can easily follow your team to monitor where and what job they are doing. Also, check how many hours it will take for them to complete their task.

Another powerful feature of FieldCamp is calendar UI, using this feature, examine your employees' job schedules and monitor the progress of the tasks assigned to the team.

Check the following key features FieldCamp provides:
Automate your daily operations from the scheduling software. Schedule jobs, plan, dispatch, and notify in the span of seconds.
With the job schedule feature, assign tasks, plan, and allocate multiple jobs as per the employee's availability.
The software will permit from managing to dispatching jobs to multiple locations. Make your dispatch task hassle-free by avoiding underbooking, overbooking, and double booking.
Monitor each team member's occupancy, and make your dispatch decisions accordingly. To make sure you never miss out on any client, use the 'Job Status' filter to track the progress of tasks assigned to the team to receive the highest customer satisfaction.
Save your planning and dispatching time by adding recurring tasks in advance. In case of rescheduling, save your time as you don't require adding the client's details. As it will be added automatically.
Check the following advantages and disadvantages of using FieldCamp business software.
| Benefits of FieldCamp Software | Limitations of FieldCamp Software |
| --- | --- |
| The software allows you to digitize 90% of your business operations such as scheduling, job management, tracking, and staff organization. | No option to text clients |
| Saves 95% of your business scheduling time by manually assigning jobs to the right-field staff by checking the availability. | No route optimization |
| Get 7 days free trial without a credit card signup for the enterprise-level plan. | – |
| FieldCamp is available on 3 platforms, Android, iOS, and the web. So that, you can easily manage your business and schedule jobs by selecting the platform of your choice. | – |
| Examine your employees' job schedule and monitor their task progress using calendar UI. | – |
| Get exclusive features such as scheduling, dispatching, invoicing, follow-ups, and payment processing in one app. | – |
| With the easy invoicing and payment processing, get paid faster while managing all your payments properly. | – |
Housecall Pro

Source: Housecall Pro
Having 4.5 ratings on software advice and 3.7 ratings on Play Store, Housecall is well known amongst the HVAC businesses. It is a cloud-based HVAC service business that automates workflows and streamlines technician dispatch for HVAC businesses. This solution offers the accessibility of a mobile app and a web portal. Managers can create and email invoices from mobile devices as soon as the job completes.
Housecall Pro enables service organizations to automate their processes instead of relying on paper. Quickbooks Desktop and Online integration, job scheduling with GPS tracking, dispatching, and payment processing are just a few of the features available in HouseCall Pro.
Utilize Housecall's online booking feature to schedule services, a centralized chat system, and make payments online. On both Android and iOS devices, you can use Housecall Pro to manage your HVAC business.
For single owners/operators, there is a free edition that includes multiple features of the paid version such as drag and drop scheduling, and real-time dispatching. The premium price is based on the number of users, and there is also an enterprise license option. Have a look at powerful features of Housecall Pro.
Manage multiple tasks such as work management, scheduling, dispatching, and invoice estimation
One-click easy invoicing
Support of all the payment gateways
Check the following table of advantages and disadvantages of HouseCall Pro software.
Pros
Cons

Notifications, calendar, scheduling, invoicing, and payment notes of these features are tied and help to smoothen the process.
The software permits the ease of field use. Being able to update images and notes on the fly, as well as informing the office of times and progress spent on project sites.
Software has a user-friendly layout. You can collect a payment, dispatch technicians, and add clients as well.

The management functionalities such as reverse logistics, preventive maintenance, and warranty are not available in the software.
ServiceTitan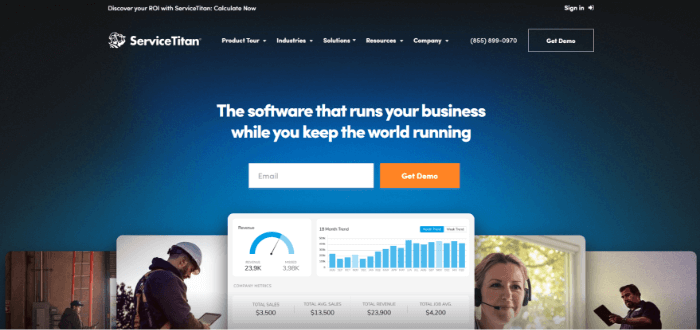 Source: ServiceTitan
ServiceTitan is a solution that has multiple platforms for your business needs. The software ensures that everything you need to run your business is in one convenient location, wherever you are.
ServiceTitan combines industry best practices to help you streamline operations, enhance sales, deliver a better customer experience, cut expenses, and run your business more efficiently. It is used by the world's leading service firms and trusted by over 100,000 experts.
ServiceTitan is a comprehensive yet simple-to-use mobile, cloud-based platform that combines scheduling, dispatch, invoicing, sales, marketing, reporting, and more.
Say welcome to easy work scheduling, and constant communication with your technicians. Apart from that, the software includes features such as advanced reporting, call recording and tracking, paperless billing, great visual sales tools, and many more.
ServiceTitan facilitates an increasing number of exceptional service businesses, like George Brazil, Hunter Heat & Air, Gold Medal Service, and Goettl, in achieving their goals. Look at the top features of ServiceTitan.
Personalised alert and notifications
Efficient billing and invoicing management
Proper customer relationship management
Take a look at some of the pros and cons of ServiceTitan software.
Pros
Cons

The software gives a detailed field management solution to their customers.
The software has a cleaner, and user-friendly interface with simple phone integrations that make less work for users.
The software has improved compared to the previous version. For example, using the map feature, you can track the field service guy without any difficulties.
The interface is visual, easy to use, and self-explanatory.

Marking campaign management is not properly structured as it doesn't provide drip campaign type or multiple channel marketing capabilities.
Not possible to see measurements and pictures from measure tickets which takes the majority of time for scheduling installs.
ServiceFusion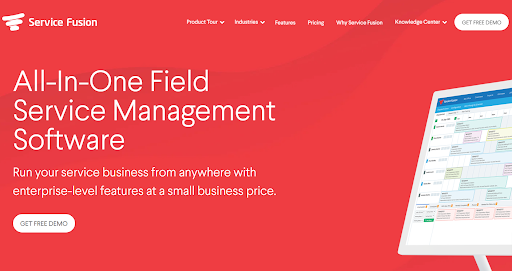 Source: ServiceFusion
Service Fusion is an excellent alternative if you're seeking HVAC software that interfaces directly with Quickbooks accounting software. It allows consumers to keep track of their finances without having to switch platforms.
While Service Fusion isn't the only program that can do this, it is an Intuit Quickbooks Solution Provider, which means it can earn consumers discounts on a variety of Intuit products.
Service Fusion syncs services, goods, and clients across both platforms using Quickbooks. When a user makes a modification in Service Fusion, Quickbooks is updated automatically. Payments, invoices, and job deposits are all synchronized automatically.
The software helps to write, take photos, view, send and collect signatures as well. ServiceFusion permits estimating, dispatching, and scheduling in the software. The software has integrated maps for the team members to monitor the routes to a job destination.
ServiceFusion is divided into 3 plans. It offers a free plan, in which all the plans get free data import. The following table includes the powerful features of ServiceFusion.
Centralised platform
Schedule and dispatch regardless of the location
Create estimates and jobs
Schedule and dispatch
Track customer equipment history
Look at the pros and cons of ServiceFusion software.
Pros
Cons

The entire work process is accessible and easy to manage.
Customer communication tools are the best as it permits getting pictures of technicians prior to their arrival.
ServiceFusion has a great customer support team, who are prompt in answering any doubts of customers.

The software's addons are costly and demand year-long contracts.
The cost of the marketing program is too high.
mHelpDesk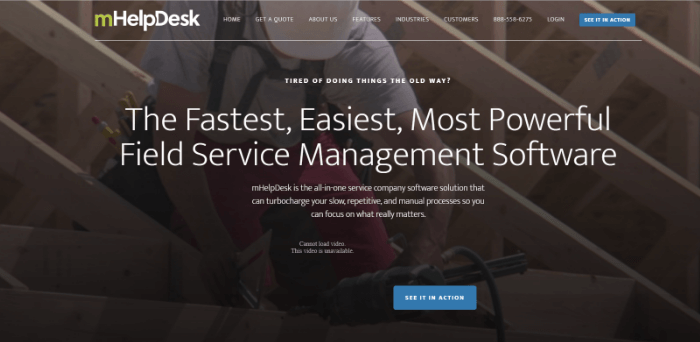 Source: mHelpDesk
Are you working on establishing your business? mHelpDesk will surely help. This mobile field service software is considered to be the top HVAC software having 4.3 ratings on Capterra. As this software is suitable for small businesses to medium businesses. Users can easily assign, manage, and update task schedules and dispatching with only a few clicks.
Additionally, the software allows you to schedule different tasks and drag and drop events, estimates, and jobs. You can easily take care of your customer data as well. Using Housecall Pro's color-coded calendar, technicians can see which team each work is assigned to.
Clients are given an estimate of when technicians will arrive by setting arrival windows. Directly from the mobile app, you can view, assign, and manage jobs. Team members will be contacted via the app once a job has been allocated. Even the users will directly receive the automatic text reminders. After work, receipts will be immediately sent to both users and employees.
Technicians can create customized estimates, issue maintenance agreements for HVAC units, and apply specific checklists. WorkWave system accepts credit or debit card payments and keeps track of checks and cash. Review requests are sent out automatically after a job is completed.
Employees can also utilize photographs to generate detailed proposals. Apart from this, take a look at features of mHelpDesk software.
Generate leads with mHelpdesk's lead management feature
Powerful job management system to manage the entire workflow
Check availability, book appointments and schedule jobs using a mobile app
Login at right time using mHelpdesk reporting
Check the following section to know the pros and cons of mHelpDesk software.
Pros
Cons

The software is packaged with a CRM tool to manage and track leads.
The mHelpDesk is built on a powerful automation engine that automates the majority of paperwork and manual processes.
The dashboard of the mHelpDesk is intuitive and user-friendly. All the required tools are available for you to use.
The software contains the best job management and tries to keep the technicians nearby, therefore it makes scheduling flawless.

The software is somehow complicated to operate for beginners.
Job history import is not enabled. Also, the report doesn't provide the total and mark the job complete.
Benefits of Using HVAC Software
Check the following benefits of using HVAC service software such as FieldCamp.
| Benefits of HVAC Software | Explanation |
| --- | --- |
| Create Detailed Work Orders | Save cost and time by preparing detailed work reports for your business. |
| Optimized Scheduling | Get a complete view of the technician's schedule, availability, and location using HVAC software. |
| Enhanced Efficiency | Automate the majority of the operations such as work orders, service dispatches, and invoicing to increase business efficiency. |
| Understand Customer Behaviour | Get proper insights into your customer's behaviors to increase sales and marketing efforts. |
We have discussed the best HVAC softwares and the core benefits of choosing HVAC software. In the next section, check the important questions and answers related to HVAC software.
FAQ About Best HVAC Software
What makes FieldCamp one of the best HVAC software?
Having 4.4 ratings on Play Store and 4.8 on Apple App Store, FieldCamp strives to be the best in the HVAC software industry by winning the trust of 1000 users. Besides, FieldCamp is an excellent choice for small to enterprise businesses.
Is the HVAC business still profitable?
Yes, HVAC business owners earn 5% to 10% profit on average. That profit margin goes up to 40% depending upon the equipment charge, and timeline. As HVAC industry has continuously evolved since the launch of air conditioners. The profitability of the HVAC business is increasing with the rising demand of customers and the industry.
Why is HVAC software essential for HVAC businesses?
Purchasing HVAC software helps to automate your business. Whether you have a small business or enterprise, the software will help automate business processes seamlessly. Even the HVAC software will help to eliminate errors without your involvement.
Are You Ready to Choose the Right HVAC Software?
As you are aware the HVAC software helps to scale businesses, and even works as a job management software as well. The HVAC industry is scaling faster than ever, therefore to scale you require a field service software that is affordable and offers smart service.
The aim of HVAC software is to simplify business operations and automate manual tasks. Choose the HVAC software which has powerful CRM tools, automation, and a working mobile app. Prior to choosing the right software, make sure you sign up for the free demo.
HVAC dispatch software and marketing tools will surely benefit a business such as yours. In fact, enterprise businesses can also take advantage of FieldCamp by signing up for a free trial. If you are seeking minimum downsides and maximum results then FieldCamp is the best solution you should opt for.
Apart from this, check the best route optimization software guide to help you streamline your delivery fleet management system.
If you are planning to develop a custom solution for your business, our consultants can assist you with custom software development services. In the travel and logistics field, we've created a number of apps. Please contact us if you have any questions or concerns about HVAC solutions. Simply fill out the contact us form at the bottom, and one of the tech professionals will contact you to discuss your requirements.