Mac is one of the most loved platforms when it comes to supporting all the OS X developer tools. It is essential to have the best mac apps for developers to build all sorts of apps for iPhones, iPad, Apple TVs, or Apple Watch.
There are currently over 2.23 million iPhone apps in the Apple App Store. This number continues to increase leaving a high demand for iOS programmers.
Today, with so many Mac solutions available out there, it may be challenging to pick one. If you are also in such a dilemma, then this article is for you. After having a detailed discussion with our professional iOS developers, we have listed the best 12 mac apps to enhance the workflow while being more productive.
List of Best Mac Apps for Developers
We have compared the best macOS apps for developers based on their price, features, and reviews taken from their official website and G2, a top reviewing website.
Apps
Price
Features
Reviews


Transporter App

Asset tracking
Automatic updates
Easy to install and use
Progress indicator details

4.7
(Official Website)
Postman

Create, send & save REST, SOAP, or GraphQL requests
East to manage cookies of various domains
Support multiple authorization protocols

4.6
(G2 Website)
Bitbucket

Standard – $3/month
Premium – $6/month
Easy to pull requests with code reviews
2 step verification requires
IP whitelisting
Merge Check

4.4
(G2 Website)
Appium

Automated testing of native, hybrid & mobile web apps
Supports multiple programming languages
Enables cross-platform testing on real devices

4.2
(G2 Website)
Homebrew

Creating a cask is as simple as creating a formula
It refuses to use sudo to intentionally be safer
Recommended for its ease of use

4.1
(Official Website)
iTerm2

All matches are easily highlighted
Easy to divide a tab up to multiple panes
Paste history or save in your disk space

4.8
(G2 Website)
Sublime Text

Best text and source code editor
Easy to make multiple changes at the same time
Powerful API and package ecosystem

4.5
(G2 Website)
Xcode

Interface builder built-in
Live Issues help to highlight coding mistakes
XCTest framework helps to build unit tests easily

4.1
(G2 Website)
Tower

Free
Basic – $69/year
Pro – $99/year

Clone & create repos with a click
Drag & drop helps to perform many tasks
Work on multiple projects side-by-side

4.6
(G2 Website)
SourceTree

Create and clone repos from anywhere
Advanced features like patch handling, rebase, shelve, and cherry-picking

4.2
(G2 Website)
FlexiHub

7-days Free Trial
Personal – $159/year
Teams – $145/month

Drag & drop interface
Data import/export
Activity Tracking

2.0
(G2 Website)
Sequel Pro

Very easy to install and use
Clean and intuitive UI
Multiple server sessions and profiles

4.6
(G2 Website)
You must have got the gist of all these 12 top Mac applications. Now, let's get started.
12 Best Mac Apps for Developers
Got an App Idea? Let's Make it a Reality!

Validate your app idea with our expert consultation. Let's bring your idea to life!
How to Select a Mac App For Your Project?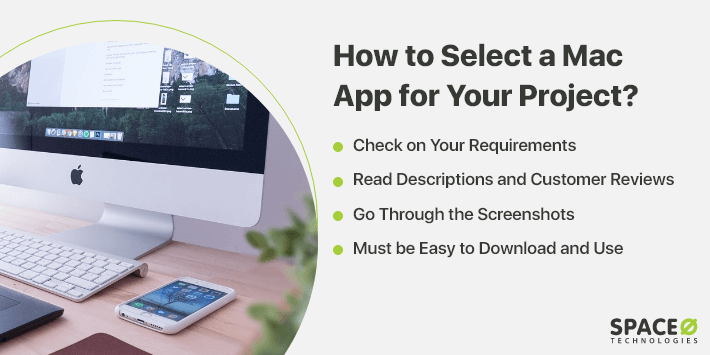 Check on Your Requirements

Your project requirement may demand you to select a particular developer tool. Therefore, ensure that you know all the requirements and have ample knowledge of the project.

Read Descriptions and Customer Reviews

Follow the best practices used by other app developers to read the descriptions and customer reviews. Ensure you have checked everything and you are satisfied with the information.

Go Through the Screenshots

You will find a few screenshots on their official webpage regarding their features or essential information. Must check all the features and ensure they all fit in your requirement list.

Must be Easy to Download and Use

To ensure it's easy to download and use, get the trial offer. Be sure while choosing the right Mac app for your project.
Frequently Asked Questions
What are the best tools for macOS and iOS development?
What are the top mac tools for web development?
Conclusion
We hope now you will find the best Mac app for your project. You can also get in touch with our experts if you want to build an iOS app. Our developers are highly experienced in using Mac applications, and they know which Mac application will perfectly fit your business requirements.