We get many request from our clients who want to develop an iPhone/iPad and Android Application that needs to pull the data from central server using API (application programming interface).  As the matter of fact iPhone or Android devices cannot communicate directly to server for primary reason: They don't have database drivers and secondly database on server are hosted behind firewall for security reasons.
Most of the application that are there out on Appstore use Webservice API's to communicate with server database. In simple language:
API is a PHP or DotNet code that is written on server,
API converts the database records into XML or JSON format and return the data requested by iPhone or Android application.
There are several way to secure and authenticate how the data is severed / returned to the API
Most API use GET and POST responses for communication.
API's are intended to be used as interface with your application / website component to communicate with Server database.
For security reasons you should have a login to validate /authenticate your API's and you can introduce a common concept like API Key.
If you already have a website or a web based business solution or service and now you want to extend the use of those services or data by way of a mobile application you will need to develop or code these API, at Space-O we can develop these API's for you or we can use your existing API's for integration into iPhone application.
Most of our clients might want to use there existing web developer to create the API's but they find it very difficult as how those API's needs to be documented. As there is no standard way of doing documentation, but after years of experiences we found a standard template that you can use as reference.
While creating the document divide that into two sections (1) Index of API's (2) Details of each API with sample data output.
Below are samples of same and you can use that as reference:
1) Sample of Index (API Function) List:
2) Sample of how to document: Listing Address Book: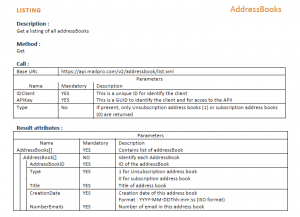 3)  Sample of how to document: Delete a Address book record:
Please contact us if you need API development services we have team on below technologies:
Using Core PHP
Using CakePHP, Codeignitor, Zend Frameworks
Mircrosoft DotNet, C#, ASP.Net (Rest Protocol)
RubyOnRails
Java