Do you know New York's legendary yellow taxis still provide more rides than Uber and Lyft?
According to the city's Taxi and Limousine Commission report, there were 11.1 million taxi trips offered in New York city, among which about 4.7 million trips completed by Uber and about 750,000 rides by Lyft.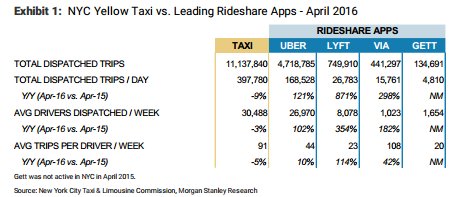 At the same time, Uber has increased 121% rides, which is around 4.7 million in April over the year before. With these numbers, we come to know that Uber is less efficient although, Uber is dispatching as many drivers per week as the taxi companies. This simply means taxi drivers were carrying out as many rides per week as Uber drivers were.
Morgan Stanley's data says that Uber drivers performed an average of 44 trips per week, or 6 trips a day over a 7-day week. On the other hand, Taxi drivers were carrying out 91 trips per week, or thirteen trips/day.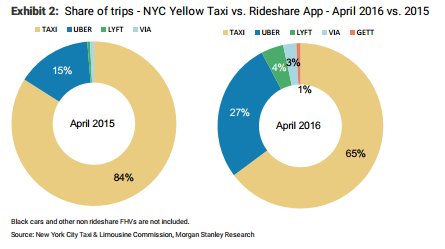 It is not a surprise, as yellow taxis are also dominating transportation option in New York, however, the difference in trips performed is showing the overwork done by an average the taxi driver.
There are many taxi drivers working to pay off the daily or weekly rental costs of the yellow cab before they can make any income. Nevertheless, taxis have a few more benefits over Uber in NYC, especially the lack of surge pricing, and ability to be welcomed from the street.
Uber riders were giving 44 rides per week. And, yellow taxi drivers were giving on an average of 91 rides a week, which was double than Uber. This could indicate that many Uber drivers are working part-time or splitting weekly rides between Uber and other car services like Lyft that offered averaged 23 trips per week per driver.
Let's see the example of Via, the carpooling app. This application uses SUVs to provide ride up to five different passengers around the city. It gives around 450,000 rides in April with each driver completing an average of 108 trips per week.
Actions by Ridesharing Companies Uber and Lyft to Compete Yellow Taxis
GM ( General Motors ) and Lyft's Express Drive connected through a program that offers all-in vehicle rentals to Lyft on a sliding fee scale on the basis of usage. GM and Lyft teamed up on Express Drive that follows a strategic investment by GM in Lyft tune of $500 million and this program started in March 2016.
Around 30% of new Lyft driver applicants have requested an Express Drive vehicle and it has already driven around $2 million in earnings for participating drivers to date – GM noted about the expansion. GM says the Boston-based launch maxed out its seats for drivers in under 4 days that suggest there's been huge demand wherever the partnership opens shop.
Stats from Lyft shared via GM specifies more than 130,000 people, who have applied as drivers in SF, LA, and Denver, have qualified although they didn't own cars. Lyft needs cars that shouldn't be older than a 2004 model year. Express Drive also opens car sharing on the driver side for the people with cars and people who don't have their own cars. The model is elegant that removes the burden of car ownership, which is smart for both Lyft and GM. Just like Lyft, Uber also has the same partnership with Enterprises, residing New Jersey, San Francisco, Los Angeles, Denver, San Diego,Chicago and Boston.
Lyft drivers are also offering things like gums, phone chargers, and water bottles to enhance customer experience. Apart from that, Lyft Premier offers legroom and leather seats of the premium vehicles. Lyft has also been partnering with some giants like Apple to transport employees.
Recently Lyft declared that it's broadening the Concierge program – the service that lets organizations to schedule rides for their employees.
Earlier Concierge was only available to a group of associations, but now, it can be used by any organization to request or schedule rides for its employees or other people. Moreover, they can also get real-time ride tracking and 24-hour customer support.
A ride sharing app that competes with Lyft, Uber Offers unlimited Package of uberPOOL rides in New York City
Uber is already offering luxury car service and their users have complained about longer wait times using UberSELECT and UberBLACK. Generally, higher prices for luxury services result in fewer drivers and riders. This results into more difficult to hail down a BMW on the outskirts of a city. Lyft wanted to respond this with scheduled rides and thus, it launched scheduled rides for users that enable them to schedule a timely pickup 24 hours in advance.
David Baga, Chief Business Officer for Lyft, said
We were first on scheduled rides, first to request rides on behalf of a third party, first to integrate tipping, and first and only to offer same-day pay for drivers.
Uber was founded as a luxury black car-hailing service. A reward program has been launched by Uber with Capital One, ad-free Pandora and upfront fares. Uber also increasing its investment in UberEATS for food delivery.
Uber also offers a package of unlimited uberPOOL rides in New York City by partnering with Gilt City. This deal is called a "commute card" that can be used Monday through Friday during 7-10am and 5-8pm in Manhattan. During the same hours, Uber also offering $5 flat rate uberPOOL rides in NYC. The packages available for $49 either two-week unlimited or four-week unlimited for $79, or eight-week unlimited for $159. Users can save up to 60%.
Users can purchase this deal on Gilt, which is a big score for the discount shopping and experience site. Gilt offers such type of packages frequently for the young start-ups, who are looking to gain new customers.
Usually, the deal means commuting in an uberPOOL is cheaper than taking the channel. The monthly charge for unlimited MetroCard is $116.50, although one can use unlimited subway card outside of commuting hours. It's not clear that Uber will continue to offer such deal after August.
It is supposed that the company is using this deal as the marketing tool for recruiting new users to POOL, the service that provides extremely advantages from economies of scale. Users can purchase these packages from today.
Uber Also Introduced 911 Transport, Ubulance
The EMS Department and Washington D.C. Fire is considering a plan to use Uber to transport low priority 911 callers. Washington is also planning to hire a team of nurses, who could assess a caller's condition over the call and direct them to an Uber.
Alexia Haralambous, a DC area EMT said,
"Someone who fell and broke his/her ankle could have potential underlying conditions. A diabetic emergency, that had not yet fully presented itself, could have caused the event. Through a full EMT protocol, the responder would likely eventually check the glucose levels of the patient and determine that there is something larger."
This might be odd given that the purpose of an emergency responder is to evaluate the illness of a 911 caller. The Uber would require being equipped with lights, sirens and an extensive radio system for communication.
Uber also has healthcare partnership in select cities in Florida and Georgia. It also helps senior citizens to get doctor's appointments, fitness classes, and other services in Atlanta. Uber also partnered with local stakeholders in Gainesville, Florida to deliver technology tutorials to seniors on how the service could be used to maintain freedom and mobility. The decision-making power rests with the riders in all of these partnerships. Riders are free to choose a ride whenever and wherever they would like.
Uber Has Also Announced Driver Safety Features for Drivers
Uber also added new safety features for drivers within the driver-side app. The app includes reminders that remind them to take when they have been working for long hours. Drivers will also get a daily report of their driving. This might include information about rushing through turns too fast or criticizing their brakes.
Uber also integrated app like Spotify for riders to enjoy their favorite songs on the trips. However, music app like Pandora also connects with Uber to do the same for the drivers.
How much does it cost to make a taxi app like Uber and Lyft for New York or Any Other City?
The cost of Uber app development depends on the platform you want to target. At, Space- O, our mobile app developers are adding innovation in taxi business by developing apps for taxi business. We have developed many Uber-type apps for our globe and generally, we are charging around $29 – $49/per hour (depending on project's complexity and other related things.)
How much time does it take to make a long-distance ride-sharing app like Uber?
We have analyzed and calculated man-hours for development of a ride-sharing app like Uber, Lyft clone. The total hours required to develop User's iOS Application is 519.25 and Drivers' iOS Application is 249.55. If you want to develop an android app for ride-sharing companies, it takes 637.05 hours to create User's Application and 300.7 hours for Drivers' Android Application development. The Web Services (API), Frontend & Backend Websites required 556.45 hours.
We have studied the data of a list of ride sharing companies to see the competition and thus, we are recommending our clients to go for taxi app development if they are engaged with the ride-sharing business. Check out iTunes and Google Play and identify the top taxi apps to build your own app unique from others.