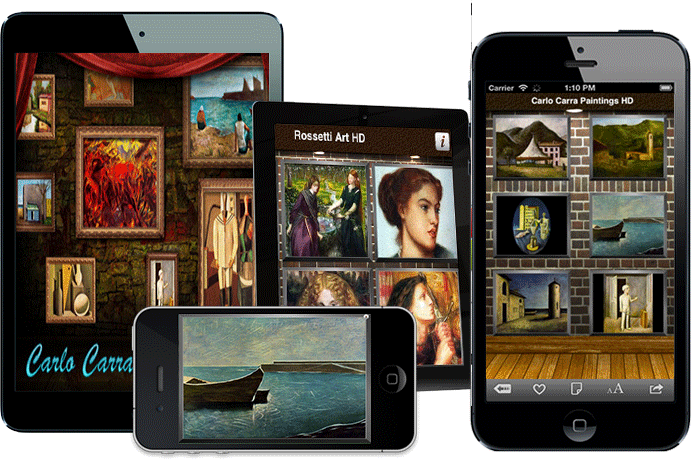 Carlo Carrà (February 11, 1881 – April 13, 1966) was an Italian painter, a leading figure of the Futurist movement that flourished in Italy in the beginning of the 20th century. In addition to his many paintings, he wrote a number of books concerning art. He taught for many years in the city of Milan.
Considered as one of the most influential Italian painters of the first half of the 20th century, He is best known for his still lifes in the style of Metaphysical painting.
Download the app to study some the great futurist works by Carlo Carra like: The Galleria in Milan (La Galleria di Milano), 1912, Oil on canvas, 91 x 51.5 cm., Interventionist Demonstration (Patriotic Holiday-Freeword Painting, 1914, Tempera, pen, mica powder, paper glued on cardboard, 38.5 x 30 cm., Pursuit (Inseguimento), 1915, Tempera, charcoal and collage on cardboard, 39 x 68 cm., The Engineer's Mistress (L'amante dell'ingegnere), 1921,Oil on canvas, 55 x 40 cm.
Features:
iOS 5.0 compatible.
Detailed Information on paintings like Painting name, Size, Type, Location etc.
Universal app – runs on iPad/iPhone/iPod touch.
Auto Play feature, which will automatically play slide show of paintings.
Film strip is there to select a painting and start auto play from that painting.
You can play/stop your favorite music from your iPod library, while viewing paintings.
Share paintings with your friends and family via FaceBook and Email.
Use Swipe to move to next / previous paintings.
Use Pinch to zoom in/out.