Facebook has announced its bots for Messenger platform, and some of the popular businesses like 1-800-Flowers, CNN, HealthTap, HP and many others have started to expand their business with bots.
Like 1-800-Flowers and others, every business can create their own custom bots or bots for CRM. Facebook Messenger allows users to integrate bots for CRM like Salesforce, Microsoft, SugarCRM, and Zoho.
What is Bot Integration?
Bot integration means the act of bringing a smaller component of an app into the messaging or CRM system to function as one. In the technical context, integration refers to the end result of a process, aiming to stitch together different, often dissimilar, subsystems.
Integration with bot needs the building of customized architecture to join new or existing hardware, software, and other communications.
Let's Get Started…
How to Integrate Facebook Bots with Zoho CRM?
Integrating Facebook in Zoho CRM offers access the customer information and also, gain customer intelligence that needed before you communicate with a person. By combining the power of social media with the selling process, a business can develop better and stronger relationships.
It helps businesses to track the social activities of the leads and contacts to get the understanding of different updates and business opportunities. With the use of this power, Zoho CRM for Facebook provides you excellent ways to connect with Customers and Prospects by having Facebook contacts and profiles of leads inside the CRM account.
Important Things to Note –
An Unlimited number of users to access this feature.
Use the official Facebook account to authenticate and use this feature.
Avail Facebook Integration for the Leads and Contacts module.
The leads'/contacts' profile association will be used to sort the social interactions in Customers if the organization-specific Social Integration is set up.
The social tab is Potential Contacts, or Leads/contacts column.
Data from a Facebook profile will be accessible on the basis of the account/data sharing settings.
How to Activate Social Integration for Users?
First of all, click on Setup >> Users & Permissions >> Profiles.
Go to the profile page and click the Edit link for the profile from which you want to enable the Facebook Integration.
Now, select the Social Integration check box in Under General Permissions.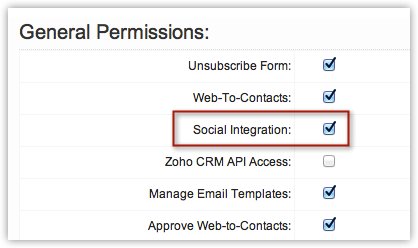 Last, click on 'save'.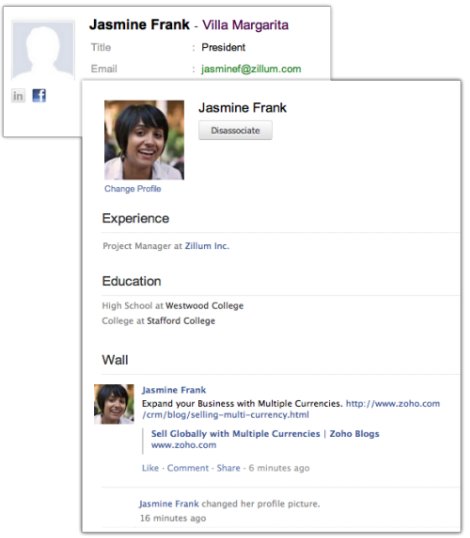 What You Can Do by Integrating Facebook Messenger to Zoho CRM?
· Business can provide a customer support directly via the Facebook Messenger.
· It strengthens customer networks of the business by sending friend requests to your customers and prospects inside CRM.
· You can gain insights into your customer's interests and updates from the CRM account.
· Business can be updated with a customer's interests and updates. You can like or unlike Facebook updates from the lead detail page or contact.
· You can share events, updates, or promotions about the product with prospects. Even, you can post on a contact or lead's Facebook wall.
How to Integrate Facebook Bots with SalesForce?
· Facebook integration with Salesforces makes easy for companies to connect with their customers. It enables a business to post regular updates within Salesforce Service Cloud.
· Business can connect with social channels like Twitter and Facebook through Salesforce.
· Salesforce for Facebook offers any business a simple way to connect with customers through conversations happening on social media.
· Businesses can monitor online footprint, promote their brands, connect with customers, and evaluate the social impact from Salesforce.
· It is available in Enterprise, Unlimited, and Developer Editions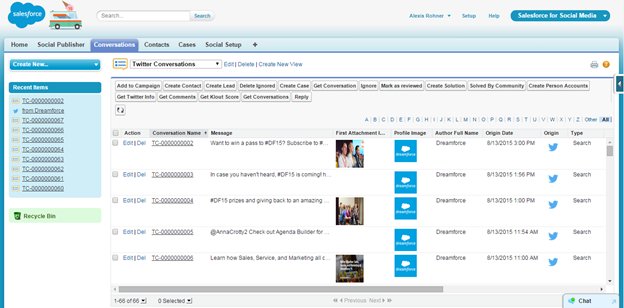 It captures, monitors and responds to those conversions – all from the Salesforce Service Cloud.
How Salesforce and Facebook are Helping Businesses Grow?
Sales and Facebook can help businesses by pre-filling digital forms with customer information and also reduce the friction connected with sharing this information that helps them to meet their goal.
Salesforce integration with Facebook collects lead information in real-time. It also makes sure that Facebook leads are captured in the secure system and available for marketing, customer service opportunities, B2B, and B2C sales.
How to Setup Facebook into Salesforce?
Click on 'Get It Now' on the Salesforce for Twitter and Facebook AppExchange listing page.
Now, choose your environment type: production or sandbox.
When prompted, log in with your administrator user account. You will see a list of items in the Salesforce for Twitter and Facebook app is displayed.
Click Continue.
On the Approve Package API Access page, grant the package API access certain objects.
After that, select Admin Access Only On the Select Security Level page until you are ready to roll the functionality out to all appropriate users.
If you select Grant Access to All Users, any user who logs in is able to see Salesforce for Twitter and Facebook objects and tabs.
Click 'Install' to the Install Package page. You have to wait for a while, as installation may take time. You will get an email when it is completed.
Once Salesforce for Twitter and Facebook is installed, select Salesforce for Social Media from the Force.com App Menu. The Salesforce for Twitter and Facebook tabs are displayed.
Now, Go to the Social Publisher tab. On your first visit, a message banner appears.
Click on 'GO' to Social Setup now in the banner.
Click Enable Application. If you have Bit.ly or Klout credentials, fill them in the corresponding fields.
Lastly, click on 'Save' and get ready to use Salesforce for Twitter and Facebook.
How to Integrate Facebook API with Salesforce?
Create the Facebook application through which the settings will be automatically updated with the application ID, application secret and connect URL.
A force.com site has to be made for the connect URL and the URL has to be updated in the Facebook app.
Additionally, a remote site setting within Salesforce has to be made for it to connect with Facebook.
Authorize the application through OAuth 2.0 to run the visual force page
The Facebook Graph API has to be polled/called with client ID, client secret on the visual force page controller.
The access token is valid for an average of 120 minutes can be used to connect with Facebook.
The user can post on Facebook by polling/calling the different endpoints URLs.
After that, the manual process has to be automated by using schedule apex and a custom logic has to be written to systematize and schedule the server polling/calling every 5 minutes or every 1 hour on the basis of existing limitations in Salesforce.
The schedule apex custom logic has to parse (JSON parsing) at scheduled intervals for comments, likes and posts.
Once the integration is successfully completed and executed, users will see a corresponding record in Salesforce of their feed posted on Facebook. With this integration, users will implement and manage the following activities/feeds through Salesforce:
User
Likes
Groups
Movies
Photos
Home
Feed
Profile Pic
Albums
Notes
Events
Books
Friends
How Beneficial to Integrate SugarCRM with Facebook Bot?
It is best to avoid long-running web requests when integrating Facebook with SugarCRM. SugarCRM makes easy to pull content from the social networking sites like Twitter, LinkedIn, Facebook and more into the application as an additional source of information for the business's success.
SugarExchange has a rich collection of applications and solutions that spread Sugar functionality and add with the enterprise environment that includes solutions for:
Sales – Performance Management, CPQ, Proposal and Contract Management, eCommerce, Relationship Intelligence, Analytics, Social Sales, Content Enablement, Partner Enablement
Marketing –Marketing Automation, Campaign Management, Email Marketing, Social Management, Marketing Analytics, Data Enrichment
Service and Support – Multichannel Contact Center, CTI integration, Voice of the Customer, Field Service, Social Service, Service Analytics, Knowledge Management
Productivity –Web Conferencing, Content Management, Enterprise Collaboration, Email & Calendar, Location Based Services, Business Process Management, Learning Management
Integration and Management – ERP, Integration Platforms, Accounting & Financial Management, Cloud Services
Data and Analytics – Data Enrichment, Business Intelligence, Analytics
If you would like to integrate SugarCRM with Facebook Bot, schedule meeting with our team now.
Facebook API with Microsoft Dynamic – How to Integrate?
Messaging Integrations are very common in enterprise deployments, as they needed reliability and scalability.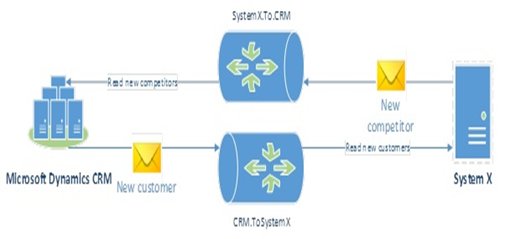 Microsoft Dynamics CRM is one of the flexible platforms, allowing clients and server extensions on the basis of the standard technologies like WCF services, JavaScript, WF workflows and .NET libraries. Such extensions are called solution components that available in a solution package that can be exported and imported between environments as a ZIP file.
It's quite difficult to integrate bot into Microsoft Dynamics CRM, as it requires technical knowledge. We are helping our clients by avoiding a complex development process to make it simple for your brand.
Our bot developers help clients to develop their own bots by using Wit.ai, a useful tool for building conversational bots. The wit.ai Bot Engine allows ongoing training of bots by using sample conversations. It enables us to develop conversational bots that chat with users automatically.
We are using wit.ai Bot Engine to turns natural language into structured data excellently. It is one of the simplest ways to manage content and drive the conversation.
This page was last edited on May 1st, 2020, at 6:03.