Cities around the globe are bringing in 2016 with dance, music, and foods, but Space-O welcomes 2016 with an innovative celebration and touching a new hope, exploring a new dream and covering new ground.
"Like every other year, everyone at Space-O want to enjoy year-ending celebration with great enthusiasm and thus, we have been organizing innovative activities from the last two years" – Space-O's HR Team
Our start is also different from last year and added more fun to their celebrations with adding Recent Popular Hindi Movie Song "Prem Ratan Dhan Payo", the title track, which apparently became the most liked track and we have started the competition with making Dubsmash videos on the same song.
The exciting thing is everyone has participated in the competition. The enthusiasm towards participation was like they have always for their work. Not limit to developers, designers or project managers, but our leadership team were also equally adding the excitement through managing & witnessing the event.
Competition exists in every field, and, believe it or not, competition leads to innovation. We have seen the innovation and winning spirit through our last quiz competition, where all the teams worked very hard to win the competition, as they're doing the same to making an innovative app in their daily life @ Space-O.
Thanks to our HR team, who continuously searching for new ideas that create connections between less connected individuals, so they work as a team and believe in each other and delivers the best possible outcome by improving productivity and efficiency.
This time, we had almost four different themes of competition, which includes:
Cube Decorations
Table Tennis Tournament
Dubsmash Video
Innovative Selfie Contest
The Innovative Cube Decoration
Cube Decoration Competition have different group comes up with innovative ideas and with their team efforts, where they need to decorate their cube with the best possible & innovative way.
Different cubes were decorated with different themes like:
Inspirational Journeys
Indian Festivals
Village-The Soul of India (The Runners Up)
Save Paper Go Digital
Sarva Dharma Sambhav
Save Environment
Revenue Express
Save Planet (The Winning Team)
Black & White: The Shades of Life
Save Birds
Glimpse of the cube decorations by different teams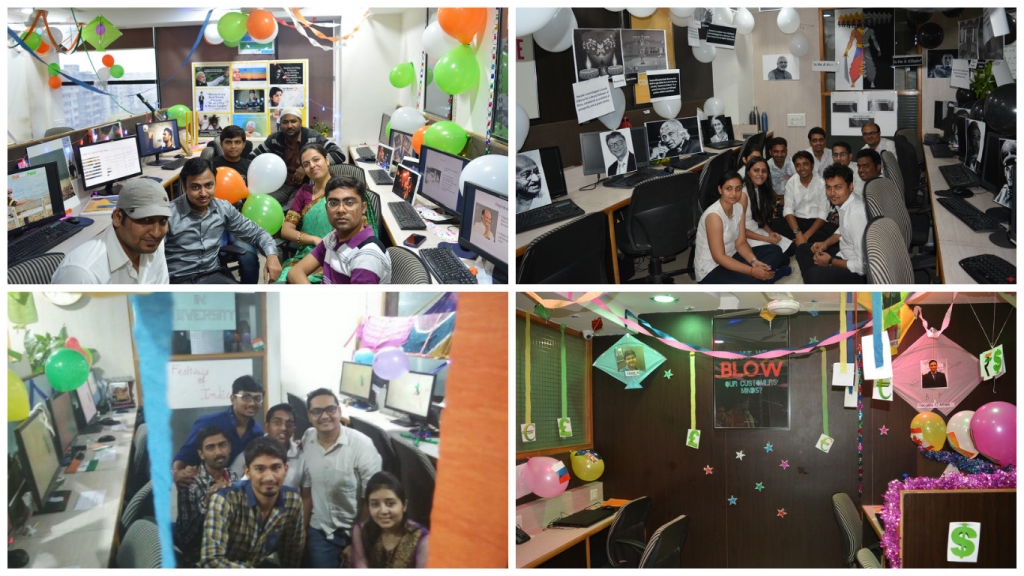 But, as winners do things differently, the winning team of Cube decoration has an amazing idea – Save Planet (The Winning Team)
Give effective message , Proper planning , Execution in depth (Use proper component to easy understanding), Team work. – Kiran Patel
Clarity breeds mastery. So topic selection and team spirit worked for us. – Vikita Padaliya
God is in detail. so we tried to get into details as much as possible with sheer handwork and team spirit …!!! – Vishal Gandhi
The clapping voice & excitement just raised up with the start of Table-Tennis Tournament
If you had enough practice, advice and expert training, you could get a success for anything. People, could "Computer geek" to become a "Table-tennis star", really a tough practice required. And that is all people are doing in their break-out time in Space-O's game zone since last 15 days.
The real challenge is that practice / hard work, and too dependent on instant fulfillment on new or inexperienced talent.
It was an incredible finale of table tennis tournament, it looks like all are tennis players and playing hard to win the match and by defeating other participants, one team includes Vatsal & Gaurav became the winners of the match, while Vishal Gandhi was the runner-up.

The road to our success is not a highway. You have to create it as you go. – Gaurav Gilani
Show class, have pride, and display character. If you do, winning takes care of itself. – Vatsal Raval
How interesting would it be, when you need to take a selfie to win the prize
It was not surprising to see all the corners, development area, lifts, game zone and even canteen were used to take a selfie. Yes, it was an innovative selfie contest where teams were given limited timeline using office space to take a creative selfie with the relevant message.
Here are the photos of all the selfies:


The most appreciated selfie click was the one which conveyed the message of organization comes first with a sense of brand building was titled "Selfie Nahi Jimmedari Dekh", while "Time is Money" selfie team stood as the runners up.
The winning team of Selfie Contest
It was an awesome feeling when we got the first prize. We were actually looking for something like "a selfie that makes sense and we really mean it". At the same time we wanted to make it creative. It was a great fun to pose with group and we enjoyed a lot. – Prashant
Prem Ratan Dhan Payo Dubsmash Fever at Space-O
Not only selfie, Space-O astronauts also done fabulous Dubsmash on 'Prem Ratan Dhan Payo'.
Along with their own style – brilliant or just plain funny dance, they have used one of the most innovative ways to spreading the message of Swachh Bharat Abhiyan through this popular Dubsmash song.
All participants were good, but the best, who have won the competition was team of (CPM + Khyati +Amit + CK + Parag+ Nilay Dani + Sweta +Darshan + Kunal) and 1st runner-up were team comprising of (Kiran + KB + Vishal + Sunil + Shreyansh + Hardip + Vikita + Shailee).
The winning team of Dubsmash Contest

It's always special 🙂 – Chintan Modani
At last, not the least a few words from our solution architect and CTO
"Space-O celebrated Christmas with the spirit of togetherness in addition to fun unlimited.
Out of my daily 8-10 hours in a routine office day, I am on development floor for more than 6+ hours because I always wanted to be with my team – motivating them, guiding them and sharing my experience which ultimately making me happier because they are the future warriors and face of the organization. This event was the best example of true team spirit and feeling of togetherness which is missing in many organizations.
Moreover, it gives me random opportunity to gauge their problem-solving capacity, innovating ideas, leadership skills, team building strength etc. which they directly or indirectly exhibit during the event by working with different people.
I always see this kind of events as an opportunity to grow." – Atit Purani
The Event was graced by Darshan Trivedi, who is veteran M&E Industry professional. With his vast experience of Radio & television artist and with theater & film acting experience, he addressed all by giving importance to hard work in whatever field you select.
Darshan, who judged the two events of the evening, also mentioned that Space-O is always on the hunt to make some difference in everyone's life associated with them.
Putting it all together…
Having a fun and enjoyable environment through this competition makes us happy and a reason to do things differently, whether it is participating in games or moving C# language to Swift Firstly.
We would like to congratulate all the winners and the participants who believe themselves and show the enthusiasm to do things differently and the spirit of the 'Get Shit Done'.