The dream kept Space-O pioneers, Rakesh Patel and Atit Purani, awake at night. In their corporate job, working with best of what they could do within the established boundaries of the organization was somehow not enough for them.
Sure, they were kind of "settled" in their lives. They were drawing a salary that only a few of their peers would have dreamed along with the standard dose of appreciation they used to get in the corporate world. But that wasn't enough. They wanted to create something big and put a dent in the universe!
The first brick towards the vision they had was put in July 2010. They started Space-O with just two of them, INR 70,000/- and one MacBook. Enter 2015 and Space-O is a company of 250+ enthusiastic people who put their absolute best in each project and task they undertake.
Do they succeed all the time? Hell no, but one thing is for sure – they give their absolute best, learn from every encounter that they have with failures and strive to continuously improve themselves.
Their operating philosophy is, "Whatever the problem, be part of a solution!" – that philosophy has worked well for them, their customers and their customer's customers as well.
It is said that most businesses are closed down within first 1000 days – that is about 3 years or less, forget the growth rate at which Space-O has grown from strength to strength. So, the 5th anniversary was certainly an event of celebration for the whole Space-O family that has been built upon ONE vision – GET SHIT DONE!
Space-O team organized its 5th birthday bash and named it "Saptarang." The event was organized at Tagore Hall, a renowned facility in the heart of Ahmedabad city where Space-O has its Head Office. Saptarang means 7 colors and literally the audience of 350+ team members, their families and invitees witnessed and experienced the different colors during its 3-hour stint. Colorful smiles, shining clothes, cheerful voice and a cyclone of claps and whistles – they all fueled the event with unprecedented energy and teamwork.
The event was anchored by RJ Krupa, a lovely and charming Radio Jockey who rocks 94.3 My FM, a very popular radio channel when she is not anchoring an event like Saptrang.
The event began with the traditional ceremony – lighting of the lamps, known as "DeepPragtya" in our regional language, Gujarati. The ceremony was carried out by senior management of Space-O. In the picture, you can see Space-O's pillars – Rakesh Patel, Atit Purani, Jasmine Patel, Utpal Vaishnav and Bhaval Patel.
That followed the next traditional ceremony called "Ganesh Vandana." In Indian context, Lord Ganesha is worshiped as the God of good and positive vibes and traditionally any new beginning is not complete without offering a prayer to Lord Ganesha. Sure, we're an international organization but we value our traditions, rituals and the foundation upon which we stand strong.
The ceremony started with Space-O team members' energetic traditional dance  with a blend of classical and contemporary piece of music that accompanied the Ganesh Vandana.
It left the audience super-charged to witness the energy of the whole Space-O team's peak performance for next 2.5 hours.
Then came the Project Managers, with their management skills put aside and the dancing shoes on. Gujaratis cannot stay without doing their traditional folk dance, 'Ras-Garba', and Space-O Project Managers knew this very well. Bringing in garbatic songs from Ramleela, a Bollywood movie to doing the actual and traditional dance known as 'Sanedo' and 'Bhai Bhai,' a traditional regional song. It was interesting to observe the Gujarati folk culture recreated by the team of Space-O's super-enthusiastic Project Managers.
If the eastern culture was kept in mind then how can we forget the west?  We are an international company, aren't we?
Immediately after Ras Garba, came the hip hop style Rap Song presented by Hardik Shah and Bhavesh Thakkar. The rap song was created by them and it included the special characteristics of a few people from Space-O that stand out.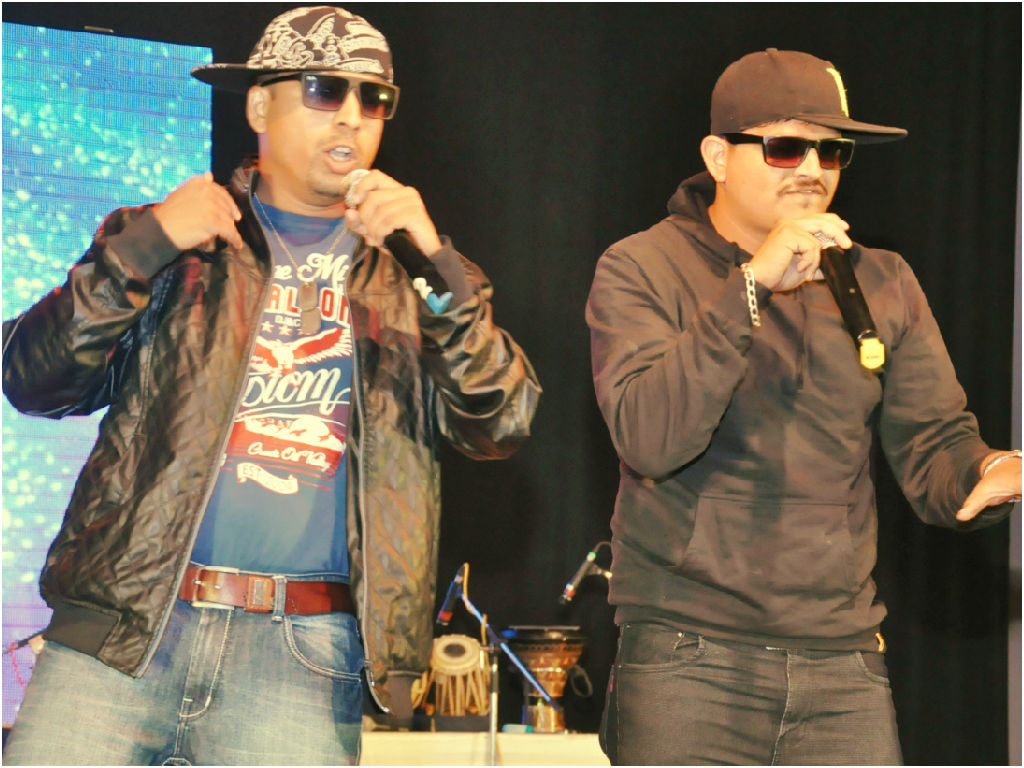 Next, the boys of Space-O technologies, with all their energy and swag, came to rock the stage. Party songs such as Sooraj Dooba hai to Aadat and from there to the Yo Yo Honey Singh's abhi to party shuru hui hai.' Fantastic choreography and usage of stage marked their performance. It was so enticing that the viewers couldn't help but start dancing on their seats too.
Then came one of the most mesmerizing performances of the evening. A Jugalbandhi between two peak performers, who are masters in their own field. One was a Tabla Vadak and the other, a Disc Jockey. While one played tunes that root us to India the other mixes that tune and reminds us of Hip Hop and Jazz from the U.S.A.
Then came the girls dressed in pink and black and for them it wasn't easy to get the attention from the audience who witnessed one of the best 'Jugalbandhi' performances just a few minutes ago.
But they took up the challenge and did not let the team down. They entered the stage with grace and style. And they rocked the stage by redefining what a girls group dance could be.
The blend of slow, medium paced and fast songs and their dance steps won the audience's hearts. Especially when they rocked the floor on 'Chittiyaan Kallainyaan' song which is loved by most teenagers today in India.
Then came the one performance that took people's hearts away. The dancer who taught us how to groove on stage finally presented a solo dance. Jay Modi, an M.J fan, gathered many claps and whooping shouts in his name.
Some of the performers expressed with their feet, the others with their legs, however, these four vocalists expressed their talents through their voice. It is rare to find singers who touch your heart, but Space-O had the luck to have hosted four, including a singer-cum-guitarist. Different songs. Different ranges. These four people and the cheerful audience that enjoyed it the most – can an evening go better than that?
Then Rakesh Patel shared Space-O journey in his unique way. The presentation has one clear message – We are Space-O. We get shit done. What's more, at one point, Rakesh exhibited it to the audience through a live example.
There are people who know how to dance and then there are people who do not know how to dance at all. But they do know how to play dumb charades. Using this talent of theirs our talented choreographers Hiren and Jay pictured and actualized a standing dance, wherein all the people who have no dancing skills can use their hands to dance by showing actions as the words pass by in the song. It was such a hit that the others have now planned on taking lessons on such an innovative style of dancing.
Everyone at Space-O waits for this day to come when their senior appreciate and motivates their work. However this time it was the seniors who were waiting to appreciate these talented individuals, who have kept this firm floating. Amongst them were Pradeep Makhija, Mansi Trivedi, Gaurang Bhatt and Hitesh Trivedi, for their excellent contribution to the company.
Then came the last performance of the event – The Fashion Show. It exhibited the events that happens in a conventional traditional Indian professional's personal life. Starting from meeting the love of their life to getting settled in their family life – each participant exhibited a specific part of the life.
The reason of choosing this theme was simple. When you work with Space-O, you with international clients and get excellent exposure for your professional career but you live to your traditional values as well and celebrate your life they way your families would expect you to.
The next generation of Space-O Family also had fun while communicating to the audience that their turn will come soon but for now be delighted with their cute on-stage performance.
In closing, Atit Purani showed the gratitude towards the audience by offering them the vote of thanks on behalf of the founders and the whole Space-O team and people who made the evening one of the most delightful experiences that the audience has ever experienced.
Space-O has crawled, walked and run, in the span of first 5 years of its existence. It's just a beginning and a new tomorrow awaits even bigger dreams and challenges. Each of the Space-O team member is welcoming the new tomorrow as seen in below picture.

Hey Sky, expand your horizons, here we come to redefine who you are!