According to the survey, 60% of mobile phone users have downloaded and used a travel-related application. Among them, around 40% of people have admitted that they are using a mobile app to plan a trip while others are using to make calls, or messages to prevent themselves from huge roaming charges.
Some stats also showed that 20% of people are using travel application to left a review of hotel, restaurant, or attraction, 34% updates status to social networking sites and 46% of people are checking flight status.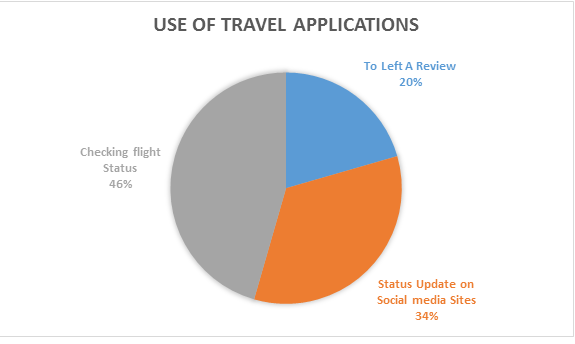 Why Travel Application Is In Demand
In the recent months, booking through mobile devices has increased and it is supposed to reach about 25% of all online transactions in 2017.
Without any surprises, this increases the demand for travel application for booking hotels or planning trips. Some recent data also shows that 20% of people have a smartphone and they are spending most of their time on the phone to use applications.
Thus, it makes everyone easy to understand that visitors prefer for this type of portable and simple technology solution, i.e. GPS (geolocation-enabled) applications. When using application, travelers can easily access any information, book services, download maps, see destinations, share pictures of their holidays and do a lot of things. The New York Times suggested these traveling apps for 2016.
12 travel apps worth keeping in 2016 https://t.co/mUsqQUDmSO pic.twitter.com/aBd31cMU2R

— The New York Times (@nytimes) December 24, 2015
Here is The Reason Why You Think to Develop Travel Application
Enhance the visitors' Experience
No doubt, smartphone users are using an application to increase travel experience. This becomes a fantastic opportunity for owners to promote their local services/products through an application. Moreover, it also gives visitors what they are actually looking for. Using travel application, they can discover places, book hotels, and search attractions.
Easy Online Booking Service
Whether travelers want to book a hotel room or to purchase travel packs, everything can be done with travel application. Online booking service also provides users an opportunity to purchase what they are selling.
Advanced way to attract Visitors
Offering every related information through an application with maps, and timetables provide more visibility to your users and also present a dynamic and modern region that meets the consumers' requirements.
Strengthen local brand awareness
Having an application means you can put your brand's name and logo on the screens of the thousands of the users over the world. It emphasizes awareness, and knowledge with products/service and can also help to increase sales and visits.
Boost Revenue
Through travel application, you can create a new sales channel, where you can create sales, promotional offers, and thus, increase profits.
Instant Feedback
With the mobile application, you can get a direct feedback from your customers and helps them instantly when they have problems or questions. It's the best way to increase customer retention and take care of customers.
About 69% of tourists reviewing through tourism sites/apps before deciding their holiday.
As some of you have aware about that around 27% of the digital transactions in the travel industry taken through the mobile application. And, this figure is rising gradually. Thus, it is compulsory to have travel mobile application.
When deciding for travel application, ensure to look for clutter-free and intuitive and should work seamlessly. In addition, it should also have a native features of the mobile device like click to call, GPS and so on.
Here's a travel mobile application that provides more than everything to the travelers within an application.
Quintessential Myanmar Hotels and Exclusive Travel Deals
We have developed one of the most excellent travel application for those people, who want to travel in Myanmar(Burma). With Quintessential Myanmar app, you can get an immediate insider access to exclusive deals, guides/recommendations on what to see, common questions asked by other members, book your next trip to Myanmar and so on.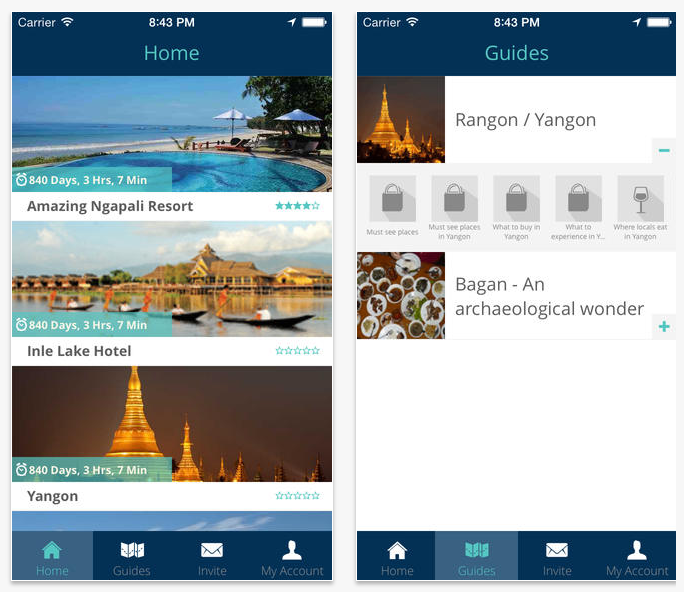 This application also enables travelers to see private sales and can also access exclusive mobile offers. Even, one can also save their favorite offers for the future reference.
Before You Land in Paris
Another travel application developed by us is "Before you Land in Paris" that is a complete travel guide to Paris.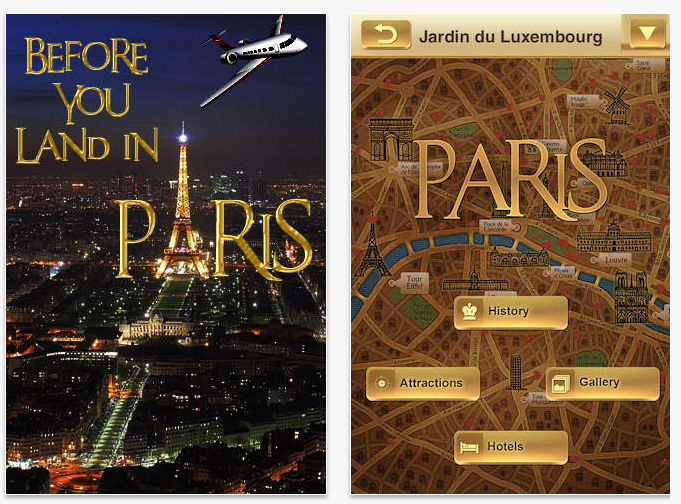 This application ensures to provide in-depth and detailed travel information from planning the tour to executing it successfully with intuitive navigations. This application can
Convert 1000 Phrases to French

View 20 locations in Paris

Provide information of Cost of Leaving, Currencies / cards/ banking information, weather information.

Share place history, attraction, hotels and photo gallery and so on.

Share information about Paris's details like History, Location, Attractions, etc.
Don't just offer alternatives to your users. Guide them to Make their Travel Experience Better with Travel Application.
Whatever the trip, whatever the purpose, we can develop travel application for every device, so travelers can travel any country without any trouble. Got a particular travel app idea you just can't wait to develop an app? Contact Now.