Do you know more than 60% of U.S. users, aged 13-34, are Snapchatters?
Our estimates say that about 26% of 18-29 age users are using Snapchat. Among them, 5% are of 30-49-year-olds, 3% of 50-64 year-olds and 2% of 65 and older. Even, kids under age 13 are using a version of Snapchat, called SnapKidz.
These statistics tell us that people of all age are using this application. Even, we are providing Snapchat like app – Slingshot for those users, who are thinking to develop clone apps.
How Many Videos and Photos Users Share and Consume through SnapChat?
Snapchat application could be used by more than 1 billion users to share photos and videos. However, Snapchat doesn't disappoint its users with a limited feature of sharing. Now, it introduces revenue stream with on-demand geo-filters option.
Previously, most of the users can able to brand their products/services with SnapChat and now, they can earn revenue through geo-filters option. Snapchat has two types of geo-filters, i.e. Community Geofilters and Sponsored Geofilter.
Community Geofilters cannot have logos or marketing and it can be submitted for free whereas Sponsored Geofilter enables big brands to cover a large area with marketing-based filters.  
On-Demand Geofilters – What's That?
On-demand geofilters can allow users with a bit of design savvy to create and share their own custom geo-filters in a specific area for an allocated time. Its minimum size is 5,000 square feet and the minimum amount of time for geo-filter is around 30 minutes. Moreover, users can spread their on-demand geo-filters up to 5,000,000 square feet. The turnaround time for review is about 24 hours and pricing starts from $5.
This could be a wider revenue model for Snapchat that currently making money from in-app purchases and brand-designed geo-filter. Small and medium-sized businesses can use Snapchat to market their business.
Users can also purchase on-demand geo-filters to see the metrics on their filters by views and uses. On-demand geo-filter is available in US, UK, and Canada for now. It will available at more locations soon. Snapchat, with this feature, makes easy for many brands to promote or market their business. Even, they can easily target surrounding events and business and take utmost advantage of it.
How Has On-Demand Geofilter Work?
Design by Using your favorite image editor to create a filter. Some templates compatible with Photoshop and Illustrator are provided to get started with.

Now, select a geofence, where you can see your filter, then choose time and dates, you want your Geofilter to be available.

Lastly, submit it and you are done!
Introducing On-Demand Geofilters! https://t.co/5vFG5nnqXG pic.twitter.com/7UMaNOgl1s

— Snapchat (@Snapchat) February 22, 2016
Snapchat Introduces Many features for iPhone 6S and 6S Plus Users. What are Those?
Snapchat is not limited to one feature, i.e. Geofilter. It has also introduced many new features like rewind filters, Slo-mo, daily lenses, and so on. Users, who have iPhone 6s and 6s Plus, can enjoy Force Touch feature as well.
Recently, Snapchat has started a merchandise store. A few days back, Snapchat opened its Snap Store, which will be shown within the app's Discover section and lets users buy Snapchat merchandise, examples like a $29.99 Dog Lens Tee or a $49.99 Winkface Sweatshirt.
Snapchat users can scan the Snap Code using the application camera to open the store and buy various items which will be shown only for a limited time.
Earlier, Snapchat used to sell a couple of items, such as Ghostface Chillah backpack, Dancing Hot Dog Halloween costume through Amazon, and it also sold Spectacles camera sunglasses using its SnapBots.
Apart from above features, Snapchat has also upgraded its Bitmoji avatar, which now let users customize their Snapchat avatar with 40 different skin tones, 50 hair colors, 50 stylish hair treatment options and more. Recently, Snapchat launched a new version of Bitmoji Deluxe, combining its cartoony avatars that grab its users' growing variety.
The new update makes the Bitomji more flexible to use in the backend, letting Snapchat add new variations on a regular interval. The latest version offers a smooth front-end that instantly previews the changes on your Bitmoji. It also gives you an option to take a selfie to help you personalize your avatar. However, there isn't any automated facial recognition to guide you.
Not only this, Recently Snapchat brought an update in its next version, known as Callkit. By integrating this feature, Snapchat now let its users make calls through the app. The latest version of Snapchat will support CallKit integration, which means that Snapchat calling can be integrated with the stock Phone app and interface on iOS.
According to Snapchat, when the users place a call using the Snapchat app, it will be shown in their recent list via the app. Furthermore, when users receive a call, it will ring through the incoming call interface rather than showing as a push notification.
Daily lenses
One of the most popular features of Snapchat, Lenses send videos/photos that expire after 10 seconds. Snapchat offers its users to purchase lenses that can be used at any time. Snapchat has also included the new 'Cat Lenses' feature under the Lens functionality, which is the latest expansion of its popular feature. The selection of lenses update on the daily basis with a brand new one, rather than offering the same range of lenses. Lenses will be available permanently, although you are purchasing or not.
Story replies
Snapchat Story shows a collection of photos and video that users have taken over 24 hours and can be viewed and replayed by their friends. However, what if you want to replay everything in your friend's story? Until now, it is bit difficult, but now, it is possible.
Snapchat's story replies can enable you to watch your friend's story and can also reply to a specific photo/video by just swiping from the bottom of the screen, opening a new chat window. You just simple have to type message, hit send and your friend will get message along with a snapshot of the photo/video
 Slo-mo and rewind filters
Remarkable feature. You just have to shoot a video in the latest app version and just swipe left or right until you see three arrows or a snail symbol (slo-mo). If you want to make 'magic' effects like impossible catches, then you can use rewind filter.
Trophies
Check out the new trophy icon by swiping down from the main screen to bring your personal Snapchat code. You just have to tap it to see what trophies you have to manage to unlock achievements just as the computer games. There are 16 to unlock and you have to manage the first one by reaching a score of 500. Now, tap the locked ones by simply displaying question marks, so you will know how to unlock them.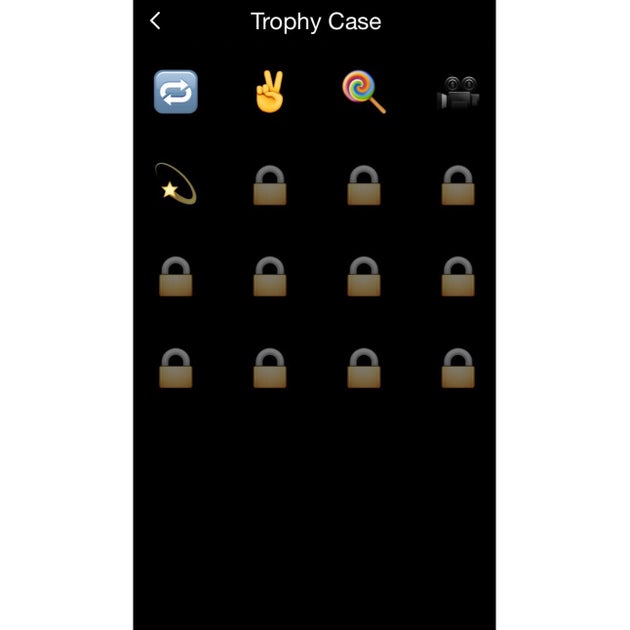 Force Touch
This feature is pretty basic. If you have iPhone 6 and 6S then you have to press hard on it and get options to start a new chat or add a friend.
Front facing flash
Users are using Snapchat by sending selfies to other users, however, if you are clicking selfie in the dark and it's your rear camera that has a flash. Now, you can switch to the front-facing flash in the additional services menu. This will give your screen a white color to provide some extra light while you are taking selfies. Users can turn the front flash on & off in the top-left of the screen.
Personalized Redesign
A few days back, Snapchat released the latest version in which the app screen is completely redesigned & personalized for its users.
The new Snapchat screen allows users to separate communication with their friends & others. With all new Snapchat screen, Users can see messages and Stories from friends on the left side of the camera, with camera in the middle part, and the discover part on the right side covering all other feeds around the world.
Don't confuse Snapchat as being only used for sending or receiving photos and videos. It has a long-term vision to allow people to share their daily live experience and some memorable moments.
Snapchat is offering a lot of new features Replays, purchase extra replays, etc. (apart from above mentioned). We are providing Snapchat Clone app for you to target your audience. Additionally, we can also add additional features that chatting application have.
We have developed app named Tuloko, which is social-cum-business application enables users of the local community to connect through messenger service to chat on events, business's meeting or anything related. If you have such types of Snapchat Idea in your mind or any social app idea, then Contact Us.