An organization named, NPR has been inspecting sexual assault on campus. Many U.S colleges are being surveyed over their handling of sexual assault claims.
The new students are especially helpless to those assaults. The first 45 days of the semester are called the 'red zone' when students are likely to experience rape or an attempted rape, according to the npr survey.
Among all the concerns, there is new legislation in the place for colleges, and there is hope that technology could help.
There are many smartphone applications offer the best and easiest ways for students, who are facing dangerous or uncomfortable situations, to reach out to the friends, call the police or get connected with the resources on campus.
Campus Safety with Smart Devices
Technology, especially smart devices could restyle safety efforts in the college campuses. Now, apps are developed to tackle with sexual assault and rape. Student safety apps like Circle of 6 born in 2011 by the Office of the Vice President, the Department of Health and Human Services and the White House Office of Science and Technology Policy.
It's a challenge to build a mobile tool to prevent sexual violence on the campus. They also have tested Circle of 6 with students and improve an application and meet the expectations of the young people.
Here's how this app works: Students just have to download an application and add six trusted friends in their circle. In case, they have faced an unsafe or dangerous situation, an app can send a text to those friends with just two clicks.
Students can easily choose one of the pre-written messages, i.e. "Call me and pretend you need me. I need an interruption.", "Come and get me. I need help getting home safely. Call when you're close." The text includes the sender's GPS location automatically.
After winning the White House Challenge, we were enthused to develop this app for many people around the globe and wanted to spread into 36 countries of the world.
Do you know?
"Nearly one in five women in America has been a victim of rape or attempted rape," said Obama.
There have been several large surveys about sexual violence conducted in the United States. Sexual assault is believed to be an underreported crime, as it involves stigma and the uncertainty of victims, who may blame themselves.
Even if, you trust people and you know that the world is a good place, but one day, you may be in the wrong place at the wrong time when things may get out of control. It is a possibility. Rape and Sexual harassment has happened and may happen to the female travelers.
Some of us thinks that:
"A woman has no business traveling alone."
OR
"A single woman traveling alone is risky."
Technology becomes more advanced and thus, we have found a solution for women safety through an application.
Do not depend on others for safety — Help yourself
We have developed Tap Help, as a wearable application for the Apple Watch, so users can easily call for help through Watch, rather than opening an application in the smartphone.
Tap your device to get help. 'Tap Help', a personal safety application allows users to alert their emergency contacts in need of help with just one hit. Tap Help is the saviour for your child, who has been followed by someone or for an aged person, who stays home alone.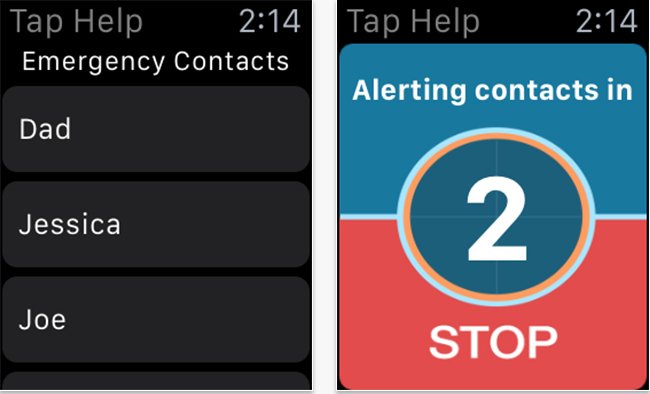 Three Taps for 911 Help
Tap Help can be used to call 911 in any emergency situation. This application is ideal for everyone, children to elders.
Tap Help is developed as a wearable safety application for the Apple Watch. It makes easy for anyone to call for help in case of emergency. This application sends emergency alerts to family, friends and 911.
Passcode
This application has a passcode to ensure that you can only enter the app, and others cannot misuse the application to mislead the family, friends or the police.
Emergency Alert
An application gets activated, once the passcode has been feed. After that, users just have to tap on Tap Help icon to send an emergency message with the GPS location of the device. With three taps, it will send the message to the 911, friends and family.
Undoubtedly, the Internet offers new and innovative ways to battle violence against women with more security and protection through an application.
Watch Over Me App is developed by women for the women. The app idea was born when Xinch C., the co-founder, escaped a kidnap attempt in 2012. She realized that what happened to her was not unique in any way.
Women are affected by the crime, whether or not they live and travel in India or the USA. However, in spite of technology's advancements, such problems are not completely solved. That's the reason the co-founder and other team members start developing a mobile app, Watch Over Me that helps women to take charge of their safety.
If you are in a possibly vulnerable position, just follow 3 simple steps:
Just tell an application that how long to watch over you and application will start tracking your location.
Share some details, including a picture, add notes, etc.
Tap "I'm Safe" when your feel safe.
Shake your phone when you don't find time to call someone.
This application also knows when you enter in a high-crime area. It adds safety ratings to streets with a technology that incorporate social date, crime data and other related information.
How One App Could Save Your Life?
A Single App can save your life. We have developed 'Tap Help' application that lets someone know you're in danger. An application turns your device into emergency tools, even if your phone locked or out of coverage area. Applications are helpful to people in identifying and cognizant unwanted situations. Hire mobile app developer if you have a unique idea that makes the world free from violent.
Also Read:
This page was last edited on April 28th, 2020, at 3:50.