"Word Flow" is the Microsoft's mobile keyboard developed for Windows phones and now for iPhone (still not available for Android). It is especially used for typing with one hand on the larger Apple smartphones, however, it also presents some essential privacy and security risks.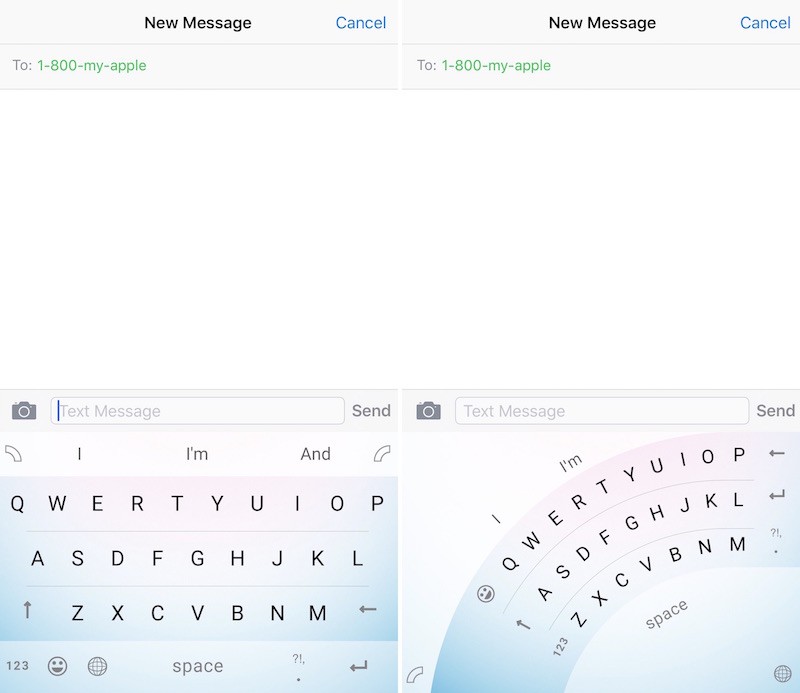 Microsoft's free Word Flow keyboard application for iPhones is from the Microsoft Garage, the company's experimental apps division, working to enhance iPhone typing experience. There are many reasons to install this application to your iPhone device, such as:
Easy to Type with One Hand
Having a quick slide of the finger, users can switch from the horizontal layout across the screen to the curved layout, which is better known as "arc mode," on the display's right side. With this feature, one can easily type with one hand, which is much useful for large iPhone users.
Next Word Prediction Option
This application tries to understand the specific word that you want to use. Additionally, it also shows the next word after that. However, it doesn't work perfectly always, the success ratio is good.
Word Flow has colorful themes
Currently, it has 9 different keyboard color and image themes. But, Microsoft will update some more soon. Interestingly, users can create their own theme with their pictures. Users can quickly type anything by swiping a finger across the keyboard.
It's Time to Set Up the Keyboard
Here is the download link. You have to download and app and have to add the keyboard and allow full access. To do so, you have to go to Settings >>General >> Keyboards >> Add New Keyboard >> Word Flow.
Lastly, tap on the Word Flow app and toggle the full access on, so the app can recognize the friend's name when you are typing messaging.
It's not so difficult to Choose a Theme
Personalizing the keyboard means users can add a background that is displayed below the letter. Users can use the images available for free or from their own library.
Slide through the "Word Flow Themes" to set an included background image and tap on the background you like and "Apply". Set custom theme by tapping on the plus icon under "My Themes" and choose an image from the camera roll.
Users can drag to reposition it and pinch to zoom. To set the theme, select the text and swipe the color you want. Users can easily create unlimited themes.
Wanna Open The Keyboard? It's Simple
Start using your theme with the keyboard. After that, you have to exit the app and go to text a contact. It's similar like to send an emoji. Click on the globe icon and switch to Word Flow.
It is Difficult to Type Quickly On QWERTY Keyboard, isn't It?
It's not difficult as you are thinking. Users can start using the traditional QWERTY keyboard and type fast by swiping letters, which will string them together. This application is using the algorithm that is suggested the next word you are going to write. Such words appear on the top in the banners over the keyboard.
Want to Switch to Arc Mode? Here are the Tips
Switching to arc mode will change the way of texting. Typing by swiping keyboard increases your speed by 100 times faster. Now, you don't have to worry about dropping the phone, as you are texting with one hand. This feature works excellent for users, who are left- and right-handed.
In order to switch this mode, users just have to press down or up on the arc icon that available on the left and right on the top keyboard's banner. This curve enables users to easily swipe and type by using your thumb.
Easy Ways to Change Settings
Users can easily change their setting. Just have to press down on the globe icon when the keyboard is up. From there, users can turn sounds, capitalization and space for the period feature ON or OFF, and even, you can edit theme settings in the Word Flow app by just tapping on the gear icon. This application also shows to see your word count per minute to check the speed skills. Watch reviews of this app.
Are you thinking to develop Keyboard app?
We have a vast experience of creating a custom keyboard application, considering users' requirements. Our team of dedicated developers have developed TunerMoji, a keyboard application, that have 300+ stickers, emojis and cars icons. If you have a question about how to develop a custom keyboard app for Android and iOS, let's contact our team with your requirements.
This page was last edited on April 11th, 2020, at 15:19.