Chatbot technology is one of the most popular topics among the user experience design community, as a lot of designers are searching ever developing type of AI that defines chatbot as a conversation with human users through mobile app or some type of web interface.
From banking to fashion, Insurance, Transportation, House Cleaning, businesses are adopting bots to provide convenient and effective customer support service. Businesses are focusing on this technology, as they run with the rule of a design-focused business is "be where the customers are."
What is Bot Technology? Why is this such a big opportunity?
The bot has existed since 1966, however, they are unpopular in the past.
The bot has become popular when Mark Zuckerberg introduced bots for Messenger at Facebook's F8 developer conference. Using this Artificial Intelligence helps to maximize workflow, improve overall customers UX (User Experience) and reduce costs.
Before investing bot development for your industry, it is essential to know the chatbot capabilities
There are many limitations and difficulties encountered by the Artificial Intelligence, however, people are happy with the apps they already have installed such as Facebook, YouTube, Gmail, Maps, Instagram and other than these many mobile apps are easier to use than a mobile website.
There are different types of bots available to address and deal with different tasks. These chatbots are used to assign different tasks that deal with customer queries, promoting content and suggesting products.
Bots are capable of reaching users on the platforms like iMessage, chat apps like Facebook Messenger, Kik or communication apps like Skype or Slack. Our technical head already developed one bot for Facebook messenger and took training session to share the knowledge and experience with our developers for bot development and as it is new, our chatbot developers exploring the bot opportunities that communicate and interact with consumers beyond their capability and execute the natural flow of conversation.
Which Businesses Or Industries have already Built a Bot for Messaging Platform?
Fify is one of the intelligent fashion discovery and transaction bot, available on Facebook Messenger. And, it will soon available across Telegram, SMS, Whatsapp and other platforms. Fify chats with customers to discuss fashion, styling & shopping.
See the below image of Fify's responses' diagram with an editorial layer and act as a conversation starter.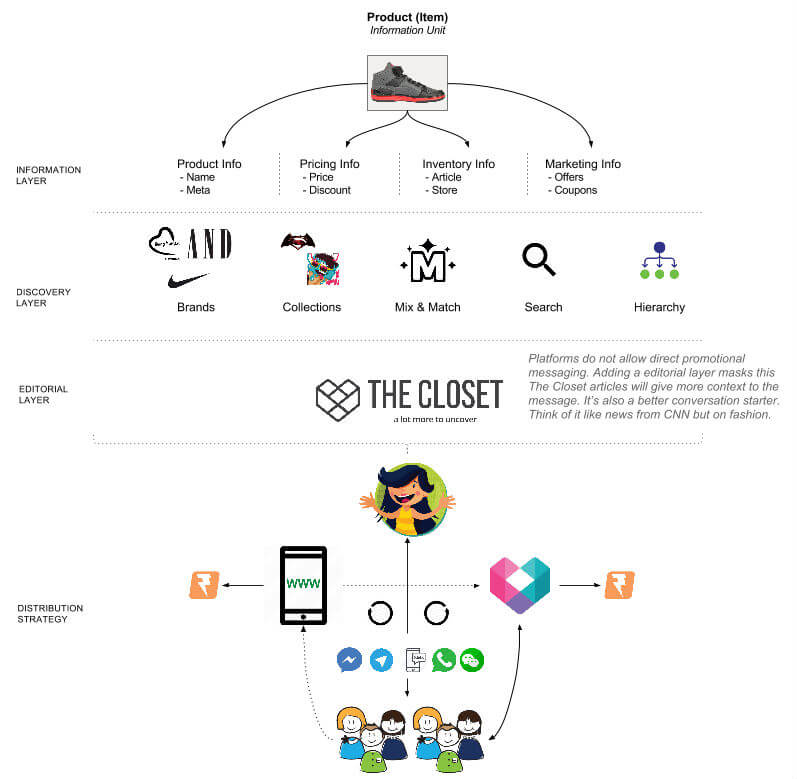 This bot is trained with different user types like Novice, Genuine, Daily, Flirty, and more. Interestingly, this fashion bot responds with funky GIFs to emote positive and negative sentiment like wink, thank you, angry, happy, appreciation, and more.
Anothe example- Julie is another virtual assistant of Decathlon Belgium that answers the first level of Internet users and also reduces email process. This bot gives information about store's opening time, trade condition and the means that used to apply and for many other areas.
Contrary to Fify and Julie, Als is transportation and banking bot that moves goods from one place to another and financial transaction respectively. Bots have the capabilities to develop basic emotional responses, however, Space-O is developing bots with an advanced emotional response and better functionality.
Birdly is a data recovery Slackbot that activates through specific /slash commands. It will go recover specific data for business. For example: a customer record from Salesforce.
1-800-Flowers also has eCommerce bots that help users by providing suggestions and then order flowers through the application. Additional, CNN was also launching its own news chatbot to provide news update through Messenger.
Pandorabots also has their own bot called Mitsuku that integrated with Kik and Telegram. It builds chat bot with Playground IDE and AlaaS (Artificial Intelligence as a Service) API. Users can chat with Mitsuku through the company's official site.
Possibilities are endless with bot development
Different industries like House cleaning, Transportation, Insurance and many are moving towards bot development, as bots are acting as supportive co-workers for their business and instant problem-solver that ultimately improve ROI of the business.
If you are engaged with house cleaning service, you can develop bot that helps your customers to book housekeeper through bot. Additionally, if you are thinking to develop insurance bot, it helps your clients to know the policy details with ease.
How Does Bot Make Money?
There are different ways to advertise with bots to earn money. Last year, a Doc Brown bot was developed that helps to promote the movie's anniversary. Publishers and big media brands could share sponsored and branded content through bots. eCommerce bots could sell products and place order for consumers. A bot for taxi booking app like Uber, purchase movie tickets and make a restaurant reservation.
AI have much to offer, but you should hire AI developers to get a bot for your industry. Space-O has the expertise to develop a bot for every industry, including Banking, Insurance, Fashion, Transportation, House Cleaning and more. If you want to develop your own bot for any industry, then contact our experts.
How much does it cost to build a bot for Facebook Messenger or Any other messaging platform?
Bots take input as a text, acts on it and reply with text messages. Chat Bots is all about pervading intelligence to manage the user input and reply with a desired output. Space-O technologies is one of the experienced mobile app development company to hire for chatbot development for multiple messaging platforms.
We are developing bot for scratch for every industry with an introductory price of $1000. Our expert mobile app developers are updating their knowledge with the latest technologies to build the most accurate bot for businesses.
You may also like,
This page was last edited on April 23rd, 2020, at 2:19.