"Fitness App Usage Is Growing 87% Faster Than the Overall App Market"
Did you ever forget to log workout?
Searching for the best workout app to keep track of the daily workouts and overall progress is a bit difficult. Fitness isn't something we can think about once. We are running through a checklist of things to improve it.
Fitness has to be maintained through consistent and small actions that add up over time. Thus, fitness mobile app makes ideal fitness companions. As workout and fitness mobile apps are always with the people, they continuously remind about the progress, stay the course and keep the willpower strong.
There are some fitness coaching apps connecting you with the community or the people with same interest. One social app on this list called Schmoozer, connects people with the same interest in watching same TV shows, listening to Music or speaking the same second language. Such type of mobile app cheers you on and motivate through competition.
Which Is the Best App for Logging Workouts?
There are uncountable fitness apps available for logging workouts. Here, we have a complete package of fitness in this application named Fitnus. Fitness app can be coaching app and it proves with Fitnus (developed by us) that have pick-up games, other activities, workout tips with buddies, etc.
With this application, you can choose from popular sports and activities like Volleyball, Basketball, Yoga, Football, Running, Gym Workouts, Softball, and Gym Classes. Fitness lovers can also be social by building a community of like-minded people, who are interested in staying fit and healthy.
Want to Create your own fitness app like 7 Minute Workout Challenge?
Undoubtedly, 7 Minute Workout app is one of the best examples of Health and Fitness App Development. No internet access needed to use this app. Users can work out anytime, anywhere and perform a series of 12 bodyweight exercises that only needed a chair, a wall, and your own body weight. With this fitness and exercise app, 7 Minute Workout inspires towards your goal with positive strengthening.
Set up daily reminders, or when you've missed too many workouts
Unlock achievements from Novice to Athlete as you vary your routine
Track your progress visually on color-coded graphs and calendars
Earn rewards and health-related giveaways
Share your success with friends by e-mail, text message, Twitter or Facebook
7 Minute Workout app is available for Apple Watch. Just like a video game, you can start off this application with three lives. This application also has a calendar that stores all your workouts color-coded for users to see how you have done in the past.
"There's very good evidence that high-intensity interval training provides many of the fitness benefits of prolonged endurance training but in much less time," said co-author Chris Jordan, the director of exercise physiology at the Human Performance Institute in Orlando, Florida.
Similar to this workout app, Space-O also has developed Taphelp, a wearable app, allows users to alert emergency contacts like friends, family, and 911 when you are in need with just a single click.
Being the best fitness and workout application, 7 Minute Workout app needs some improvements. Many of the people have a question: Does it really work? Definitely, it works and gives you advantages with its different exercise sessions, said by Certified Personal Trainer, Sarah Klein.
Still, Can You Earn Real Money by Creating Fitness App? YES, You Can.
Check these reviews of 7-minute workout challenge.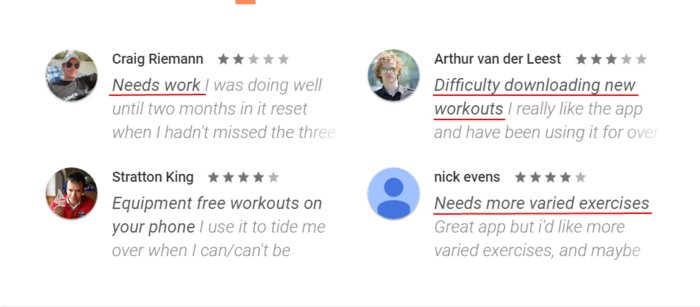 No doubt, this application is popular, it lacks some features. some users unable to download more and updated exercises while some are facing problem using an app. Everyone wants something new and innovative so as to varied exercises.
If you want to earn more money through the fitness app, you should have more updates, in-app purchases with more exercises and fitness tips. It would be great to have Premium app with high-quality content, which users didn't get in fitness and workout apps.
How Much Does it Cost to Make an App 7 Minute Workout Challenge?
If you are willing to develop fitness app like 7-minute Workout, don't ask how much does it cost to develop an app, it takes several weeks to develop, depending on the functionality you want to integrate.
About the fitness app development cost, we charge $25 – $49/hour, depending on platforms, functionality, features and device compatibility.
So, if you're damn sure about features that you want to include in your fitness mobile app development, we're happy to discuss it.
BONUS: If you contact us through this page, you can claim 40 mins of FREE consultation. Fill the form with your requirements or just type 'I want to develop an app like '7 Minute Workout Challenge'. We will get back to you within 24 working hours.
You may also like,
This page was last edited on May 1st, 2020, at 8:20.