Do you know online dating applications and sites enjoy huge popularity among youngster and adults? 10% of 18-24 year-old and 8% of 45-54 year-old have done online dating, according to the Pew research center.
We agreed that smartphones and digital technology have transformed different factors of the society, including how people are searching for romantic relationships. People had a remarkable online dating experience, however, today 15% of people in the USA have used mobile dating apps to find the partners, Tinder is one of them.
Launched in 2012, Tinder is one of the best dating apps, aiming to minimize barriers related to meet new people by enabling users to express interest in someone. If another user sends a sign of interest in return, both will start a conversation and will meet as well. Being a location-based application, Tinder enables users to find nearby people.
Until July 2014, around 300 dating applications were estimated to exit. Having a large amount of option available, it becomes easy to differentiate from one another by concentrating on specific features. Among all, Tinder stands on the top by allowing users that are in the same location find each other.
Online Dating Industry Grows at an average annual rate of over 70% from 2009 to 2012.
We all love Tinder, as it has invented swiping left and right feature, however, the dating game is as old as the time passes. We don't find any rules that say how a connection should spark.
Tinder can only have some competitors to enter in the dating industry with unique ideas about the meeting of men and women, who have the same interest. Let's see what Tinder's Competitors has?
Girls make the first move – this is what tinder thinks. Once you and your partner have swiped right, the girl has to say 'Hello' within 24 hours. If she doesn't, the connection will fade forever. What makes Bumble a unique dating app from Tinder is its feature to let people start chat immediately.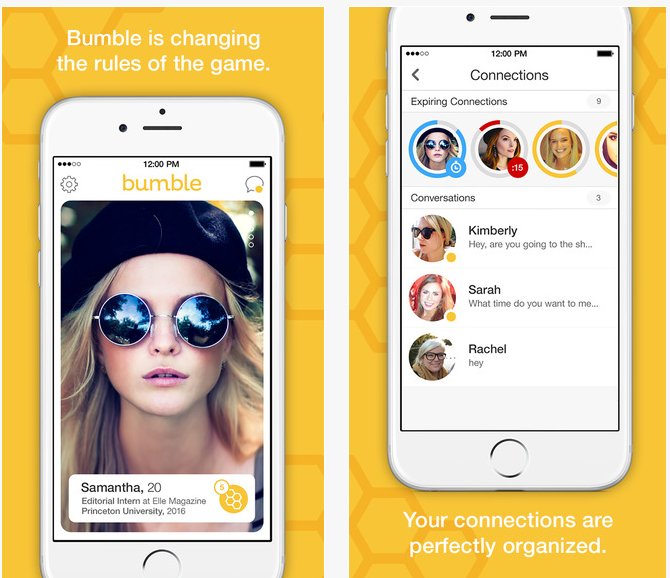 Tinder is limited to nearby area whereas Happn covers several-mile radius to connect users with the people located anywhere you go, whether it is local bar or workplace.
Another is League, which is a "members-only" app that accepts users, who have been approved on the basis of degree, career and so on. This application also rates its user on their flakiness to prevent users from ignoring messages or over swiping.
It's Tinder where the women hold the keys to the castle. The app's female users have to select the members by developing a layer of vetting. In Wyldfire, you will find "Jetsetter" feature that enables to search for matches where you are not located.
In Tinder, you can plan a date with those whom you have a direct, first, second, or third degree connection whereas Hinge enables you to date with a friend of a friend.
Not Only These Online Dating Applications Are Best and Competing against Tinder, Boompi is also in a Queue.
Boompi is one of the funniest ways to search interesting people nearby. Girls can secretly add their girlfriends to chat with the boys.
Do you remember Lulu? Before being adopted by Badoo, it is better known as 'dating intelligence' app that lets women secretly review and rate their dating experiences with men.
Back in 2011, That app seems to be controversial and possibly it is?
However, the latest app, Boompi has launched that follows well-trodden Tinder-esque location-based dating path. When using this application, you just have to swipe (yes or no) and if the other person replies positive, you can chat privately with your potential data.
What's the Clincher Here?
Female users can invite girl-friends to spy and secretly comment on their private conversation with likely dates. If it seems to be privacy violation as a feature, it's because it is.
Alejandro Ponce, the app's male founder, said:
"Boompi is every girls' dream. A social discovery app where girls can secretly add their girl friends to a chat with a guy to gossip and share their opinion on guys."
To invite more women, 'Ghost Mode' feature is added that enables women to confiscate themselves from the location-based search and dating part of an application.
Even if you are already in a relationship and don't want to partake in Boompi's match-making features, you can still use the eavesdropping feature.
Why Would Men Sign Up to Boompi?
"Boys will be wherever girls are," says Ponce. It just like the situation of the night clubs sometimes let women enter for free.
"Boompi is like building a marketplace: If every girl is on Boompi then every boy will want to join. One main issue for dating apps is that more than 70 per cent of the user base are guys, on Boompi it is the other way around".
I think the application is a horrible idea – hey, I'm a guy – the eavesdropping feature may have a number of positive effects.
It could increase the probability of a Boompi connection leading to an actual date. As the women are more inclined to go on a date, if they have the approval of friends. Moreover, men know that their messages may be read by other people and thus, they might be less probable to act like jerks.
Want to Be Another Competitor of Tinder?
Let's discuss your dating app development idea with us. We have developed numerous social application, one of them is Schmoozer. This application helps new people meet each other while creating bonds with them through common interests.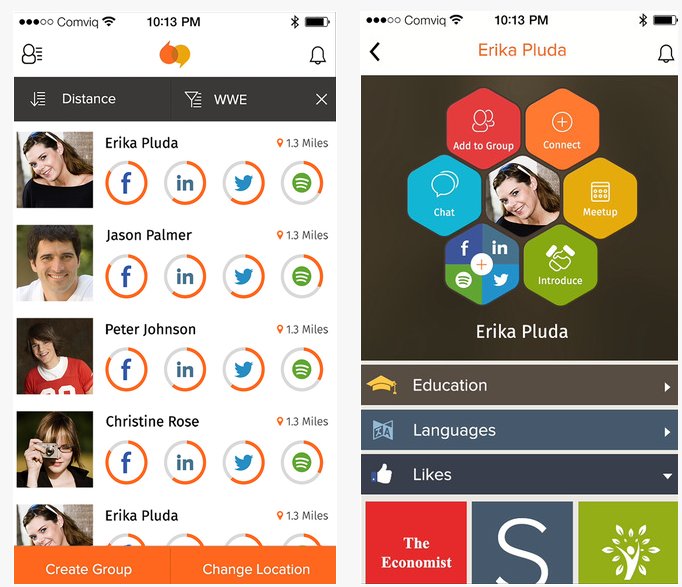 Schmoozer connects with the people around you with a common interest, i.e. Sports, TV shows, Music. users can also be the part of their favorite fan group that have been created on Music or favorite singer. Some of the best features this app includes are:
– Create public, 1-2-1 and group meet ups at real locations
– Search for people around you with specific interests
– Introduce your friends to new people
– Discover interesting places to meetup
Also Read: 4 Must Have Ingredients to Develop a Successful Dating App
This page was last edited on May 27th, 2020, at 3:53.