iOS Map application gives you turn-by-turn spoken directions, the stunning Flyover feature, and interactive 3D views. Have you ever downloaded custom map application for your personal trips?
Not a startup, but a side project from Oliver Brooks, a digital product designer based in Canada, has developed Relay, a custom map application. Brooks is a Design Lead at MetaLab and worked with some reputed clients like Coinbase, TED, Slack, Brit + Co., etc.
Already worked with some freelancer in the past, this is Brooks' first venture into the mobile application. This idea of this application came from his own experience. He got a problem when traveling and wanted to solve for himself. He met with his friend, Craig Merchant, who coded this application and finally, app landed to iTunes. Oliver Brooks shared that,
"I was really frustrated that you couldn't do this kind of thing very well with Google Maps or Apple Maps. So, I felt like I might as well try to do something myself. I just wanted to make a tool that's really helpful and easy to use."
Brooks worked during nights and weekends on Relay over the past two years, and finally, he has done it.
How to Use Relay? (Best example of custom maps application development)
It's simple to use Reply application. It allows users to create as many custom maps in the application. Even, you can load them with pins of your favorite places. Best of all, it allows adding notes for each destination to remind users that why they want to go there, or any other tips they want to remember while traveling.
This application also provides helpful information such as business's phone numbers, website's address, etc. along with these pins. Users can also rename a pin and mark it as "complete" or get directions with just a click.
Relay functions like a traditional mapping application and delivers driving, transit and walking directions to your destination. Similar to Relay, Walkonomics app (developed by us) also gives routes information that is surrounded by greenery and parks. When using this application, you just have to insert the place and accordingly, it shows the proper directions for the pleasing walk. Check its screenshot.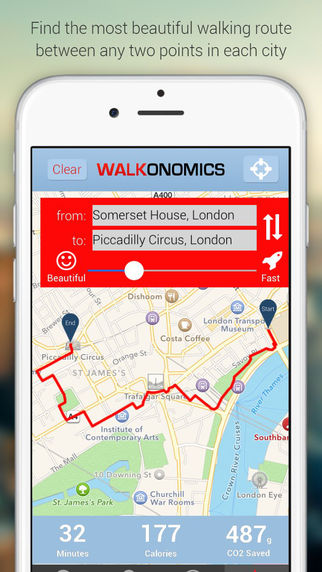 Update arriving in A Few Weeks
Users can easily customize their pins' color rather than setting the default to Apple Maps' color scheme. This update also improves sharing features. Right now, you will see it emails a custom file attachment, however, the upcoming version will deep link to the custom map right in the application or point to the App store page for those users, who don't have app.
Multiple Locations – Users can pin as many locations as they required.
Multiple Maps – Users can create one map per city or one for every trip.
Get Directions – Users can get information about the method of transport, different routes, and directions.
Sharing – Users can recommend their favorite spots to their friends.
Location Notes – Users can leave a note for themselves so they don't forget what they supposed to do when they get there.
There are many different iOS applications compliment to the Relay and make it better, one of them is Whenitize (developed by us). This application integrated with real-time tracking technology that shares the GPS location of the engagement and guides the smartphone users to reach the destination without any hassle.
For e.g.: If you are running a small restaurant in the downtown, you can create a custom map using Relay for your customers to get your location. If someone wants to visit at your place and finding difficult to reach then he/she can use your custom map along with Whenitize app, so restaurant-owner can also track his/her location. This is helpful for restaurant owners and customers as well. Whenitize is the best combination with Relay, as it tracks users in real-time.
By the way, here is the video of Custom Map App, Relay:
Want to develop map application like Relay? We offer iPhone developer for hire service, where you can hire our experienced iPhone app developers for your project.
You may also like,
This page was last edited on May 28th, 2020, at 7:15.