Do you know 50% of all small business will fail within the first three years, but entrepreneurs will have a 20% of success rate in their next venture?
Maintaining a business is one of the difficult, however, with research, in-depth expertise and determination, it can be possible.
Creating a startup is like to sailing a ship on the ocean. There will be calm days of shining sun. However, entrepreneurs will also encounter storms ahead of them. As the ship has a captain, for your startup, the captain in YOU.    
If we are looking at the Startup Funding Trends, we come to know about given data.
2015 remains the growing year for startups, as the total funding applications continue to rise with a 25% increase over the same quarter in 2014 and 18% jump over Q2 2015. In addition, 26% of applications from companies in the "Idea Stage" increase this quarter.
We have seen the United States remains in the top spot with a 7% increase in funding application over Q2. Moreover, the percentage of application share in the US fell to 58.9% from 62.5%. In Q3, India saw a 36% increase in startup funding application and Canada saw 13%.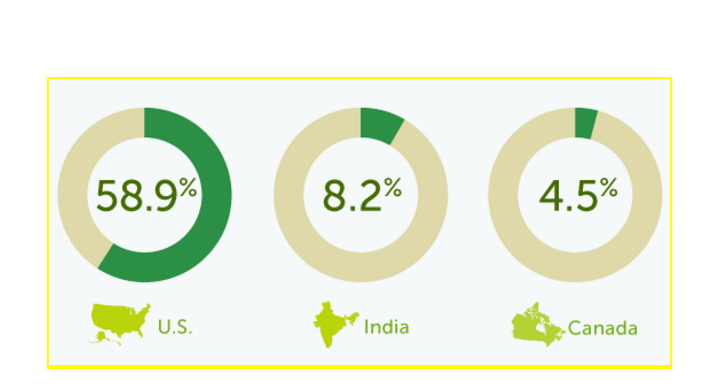 Why Startup Needs Their own application?
Everyone is using a smart device and it is obvious, they have many different applications. But, your business might doesn't have your own application – what's reason behind it? You might think your business is too small or you might not have a proper concept of an application. Here, we have many good reasons for why your startup have application.
Develop App to Increase Your Visibility
Brand yourself and make sure to be visible to your customers by developing an application. Once your application is downloaded to the user's device, you are just one button away from your customers. Moreover, when users aren't accessing your application, they may notice it when scrolling on their device. With this, you can stay on your customers' mind when they are doing other things.
90% of customer Prefer to Use Mobile App rather than Website
An application is one of the best ways to keep your customers informed about the latest products, special events and promotions. It's also easy for users to command from you. There are many consumers enjoy using applications and prefer to order products through mobile application instead of using the traditional method.  
70% of Amazon's customers shopped through mobile devices and 30% shoppers from other devices.
Apps Provide More Credibility
The last and best reason to have an application is to provide more prestige to your business. As applications are connected with the large companies and white label services, it provides more credibility in your customers' eye.
Apps Are Easy to Develop
Most of the startup are hesitant to develop an application, as they think that it will be too complicated or expensive. However, today it becomes more affordable and easy to develop your own business application. If you don't have programming skills and thinking to develop application, then contact us to discuss your idea.  
Startup Industry Trends of 2016
2016 promises of a new set of tech startups. But, do you have an idea what industry you should invest? Here are some highlights.
Financial tech
Financial tech is better known as 'FinTech' that provides service to peer-to-peer money transfer service and such companies will have to become increasingly dynamic and responsive. Regulation in FinTech becomes a key challenge and also an opportunity in the sector. To make Financial tech successful, you have to design regulations that allow improvement on the basis of iterations from myriad data like customer feedback.
Digital health
There are many startups moving towards health industries to enhance digital health record storage and access, develop health diagnostic tools, offer online mental healthcare services and lots of things. Moving towards health startups, it creates disruptive solutions to make sense of big data, no matter it is dramatically faster DNA sequencing or machine learning.
Food
We have seen changed in the food business through eCommerce. Now, people find themselves comfortable ordering food online. Moreover, there are many startup companies developing new and innovative ways of supplying food online, by including subscription service and so on. Thinking to start your business related to food industry or want to develop app like Zamato, you need a deep knowledge of the food sector, data science skills and of course, web software development.
 Travel  
Travel industry is taking a different approach than only planning trips. It lets users discover different destinations across the world without any hassle. Startups predict that the next big technology disruption is coming in the travel space and hence, more people have taken a dive into the sector and thinking to develop Uber like app.
Is it The Right Time to Invest in Mobile App?
No time is right or wrong to invest in developing an application for your startup. When you are thinking to invest in developing apps for startup, ensure to specify your objective in the designing part to make entire system better.
Ensure your users will aware of multiple advantages that offered by your application. No matter, you want to improve productivity or cut the operational costs, ensure to clarify everything at the beginning of the designing process.
No startup without app gets success in this mobile-dominant world.
We don't want your startup to fail at initial stage and thus, offering the best possible mobile app solution, concerning to your industry. We already developed startup eCommece app like ftcash that enables merchants to get payment credit/debit card.