If you have an Android app idea and want to make it a reality,
you need to know the answers to these basic questions.
How to develop an Android app from scratch
How much does it cost to develop an Android app?
Here is the answer to the Android app development cost:
The cost of Android app development ranges between $20,000 to $1,00,000.
Being a leading Android mobile app development company in the USA, we have created more than 1600 custom Android applications. So, we understand what factors Android app development cost depends on.
Do you want to know how we calculate these costs? Or what are the factors that influence the cost?
Read this blog to get an in-depth idea.
By the end of this blog, you will learn about the Android app development cost breakdown based on three different criteria:
Cost bifurcation by Android app development process
Factors that influence the Android application development cost
Based on the type of software you want to develop
Let's get started with a quick answer about the cost of Android app development.
Quick Answer to Android Application Development Cost
The mentioned Android app development range ($20,000 to $1,00,000) just provides a brief idea about the cost of Android app development. This range depends on various factors, such as the type of Android app, the number of the app's screens, app complexity, functionality and design, and the location of the developers.
Your app creation cost even depends on the hourly rates of the developers. Considering the $35 to $40/hour rate, your app rates will differ. Below is the table that provides you with the cost to build basic, medium, and complex app.
App Type
Deciding Factors
Estimated Cost
Timeline
Example
Basic App

Essential Features
Simple UI Components
Basic Backend – Predefined Templates

$10,000 – $40,000
~ 2 months
Text Scanner
Mid-level App

Advanced Features
Custom UI
Basic Backend

$40,000 – $60,000
4 – 6 months
Spotify
Complex App

Advanced Features
Bespoke UI
API Integrations
Intricate Backend

$60,000 – $1,00,000
6+ months
Zoom
We have also answered some of the most asked questions in the next section. This will make the Android app development process a little easier for you.
Android App Development Process and Cost Bifurcation
The Android mobile app development process has 4 stages that we have shown in this image.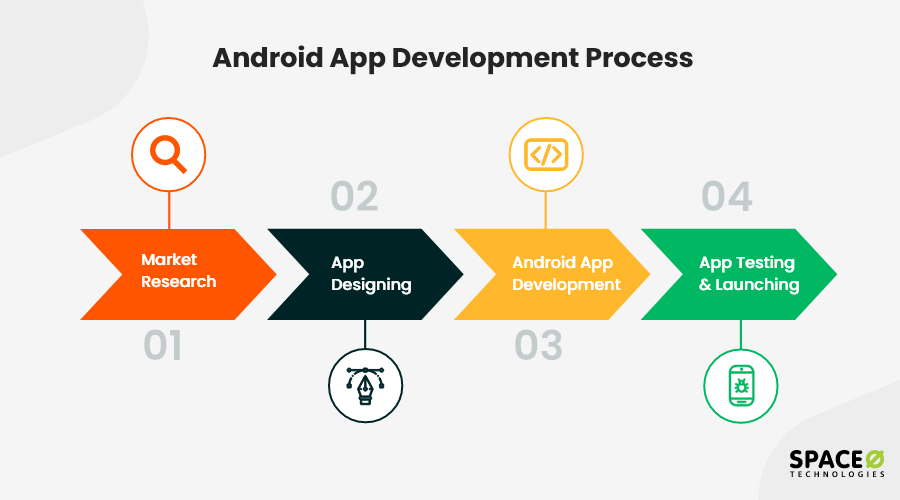 We will discuss all these parts in detail and also share Android mobile app development costs based on different locations.
3 Factors That Influence the Android Application Development Cost
If you want to develop an Android app, you need to know the factors that influence the cost of development. Why? Knowing these factors will help you make the decisions according to your Android app development, and you will save cost and time. Let's check the factors that affect project development costs.
Features and Functionalities of Your Android App

The cost to develop an app varies widely based on features and functionalities. You need to add advanced functions for the app's seamless performance and to provide a better experience and rich user interface.

However, it is important to note here that it would not be wise to invest your money in the features that are not required for the app. You need to understand that the more features you will add, the more you will have to spend your precious money on.
Therefore, identify the must-have features based on the situation, target audience, and focus on the app's scope in the market. Choose all the features and functionalities wisely and remove unwanted from your list.

Developing a shopping app that uses AR technology like IKEA or Warby Parker applications would cost you more compared to simple marketplace apps. Let's check the difference in the cost of both applications.

| Type of App | Examples | Cost |
| --- | --- | --- |
| Advanced eCommerce App | | $45,000 – $100,000 |
| Simple eCommerce App | | $25,000 – $40,000 |

Want to Create an Android App?

Get a free consultation from our Android experts to discuss must-have features for your app.

Android App Development Team You Hire: App development company or Freelancers

There will always be confusion about hiring an individual developer or a professional company to build an app. However, if you are an entrepreneur, hiring Android developers would be the best decision for you.

To make sure that you work with the best developers, you must first know how to find app developers for your project.

Top Reasons

| Reason | App Development Company | Freelancer |
| --- | --- | --- |
| Availability of Resources | You get experts to work on different technologies in a single place. | A freelancer has restricted resources. So, it is hard to say that they can help you with the knowledge of different technical platforms. |
| App Security | A reputable firm acts and works according to the signed NDA (non-disclosure agreement) and also offers reliability. | It is challenging to find a trustable freelancer. However, you can check reviews and feedback to know their authenticity. |
| Commitment and Focus | Hiring a dedicated app development team means expecting services within the deadline and budget without affecting the quality. | As freelancers work on different projects, they may juggle between their set priorities, which can lead to unsatisfactory results. |

UI/UX of Your Android Application

You would be thinking about how UI/UX affects the cost of Android applications.

The UI/UX plays an important role when it comes to user engagement. So, designing a complex UI/UX leads to more time so does the cost of your Android application development. What does it mean by complex UX/UI? Let's understand it with the following example.

Now, let's proceed with the Android mobile app development process and the cost to make an app based on each app development phase.

After discussing mobile app development cost based on its development process, we have shared the development cost based on the different app categories or app types.
Types of Android Apps and Cost in Different Categories
In this section, we have shared different categories of mobile apps. Based on each category, the estimated app price and timeline would vary.
Here is the image where we have mentioned some of the top mobile app categories we, Space-O Technologies, have developed. We have experience in developing over 1500 Android apps for different industries.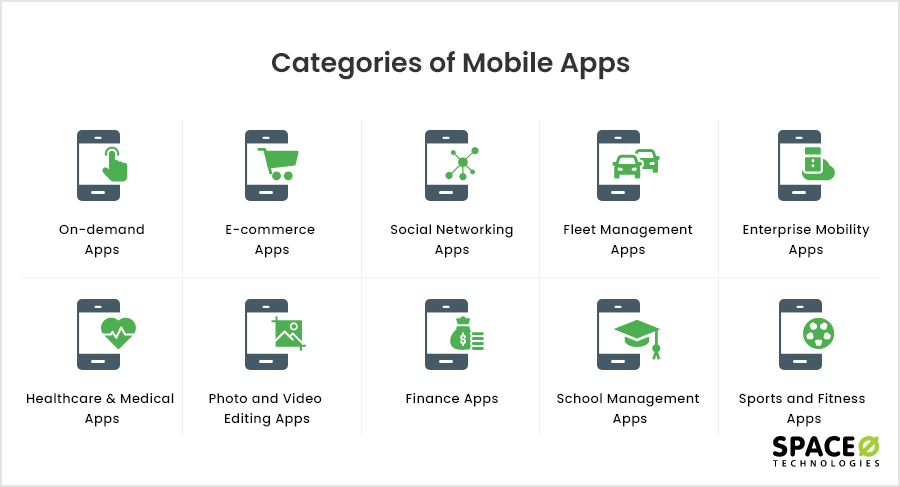 We will now check a brief description of each category and compare them based on the estimated timeline, estimated mobile app cost, and examples.
Note: Please know that this is a rough estimation from one of our Android experts.
App Category
Description
Timeline
Estimated Cost
Example
Top Features
Social Networking Apps
Social networking apps help people to establish better relationships with families and friends virtually.
3 – 9 months
$50,000 – $3,50,000
Twitter

Send and receive short posts
Follow other users

Photo and Video Editing Apps
Photo and video editing apps help to enhance the quality of the images and videos and give a visually attractive look.
3 – 6 months
$30,000 – $90,000
PicsArt

Add effects and filters
Change background

eCommerce Apps
E-commerce apps help retailers to take their businesses to an online platform for increasing brand and customer loyalty.
3 – 9 months
$25,000 – $3,00,000
eBay

Wish list & shopping cart
Auction listing service

On-demand Apps
People use on-demand apps to purchase various products or services. These can range from grocery, laundry, food delivery, car rentals to personal health.
3 – 6 months
$25,000 – $40,000
Uber Eats

Accepts pre-orders
Push notifications
Real-time tracking

Healthcare & Medical Apps
Healthcare and medical apps are designed to consult patients and keep an eye on patients' conditions and progress during the entire treatment. Advanced user engagement features like storing the patients' medical test reports can help doctors to access them anytime.
4 – 6 months
$20,000 – $80,000
Medscape

Pill identifier
Medical calculators
Disease and condition information
Drug information and tools

Sports and Fitness Apps
Sports and fitness apps are designed to perform various actions, such as setting fitness goals, tracking caloric intake, choosing workout ideas, and sharing progress on various social media platforms to facilitate healthy behavior change.
2 – 6 months
$30,000 – $1,50,000
Step Counter

Track mileage, calories burned, and food intake
Graph analysis

Enterprise Mobility Apps
Enterprise mobility apps are developed to target enterprise-related problems for better work-life balance. It can be highly efficient to enhance business growth for companies.
3 – 9 months
$50,000 – $2,50,000
Enterprise Mobile Security

Encryption enforcement
Remote lock and wipe
Password enforcement

Fleet Management Apps
Fleet management apps help streamline the process, such as ordering, arranging the delivery, and making payments autonomously. This removes the lengthy administration processes and promotes time management.
4 – 6 months
$65,000 – $3,00,000
Fleetx

Advanced GPS Tracking
Predictive maintenance & cost analysis
Automated MIS reporting

Finance Apps
The benefit of using a finance app is that it helps to manage all aspects of personal finances. It is easy to track spending, saving, and investing. Moreover, bill payments can be easily tracked and keep up to date on credit score changes.
3 – 6 months
$30,000 – $90,000
YNAB

Set saving and investment goals
Visual reports
Budget together with friends and families

School Management Apps
School management apps help parents monitor their child's everyday activities, such as a diary note and school bus tracking. Also, keep parents up to date with schools and teachers and notify parents of any due fee and previous fee deposit details.
2 – 4 months
$40,000 – $1,00,000
Baloora

Real-time tracking
Push notifications
Payment gateway
Now you must be ready with your Android app idea, and inevitably you want to make it a reality. However, every entrepreneur wants to make an app that is within their app budget. So, here we have shared some of the best practical tips to consider for a budget-friendly Android mobile app.
4 Tips to Reduce Your Android Mobile App Development Cost
Below are some of the tips to reduce the Android app development cost.
Focus on Core Concept

Never forget the core concept of your app. Ensure that you know what exactly you need out of an app, and you have clearly set the expectations. In case it is difficult for you to set your expectations, then hire an app development consultant from a reputed company. Focusing on your goal means you know what exactly you need from an app. This way, you can invest less money as well as time.

Get Only Required Features

As discussed above, adding more features expect you to invest more money in your app. Therefore, it is always recommended to start with only the minimum or required feature set. You can also opt for an MVP in app development.

MVP means minimum viable product.

This is the best approach as MVP will help you understand your users' requirements. Subsequently, you can take your app to the next level with each update. Check these core benefits of MVP approach.

For example: When WhatsApp was launched in 2009, it was only used for chatting. But with passing time, WhatsApp has upgraded itself with more advanced features, such as voice and video calls.

Do Market Research

Often entrepreneurs bypass market research as they fear that it will be too expensive. However, consider market research as an investment because no one wants risk by developing a similar app that is already present in the market or doing exceptionally well. Isn't it? You cannot expect the best results without doing market research. Check what similar apps have been launched and find ways to improve the app features based on the app user's requirements.

Hire App Development Company

As we have discussed above, if you want to develop an app within your budget, then it is advisable to hire a professional Android development company instead of hiring an individual Android app developer. Comparing both the choices, hiring an expert team of a business analyst, developers, designers, and testing professionals will help you manage everything under one roof. The team can get along really well and develop a mobile app within the given deadlines.
Want to Make Your Android App on a Budget?
Want to validate your Android app idea? Want to get a free consultation from Android experts?
If you still have some queries and are looking for the answers to some commonly asked questions related to Android mobile application development cost, read the next section.
Frequently Asked Questions About Android App Development
Why create a native Android app over a hybrid app?
Here are some of the benefits of native app development over hybrid for an Android app.
1. Easy access to tools and systems to Android developers.
2. The end devices and hardware are relatively less expensive.
3. Rare compatibility issues with every updated OS version.
4. Minimizes the development and licensing costs.
How to find and hire the best Android app developers
You can prefer the following websites to hire Android app developers for your app project.
These are some top and best app developers hiring websites. In fact, you can even hire Andorid app developers from Space-O Technologies.
Which are the best earning Android apps?
Coin Master – 104.15 Million USD
Garena Free Fire – New Beginning – 51.56 Million USD
Roblox – 48.21 Million USD
Genshin Impact – 37.74 Million USD
Get Personalized Cost Estimation for Your Android App
We hope you have clarity now and will be able to make the right decision based on the information we have shared in this article.
Even if you get stuck at any stage of the development process, reach out to us for help. We have a team of professional Android developers and have experience in developing more than 1500 Android apps.
In fact, Space-O Technologies has developed over 50 uber-like app solutions, such as Glovo, One8, and Baloora.
Just fill out the contact us form, and one of the experts will get back to you within 48 business hours.