"By using AWS Spot instances, we've been able to save up to 75 percent a month simply by changing four lines of code. It makes perfect sense for saving money when you're running continuous integration workloads or pipeline processing." – Matthew Leventi, Lead Engineer at LYFT.
Lyft is one of the biggest ridesharing company with 315,000 active drivers in more than 190 U.S. cities. Being one of the fastest growing companies of its kinds, it reported 200% growth in 2015 for both revenue and rides.
With a mission to reconnect people and communities via improved transportation, Lyft creates a network of on-demand autonomous vehicles with General Motors and has partnered with Ola, Didi Kuaidi, and GrabTaxi to expand its service in Asia.
Having a huge number of user-base, it becomes not easy to manage large data. Thus, Lyft is looking for sophisticated backend big data platform that provides data processing, storage, and analytics workflow services.
It was a challenge for AWS to run a microservices infrastructure. Moreover, they wanted to use Jenkins orchestration of a Continuous Integration (CI) pipeline to manage the builds and tests, and also automating the process. It also needed large pools of computing resources to deploy code into production that might costs high for daily tasks.
However, AWS provides a solution that could save up to 90% of on its CI processes by using Amazon EC2 Spot with more compute capacity rather than using higher-priced on-demand instances. They have used four lines of code to change a Salt module that launches new instances from the Spot market.
CI processes don't need a power for enabling use of older-generation and it is available at lower-cost Amazon EC2 instances.
AWS provides an advantage by saving up to 75% on testing processes compared to using on-demand instances. Moreover, it can leverage older-generation instances with greater memory resources to run more containers that allow finishing test faster.
The Power of AWS powers Big Names
Netflix adopted AWS for streaming billions of hours of movies and TV shows, so to fulfill the modern habit of unplanned binge-watching and to make the aversion to network TV shows possible.
Some parts of Healthcare.gov website were also moved to AWS when it being revamped.
Not only Netflix, Spotify also moved to AWS to host its music on the company's cloud storage service, S3.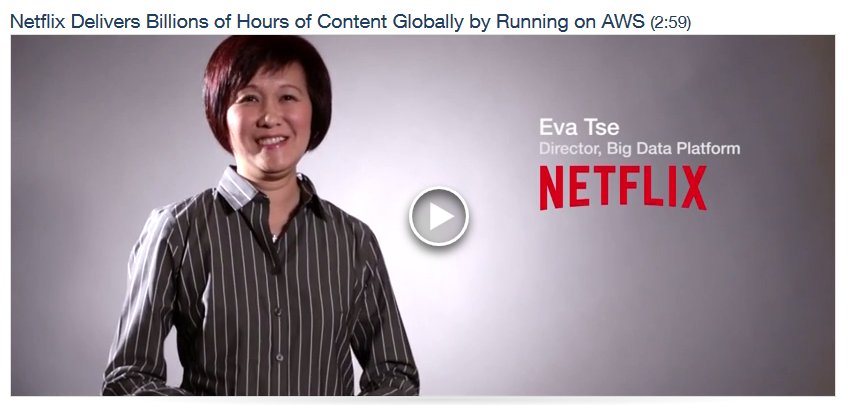 What Keeps AWS On the Top for Infrastructure Needs?
The face of the world of startups has been changed by Amazon with its cloud services. It's possible for more than one people to set up the large computer clusters with zero capital.
Cloud migration is one of our specialties for enterprise clients and we have got significant feedback about worries and satisfactions.
Here are some reasons why everyone strongly believes that the large enterprises should move to the cloud, AWS.
Security
For most of the enterprises, security is one of the biggest worries about cloud computing. However, Amazon has many essential certifications, including HIPAA, Sarbanes-Oxley, PCI, and ISO. It has a capability to maintaining separation of physical and logical access to limit the impact of dissatisfied employees.
No Obligation
AWS deliver everything, from a server for hosting a small website to a Content Delivery Network for heavy sites, data warehousing service, etc. without any obligation. Amazon provides all server-backed services on hourly charges. So, users won't be billed as soon as they terminate/stop a server.
API:
Get APIs for various programming languages to manage your infrastructure programmatically. With API, it becomes possible to launch a new instance, or backing up data. Compared to AWS Management Console, APIs are more powerful. Moreover, if you are not sure which AWS suits your requirements, you can try given packages:
AWS Activate Packages – especially for startups, who want AWS Activate Packages with free credits and training to get started.
Pay Per Use:
Are you looking for infinite space for your backup? AWS provides you unlimited space and charges you according to your actual usage. Users can also get space for transcoding media files, launch new servers, upscale/downscale a server, CDN integration, and so on.
Not required In-house Expertise
Moving to the cloud doesn't need a person to maintain data, as most of the data maintain onto Amazon. Do what it's best at rather than focusing on what you are best at. Companies are paying handsome amount to hire someone outside of their expertise area.
Having core expertise in data centers, Amazon delivers more intriguing challenge and a deeper sense of mission to those people, who you will hire for your team.
100% Flexible:
Now, no more scientific analysis or guess work for recognizing an infrastructure needs. Users can easily leverage auto-scaling to develop a self-managing infrastructure that aligned closely to the actual requirements that based on the traffic/resources utilization.
With Amazon Machine Images (AMIs), you can enable to spin-up clones in different regions for diverse environments within few minutes that minimize the requirements to repeat the set-up steps every time.
Excellent PaaS Offerings:
Amazon Web Service have highly scalable managed services for transcoding, storage, backup, caching, data warehousing, database, infrastructure management & application management that minimizes the overall time and effort spent in managing the infrastructure and therefore, it decreases the go-to-market cycle for end-customers.
It's clear that AWS is an effective solution for the large enterprises. It would be great to try it on a contained project that suited within the cloud's capabilities. AWS is best suited for startups, big companies, and government agencies. Contact to Discuss Your Business.