Want to know which country has the most ski visitors every year? Switzerland, Austria, & Norway have 25% of their populations, which is the highest compared to other countries. Isn't it exciting?
Yes. Probably, if you are a Ski lover. Even, you will be surprised to know that 40 US states have ski resorts.
One of my friends decided to go ski­ing and he wants to feel exhilarating unlike people don't experience enough. "There is nothing like the feeling of skiing down when the wind comes against your face", he said. The sunlight soaks the winter sky resonating a glow that displays the scenic snow-covered mountain peaks perched in the distance.
Here is the best collection of Ski Apps you must download.
Liftopia
Easy and fast booking of lift tickets, lessons and rentals from the devices with just a few taps at over 150 ski areas. Liftopia offers local snow and ski reports for users to check the clos­est pow­der.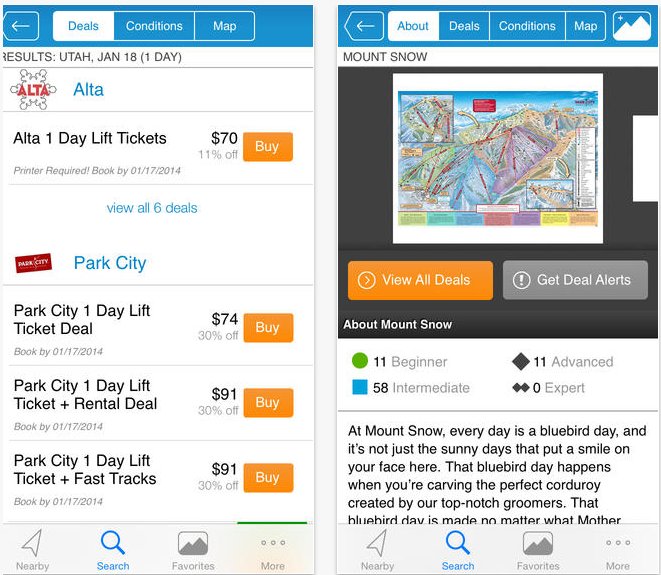 How can users get an awesome deal? Ski resorts provide them an access to exclusive prices, as they are booking lift tickets, lessons, and rentals in advance.
It's never been easier or competitive to experience the coldness of snow, but Liftopia makes it possible for users, who want to visit world's famous destination, including hidden gem ski resorts like Mad River Glen in Vermont.
Check it on: iOS
SkiLynx – Connect with your friends on the slopes!
Are you a ski or snowboarder, having Apple Watch? We have an app for you that let you know on what run or lift your friends are on. SkiLynx creates your own private ski group to chat on the mountain, isn't it interesting?  
"If you ski with friends, you need this app!" this Outside Magazine says. Its latest version comes with amazing social features of Facebook & Twitter login, allows to post favorite run, ski day summary, etc. with a few touches.
It also enables to share your ski day in real-time with friends, who are sitting at the base lodge or looking jealously from the work. Even, they can see your progress live on the app's integrated resort map and join in the group chat.
Check it on: iOS  
REI Snow Report
The REI Snow Report app provides detailed information that you needed to improvise your time on the mountain. This application set customized snow alerts of you chosen favorite resorts. You have to choose the snow level amount and if the new snow is exceeding your set snow level, you will get a notification to your phone.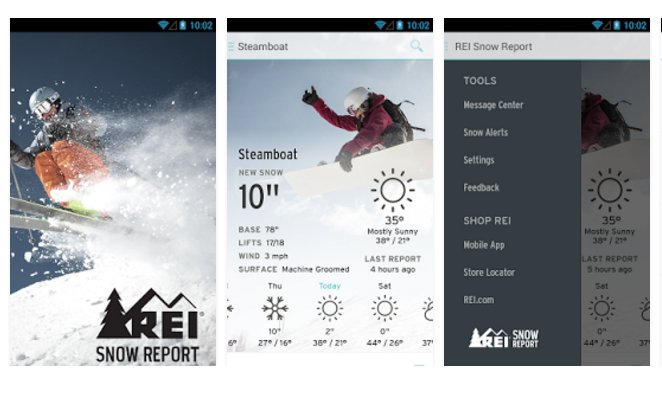 REI Snow Report app also checks resorts' conditions and weather forecasts. If any resort provides webcams, you can check straight from the application. Additionally, it quickly provides resort information, including email, phone number, email, website, direction, etc.
Offgrid
Offgrid is an application developed especially for the out­doors­man or woman, who wants a break from their device. This application activates with just one click and once it on, it will block incoming messages.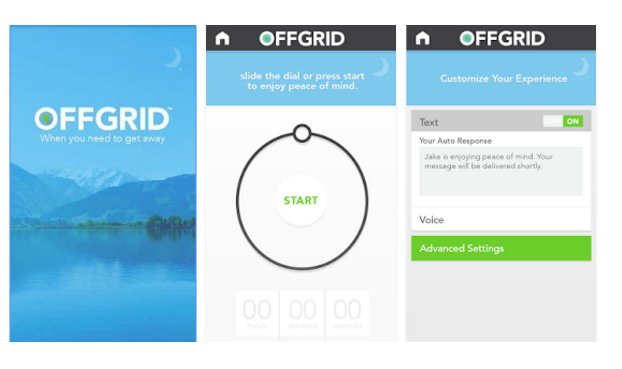 Best of all, message sender will get a message, "you're away from your phone" when he/she contacted you. Moreover, users will get a detailed report when he come back online.
This application sets custom Auto-responses to incoming text and voice calls, manages ringer setting, Wi-Fi and data use within an application. If you love peace, you need to download Offgrid.
EpicMix – Capture. Connect. Share.
EpicMix is the official application of Beaver Creek, Breck, Keystone, Vail, Park City, Heavenly, Northstar, Kirkwood, Afton Alps and Mt. Brighton that enables to access of lifting line times and reaches you on mountain activities such as race times, progress in Ski, vertical feet, photos, and Snowboard School, etc.
Additionally, EpicMix Challenges enable you to compete for the first position on the Leaderboard or with family and friends.
Wanna make your own story of happy Ski trip? Else, hire mobile application development company for custom app development solution or to develop an app from scratch.
You may also like,
This page was last edited on April 21st, 2020, at 3:04.